A child's first snow plough - is it all downhill from here?
A ski holiday in Soll, Austria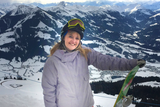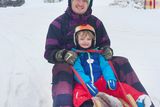 When "ski people" procreate, the first years of the child's life are marked by all the usual lovely milestones; first smiles; first steps... however all the while in the back of your mind is one persistent burning question: will they be into skiing?
Have we spawned a ski person or, dread of dreads, one of those people who doesn't understand the wearing of uncomfortable, unyielding plastic boots and sliding down a mountain dodging trees and other ski people.
Other parents might be looking for signs that the little darling has inherited the family's musical ear, or Uncle Johnny's chin dimple. But ski people are assiduously tracking the child searching for any hint that they might enjoy speed and mild peril.
It's a tricky thing introducing a child to skiing. A bad first outing could thwart any chances of them ever finding their ski legs. You must find that sweet spot in terms of age. Too young and it's verging on child abuse to fling them down a ski slope, too old and you've missed the window of fearlessness.
Having lived for many years in the French Alps, my husband and I had witnessed all kinds of terrible approaches to introducing kids to the snow and vowed that wouldn't be us. Two months after our older child turned four, we decided the ski window had opened and we headed for Soll in Austria to strap him to some polished wooden sticks and begin the hothousing, I mean, gentle encouragement.
Austria seemed the ideal destination as some years ago I made three hours my cut-off for spending time trapped in an aeroplane with my offspring and the flight comes in just under that. Soll is a resort that is perfect for families, it is a very manageable 90 minutes from Salzburg airport. Travel times are a paramount consideration when travelling with volatile four years olds but I needn't have worried. The package ski holiday is very light on stress. Or even just thinking for yourself for that matter.
From arrival we were ushered to our bus by our ski reps who produced everything we needed in terms of information and ski passes. They even gave us snacks and I cheerily packed my brain away for the duration of our seven days, happily ambling wherever the ebullient ski reps told me to go. At one point I dropped my ski pass on the ground and genuinely looked around to see if a nearby rep was going to swoop in and come to the rescue.
In Soll, the access to the slopes - a part of the SkiWelt, Austria's largest ski area which comprises nine linked ski villages and an incredible 284km of piste - is located just a short shuttle bus ride from the centre of the village where most of the resort's accommodation is located. One can opt to stay outside the village and closer to the huge gondola that provides access to the ski field but for us the short transfer to the village was just as convenient and meant that we could explore the village with ease after the day's skiing which we found tends to be briefer when you're en famille.
Our hotel, Hotel Tyrol, was in the centre of this adorable gingerbread Alpine village and just a short stroll from restaurants and shops - essential for this family - both my four-year-old and my 34-year-old require constant feeding so snacks between meals are non-negotiable. Tyrol provides half board and is a comfortable base with huge rooms boasting beautiful views of the surrounding wonderland.
A generous buffet breakfast greeted us each morning with everything from eggs and bacon, Bircher muesli and breakfast booze for the more hardcore (or shambolic depending on your views on breakfast booze). In the evening, a three-course dinner replenished us after a day on the slopes. Hotel Tyrol also offered massages for residents in the traditional Austrian spa which was the perfect wind down - though it should be noted that while swimwear is optional in the spa, if you wear it you will feel over-dressed.
The hotel staff were incredibly warm and took particular interest in my son, patiently pandering to his demands for ice cream and politely averting their gaze during any tantrums. The kids are fantastically well catered for in the Soll ski area. My son was accustomed to attending playschool so we did the hard sell on daily ski school. We needn't have worried, he was sold from the moment he saw the huge merry-go-round outside the ski school. It dragged inflatable tyres over the snow with a joyfully screaming child contained in each. He was in!
Soll has two ski school options for the younger kids. One is located at the mid station which is convenient for parents dropping in the morning and collecting at lunchtime. Ultimately we opted for the ski school at the very bottom of the gondola as it was more suited to his age.
The kids got lots of time on their skis out on the gently sloping park decorated with big colourful characters and guided by the endlessly patient instructors, then when they tired they were brought inside to a huge cosy log cabin playhouse. Think room after room of indoor climbing walls, swings and pure kiddy craic.
It's the ideal approach as skiing is a tiring thing for a smallie to get the hang of so it's best to confine the skiing to short fun bursts when they are starting out and the instructors definitely possess a good instinct on this front.
Initially I was loath to leave my son. The thoughts of being a long ski run or gondola ride away from him was frightening. "They have our mobile numbers," my husband said, clearly irritated as I lurked behind a pile of logs near the ski school watching my son learning to turn, stop, fall and shuffle on to the carpet lift.
Eventually I was persuaded to go for a few runs and after the first couple of exhilarating turns in that epic landscape I was like "what child?" Well almost. The first morning we stuck close to the ski school but as the week progressed and I watched him running enthusiastically, if a little wobbly, in his ski boots into Kinderland Kornkammer, or Kiko for short, I relaxed and began to make the most of our free mornings.
The system with Kiko is brilliantly flexible which means so much when travelling with kids. Most days we returned at lunchtime to collect him but one day after a particularly good dump of snow the previous night we arranged to collect him at 3pm which gave us the opportunity to explore further afield, skiing over to the neighbouring resort Scheffau and sampling some of the off-piste.
Fresh powder made for some gorgeous lines, particularly through the trees. The skiing in Soll is suited to intermediate skiers as well as beginners. There are endless wide blues for satisfying cruising, while at the top of the resort there are some blacks for more advanced skiers, and the off-piste is sensational. Restaurants on the hill offer snacks, hearty grub and decks drenched in winter sun so you can sit and soak up the views.
Beyond the skiing, the village of Soll has much to offer. The chalet-style buildings surround an attractive church. There's tracks for cross country skiing or opportunities to take an exhilarating husky ride, something my four-year-old adored.
There are also several excellent cafes and restaurants in town offering more than the run-of-the-mill ski fare, such as Nani (see highlights) and Auf da Muhle, a contemporary restaurant with serious pizzas and eye-catching interiors.
By the end of our week in Soll, the four-year-old was getting the hang of his turns though stopping still mostly resembled an emergency landing.
More importantly, his first tentative turns had been a happy experience which is essential to breeding the future first Irish pro skier. And bodes well for all future family ski trips.
Take two: top attractions
Stylish Cafe Nani
Nani offers a nice blend of imaginative dishes and excellent coffee in a casual but stylish setting. The cafe is named after the owner's grandmother who ran a coffee shop in the same premises in the 1960s.
High-speed thrills
The addictive three-kilometre toboggan run dashes through the trees at breakneck speeds from mid station to the bottom of the hill. The run is also floodlit for night rides and is a brilliant family activity.
Getting there
Sophie travelled with her family to Soll with directski.com - the Irish ski operator dedicated to 'making ski holidays affordable for all'.
Directski.com operate a ski programme to France, Italy, Andorra and Austria, but on this trip Sophie stayed at the 4-star Hotel Tyrol in Soll.
Prices start from €959pps departing on March 9, 2019 and include return flights with 20kg luggage allowance, return transfers, accommodation for seven nights on a half board basis, taxes and rep services in resort.
Directski.com offers Austrian ski holidays with flight options from Dublin, Cork or Belfast.
To book, simply visit directski.com or else call 01 2546300