Secret Diary of a Hotel Inspector
The AA's finest.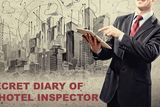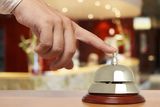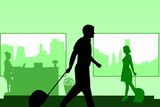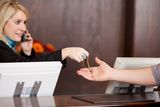 Studious snooping, bar visits and bathroom checks are all in a day's work for the ultimate mystery man. One of AA's finest takes us behind the scenes…
"It may be a coveted job, but AA Hotel & Restaurant Inspectors come from the industry.
We come to the task armed with a solid foundation and plenty of experience... in other words, we know what we're doing.
We also have an advantage in that we're invited to carry out inspections.
Appointed hotels pay us an annual fee to undertake an unbiased appraisal of the property, its services, the hospitality skills of the team, their service skills and the quality of the food.
We inspect personally, book anonymously, and pay our way.
When you see an AA sign outside a hotel, that means we don't just recommend it. It means that we have inspected it personally, and constantly ensure that standards are kept.
Before the visit
An AA Inspector will usually book under a false name, so the initial impressions are created a number of days before the visit takes place.
It's amazing how important the impression created during the reservation process can be. The old adage is so true; you don't get a second chance at making a first impression. It's great when the person at the other end of the phone has a warm and welcoming tone, uses your name and really does care about you and your pending visit.
I'm surprised at how many hotels still don't offer email confirmation, however. That's a missed opportunity to let people know what else is going on, promoting other facilities and services.
3pm: Arrival at the hotel
How neat is the frontage?
How many of the team ignore you while you struggle with your luggage? Does the receptionist look blankly at you and your laden shoulders, and ask: "Are you checking in?"
"No, I'm here for a fe….g knitting lesson," you feel like saying.
Do you have to play hide and seek to find the allocated room? Or are you escorted by a pleasant local who is genuinely pleased to be there and has a tale to tell about the hotel or the area?
4pm: Room Service Test
AA Inspections are done from a guest's perspective.
We assess what real guests would see and do - so there's is no reason to go back of house. but we have been known to snoop through fire escape routes – scary sometimes to see what might be stored there!
With room service, I'll be looking to see if there's a tasty, interesting item on the dog-eared room service menu. Or is it filled with the usual club sandwiches, fish n' chips and chocolate brownies?
5.30pm: Visit the Leisure Centre
Is it full of screaming kids or a rowdy stag group? Does it really add to the feeling of luxury as seen in the rest of the hotel? More importantly, would the Accommodation Manager of the main hotel be satisfied with the hygiene and standards of cleanliness?
An inspection by a member of the AA Hospitality team is done anonymously wherever possible, although there is no real damage done if our cover is blown. We really are there to take note of how other guests are being dealt with.
7pm: Pre-dinner bar test
Is there a good choice of wines and cocktails? Are they accurately made? Is the bartender comfortable making recommendations? Are those nibbles fresh, or has there been a myriad of fingers rooting through them?
7.30pm: Dinner
It's time to visit the restaurant and look for Rosette potential in the food.
Here, we're looking at the compilation of the menu, good choice, an element of seasonality and sourcing of local produce. The quality of the ingredients, accuracy of cookery and clarity of flavour are all important when it comes to assessing a meal with AA Rosettes for Culinary Excellence in mind.
10pm: Late evening bar test
No, we're not all booze hounds, but we do need to check!
11pm: Bed
At last!
If insomnia is present, I'll often phone the hotel from my mobile to see if the night porter's awake!
6.30am: Wake-up call
Risin' time!
I always note the timing and tone of the morning call, whether my name was used, and whether there's the offer of a snooze call.
7pm: Bathroom check
Is the bathroom well-lit? Is there plenty of shelf-space for his n' hers toiletries and potions?
Are the towels soft or are they a vehicle for exfoliation? Does the chrome gleam? That's not toothpaste residue on the glass... There are some other less savoury checks including elements you don't want to know about!
8.30am: Breakfast
No matter how good dinner might have been last night, there's always room for more!
What's the selection of juices like? Are they fresh or canned? Is there some interesting option apart from the Full Irish (has anyone come up with a Half Irish??!!)
Breakfast is a meal that is too easy to do badly and can often let a hotel down. Pots full of congealed sausages and beans left in the buffet for too long is a regular sin.
9am: Pay the Bill
AA Inspectors always pay their full bill on departure… we don't accept freebies or comps.
It's great to see the reaction from the poor receptionist when the business card is proffered and the inspector comes clean about their identity. Some hold it all together, while others have a sudden jaw-drop moment!
At this stage, we normally make an appointment to see the General Manager in an hour's time. This gives them a chance to track the inspector's movements during the stay and have some advance notice of what might come up in discussion.
10am: The debrief
This involves a tour of the property and a detailed debrief with the manager.
Basically, we do a comprehensive and chronological blow-by-blow commentary of what was experienced during the visit, how the team engaged with guests and each other - with particular reference to cleanliness, quality of the accommodation and the dining experience.
The Manager wants his guests to have the best experience - and we want the same for AA Members - so our approach is constructive. The debrief is always offered in a positive and helpful manner, allowing the manager take note of the strengths and missed opportunities encountered.
After the visit...
Is that all there is? Unfortunately not!
Now is the time to finalise the written report and to update the website. Where an AA Rosette is recommended, there is a series of criteria to be justified so that all of the inspectors are singing from the same hymn sheet in terms of the consistency of our approach.
Finally that's it, job done.
I'm off to the next hotel to start all over again. I hope they have something different on their menu..."
NOTE: The AA Hospitality Awards
The annual AA Hospitality Awards are amongst the most prestigious awards of their kind and draw on the unrivalled knowledge and expertise of the AA inspectorate and other industry professionals involved in the judging process. Winners are selected in recognition of excellence and success within their chosen category, having shown a significant improvement in the preceding 12 to 18 months and proving their dedication to raising industry standards and enhancing both their guest and diner experiences.
See www.theaa.ie for more.