No one ever said the love of your life had to be a person... mine is a rural village in Catalunya
Love is in the air for Catherine Murphy as she returns time and again to Àger, one of the world's top flying sites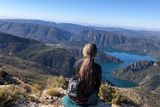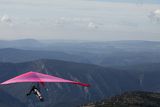 No one ever said the love of your life had to be a person. Men have come and gone but one love story has endured through decades of my life - with a rural village in Catalunya.
After 30 years, I can still recall the moment I fell for Àger. Gazing at the Sierras del Montsec on the final day of my holiday, I wondered if I could somehow live in this place that seemed lost in time.
Back in the 1980s, a group of Irish hang- gliding pilots had discovered the area for themselves. Set in the pre-Pyrenees, two hours inland from Barcelona, Àger would become established as one of the top flying sites in Spain, Europe and the world.
I didn't fly but I wanted to see the area my friends raved about. In the summer of 1991, we piled into hang-gliding instructor Peter's van and travelled through France and the Vielha tunnel to reach an ancient land of gorges, lakes, red earth and extremely cheap red wine.
The van was heaving with hang-gliders and filled with the sound of 'A Rainy Night In Soho' by the Pogues as we approached the village. The excitement as Àger's Romanesque Castell i Col-legiata de Sant Pere came into view was infectious.
We poured out of the van straight into the Speed Bar which was run by Irish man Declan Doyle. It was a moment in time - new friends, places and adventures.
On the face of it, this was a tiny farming village but the presence of pilots from around the world created a special buzz. At every opportunity in the following years, I would return to get that feeling, often for months at a time.
Occasionally, puzzled drivers stopping for directions would ask what I was doing there. They saw a little wreck of a village in a remote valley. I saw a world of magic.
And anyway, looks don't matter when it comes to true love.
Once settled by the Romans, Àger enjoyed a strong strategic position. It became a Muslim citadel in the 9th century and two centuries later, a frontline in the Christian-Muslim conflict.
Today, when I walk along narrow cobbled streets, I imagine myself following in the footsteps of Arnau Mir de Tost, a knight to the counts of Urgell who captured Àger (or "Ajira" as the Muslims called it) from the Moors in 1034 and established it as a Christian stronghold.
When I hike up to the Port d'Àger, I ascend the Via Romana, stepping on stones laid during the expansion of the Roman Empire. I usually have this incredible stretch of history all to myself and can sing along as loud as I like to Jarabe de Palo, whose songs have provided much of the soundtrack to my years in the Àger valley.
When I walk up Calle Sant Marti, I may even follow in the footsteps of Gaspar de Portolá, the first governor of California and founder of San Diego, whose family had links to the village in the 18th century.
I walk the same paths as Sandro Rosell, the ex Barcelona FC president who in 2017 was jailed for and later acquitted of alleged money laundering charges. His family has deep roots in the village.
Beyond Àger, the region is rich in history. In Balaguer, capital of the county of La Noguera, I walk across a bridge that Franco's troops crossed to enter Catalunya in 1938. In Lleida, capital of the province, I find a proud Roman history and a city that battled Franco troops during the Civil War.
From medieval stronghold to outdoors Mecca, Àger is now a haunt for paragliding pilots, hikers, mountain bikers, trail runners, climbers, kayakers, astronomers, geologists and birdwatchers. It has been designated a geopark and is also a Dark Sky Park. Wonderful night skies are a given and it's possible to visit the local observatory.
The place where I feel most connected to the area's past is in the Congost de Mont-Rebei, a rugged remote gorge created by the Ribagorcana river.
One of the most popular activities is kayaking from the lake at Corca through the gorge, a 7km paddle. I also enjoy testing my head for heights on the Pasarela de Montfalco, a vertiginous wooden staircase built on the side of a sheer rock face. Here, as I descend narrow stairs, I cross from Catalunya into Aragon and have great views of the gorge.
I hike to La Cova dels Enamorats or "lovers' cave", occasionally with a man by my side. And although I never learned to fly, I sometimes go up to Sant Alis (1,678m) to watch hang-gliders and paragliders taking off and to soak up dreamy views of Catalunya and the Pyrenees.
If I can drag myself out of the valley, there's a lot to do - canyoning in Perves, white water rafting in Sort, both around an hour away. I can go hiking in lush Vall Fosca or in the spectacular Aiguestortes national park. There are small ski areas an hour from the valley, while Baqueira Beret in Val d'Aran and Andorra are both about two hours away. Not to mention Tarragona and Girona.
Of course, no love affair is without its ups and downs and there have been more than a few scrapes along the way; a tandem hang-gliding flight with our friend 'Fly' who promptly dipped the glider into a dive when I joked that the experience was boring; an ex-boyfriend who had a minor heart attack in mid-air while flying a hang-glider (he's still going strong and still flies).
Most of my scrapes have been the result of overly enjoying the annual fiesta. Each village in the valley, including Corca, La Regola and Agullo, holds a fiesta during August, resulting in long, hot summer nights filled with live music and partying in the square.
Àger's legendary Correfoc ("running with fire") is a piece of fireworks theatre where locals are chased through the narrow streets by devils. In its early days, before health and safety was a thing, it was wild and memorable.
One of the best things about visiting the same place over 30 years has been witnessing the cycle of life - many Barcelona families return to spend holidays in the village that they, their parents or grandparents grew up in.
Among the generation of children I've watched grow up are Angel and Marco, sons of local goat farmers Jose and Marina. I can set my watch to Jose's goats as he walks them by my friend Peter's farmhouse most afternoons.
When I'm not in Àger, I yearn for the colours, smells and tastes of the land - red fields of poppies, vast blue skies and white blossoming almond trees in springtime; the aroma of pines at Terradets; the taste of pomegranates, figs, capers, cherries and mushrooms, all picked locally. I'd give anything to smell the wild rosemary, thyme and lavender that have filled my senses on off-road motorbike rides around the Montsec.
Thirty years on, I'm still what the locals call a "guiri" (foreigner) but my friends and I have somehow become a small part of the fabric and story of the village. The love affair continues...
Getting there
Àger in Lleida, Catalunya, is a two-hour drive from both Barcelona and Reus.
Visitors should expect simple village life with a couple of local bars and restaurants, including Lo Torres and Casa Xalets. Stay at Casa Lucas in the centre of the village, Maciarol outside the village for astronomy and paragliding courses, Hotel Terradets (a 20-minute drive away) for good food and lake views or Casa Guilla in the tiny hilltop village of Santa Engracia near the town of Tremp for a lovers' escape.
For activities, check Montsec Activa. There are numerous companies offering paragliding courses - FlyAger, Albatros, Entrenuvols...
For further information, go to aralleida.com; catalunya.com