Is airplane food finally getting tasty?
We've got five reasons to think so.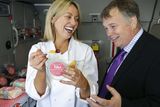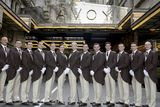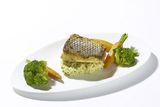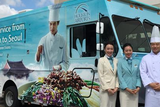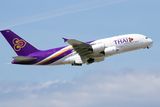 From high-flying chefs to takeaway services at sea level, we've got five signs that in-flight food is starting to get serious...
Think of airplane food, and many of us shudder rather than salivate.
Getting the stuff to taste good – or even remotely palatable – is a challenge that hundreds of airlines have tried, and largely failed, to overcome.
Food always seems to taste worse at 35,000 feet.
Why is this the case? Well, leaving aside the problems of preparing, packaging and serving food in a cabin without proper cooking facilities, there's also the small issue of pressurized air having a numbing effect on our taste buds.
Flavoursome in-flight meals just aren't meant to be, it seems.
Or are they?
Not that we're getting our hopes up, but there are several signs that airplane food is finally being seen as a point of distinction in crowded skies.
1) Lufthansa's Home Delivery
Air Food One, as it is snappily titled, is run together with LSG Sky Chefs, who cook up the business class food for Lufthansa. You may not be able to fly business, in other words, but for a maximum of €9.99 per dish, you can enjoy a taste of the high life in the skies (as long as you live in Germany, that is). Recent menus featured a Chinese chicken special and a fillet of kingfish with cabbage risotto. www.allyouneed.com
2) Clodagh's cooking for Aer Lingus
Clodagh McKenna has been the face and talent behind Aer Lingus's 'Bia' menus for some time – with the airline's Irish breakfast among the handful of dishes that have won the stomachs, if not the hearts, of customers. The airline upped the ante recently, with the launch of a pre-order service for transatlantic flights. McKenna's new menus are available to pre-book online up to 24 hours before travel and, priced at €18.50, will include choices of "succulent steak, melt-in-mouth salmon and roast chicken with a twist". www.aerlingus.com
3) Korean Air has a food truck
No , seriously. Korean Air is bringing a food truck to Huston, Texas this October 26th – complete with three of its signature in-flight dishes. The airline plans to serve about 250 meals a day Bulgogi (strips of sirloin steak marinated in a sweet sauce), bibimbap (a vegetable rice dish) and galbi (braised short ribs) will all be on the menu.
4) Thai Airways is opening a restaurant
Thai Airways has plans to open a restaurant in Bangkok's Soi Nana district next year. "It's time to reach out and cash in on the burgeoning trend," Suraphon Israngura Na Ayuthya, managing director of Thai's catering department, told The Nation recently.
5) Etihad is training butlers
An elite group of Etihad Airways cabin crew are set to become the aviation world's first flying butlers, having completed a three-week training course at the Savoy Hotel in London. The role of the world's first flying butlers is to look after VIP guests in Etihad's 'Residence' cabin - a private suite that puts even First Class in the ha'penny place. Eventually, the hope is that we will see rising food and service standards trickling down to cattle class. Eventually, we say. www.etihad.com