Secret Ireland: Loop Head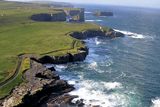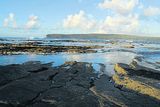 In part three of our series on hidden Ireland, Pól Ó Conghaile discovers Tolkien landscapes, seaweed baths and the best breakfast roll in Clare. Photography by Ronan Lang
Lord of the Rings landscape
Loop Head is the quiet kid of Irish peninsulas, yet it's one of only four European Destinations of Excellence in this country. Even the briefest of encounters with its cliff-craggy coastline, Tolkien-esque geological formations and desolate Atlantic lighthouse will show you why.
The Bridges of Ross are Loop Head's most dazzling formations, a series of sea arches cut out of the northern coast. Here, you can park the car and walk along a thin track that wraps around a horseshoe-shaped bay, before turning left towards the first arch. Its stratified rock, churning seabirds and thumping surf give the impression of a coastline being chewed away as you watch.
It's one of the most spectacular features I've seen on our western shores, and completely deserted.
Details: Ross, Loop Head. See loopheadclare.com or visit discover ireland.ie/eden.
The DIY town trail
Carrigaholt in west Clare is a great base for dolphin-watching, but there's plenty more to do in this good-looking harbour village. Start near the Dolphin Watch shop, where several old mooring ropes hung from a tree may tempt you to an impromptu swing.
From there, drive towards the far pier, park opposite SeaLyons fish shop and trek through the neighbouring field to Carrigaholt Castle. The 15th-century tower house stands sentinel over the Shannon near an old anchoring spot for the Spanish Armada.
Peering in the doorway, you'd half expect Grace O'Malley to pop her head out. The stone is yellowing with lichen, and though an iron gate secures the entrance, there's a little information plaque inside (William Penn, for whom Pennsylvania is named, visited in 1646). Finally, stop by Carrigaholt's Village Takeaway for a steaming bag of fish and chips.
Details: Carrigaholt, Loop Head; carrigaholt.net.
The brisk dip
Kilkee's Pollock holes are one of the quirkier features of the Clare coastline -- a set of deep rock pools that hold their water at low tide. In summer, the pools crawl with swimmers, though you might want to load up on Ready Brek before joining the hardy souls taking the plunge year-round.
The Pollock holes lie directly below the Diamond Rocks Café (where you can grab a warming cuppa), and nearby is Seamus Connolly's bronze sculpture of Richard Harris. Somewhat surreally, the maverick actor was Kilkee racquets champion from 1948-51.
Harris's old terraced holiday home is marked with a plaque a few doors down. It was here that he went on to invent a new sport -- haring down the driveway, hopping the cliff wall and plunging into the rocky waters below.
Details: The West End, Kilkee.
The sweet old shopfronts
This is my first visit to Kilrush, and I'm struck by its sweet compilation of old shop fronts. There's the dark, almost oily exterior of Crotty's pub, the green-and-yellow post-office livery and the ocean blue of O'Sullivan's on Moore Street, which lists fishing tackle on its sign but sells everything from baby baths to birthday candles over a waist-high wooden counter.
Feeling peckish, I pay a visit to Considine's, a bakery established in 1847 on the wide thoroughfare of Frances Street. Opposite, grocery shelves are stocked with tea and Tayto, and rows of bread baskets cradle French sticks, Dutch loaves and fruit buns (with nothing more than €2, as far as I can see). The bakery is visible beyond a stack of flour sacks down the back, and a cuppa costs just €1.10.
Details: Frances Street, Kilrush. Tel: 065 905 1095; kilrush.ie.
The soak in a seaweed bath
Thalassotherapy sounds like a lifestyle fad, but seaweed baths have been part of the west-coast holiday scene for generations. When she was a young girl, Eileen Mulcahy remembers her grandmother travelling to the baths at Lisdoonvarna. "She'd come back a new woman," she recalls.
Today, Eileen runs Kilkee's Thalassotherapy Centre, siphoning water from Kilkee Pier at high tide and harvesting seaweed from Easter to September.
She combines the two in 180-year-old porcelain baths (complete with bottlenose brass taps), where you can soak yourself from €24 an hour.
Where's the therapy? Dipping my hand into the 37-degree water, it feels oily and viscous. The mix is rich in natural vitamins, I learn, which are absorbed through the skin in an osmosis-like process. Other oceanic treatments range from a marine algae wrap (€70) to a Cryo Sea Clay Mask (€60).
Details: Grattan Street, Kilkee; 065 905 6742; kilkeethalasso.com.
The island adventure
The last Scattery islanders, who traditionally worked as river pilots and currach-handlers, left their estuary outpost for the mainland in 1978.
From April to October, it's possible to take a ferry from Kilrush to their old home, visiting the remains of a 6th-century monastery and a 120-foot round tower. In winter, however, the best place to take the view is from Cappa Pier.
I swing into the parking lot here, watched by a red setter and a woman reading a book from the comfort of her car. Past the blue-bronze sculpture of a fisherman, I can make out the remarkable round tower, rising like a slim finger just two miles offshore.
Details: Cappa Pier, Kilrush; 065 905 1327 (Scattery Island Ferries).
The ends of the earth
Driving outwards along Loop Head, the peninsula gets thinner and thinner until, finally, the sea enters your field of vision on three sides. At this point, it feels almost like an alternative Aran Island, complete with salty wind buffeting the stone walls and roofless ruins.
"It's normally met with some shock when I tell people we're running a fast-paced media portal from a place that is so far west," says Liz Greehy, who runs fashion website stylebible.ie from Kilbaha. "It is essentially the last stop before New York, as the crow flies, of course," she says.
Greehy isn't the only artsy soul within reach of the wild beam of Loop Head lighthouse. Seamus Connolly has a bronze foundry here, and Kilbaha is home to paper sculptor Krys Pomeroy. Some of the local farmers, Greehy says, even have webcams set up in their sheds.
Details: Kilbaha. See loophead clare.com.
The breakfast roll
Nolan's Bakery & Deli in Kilkee is something of a curiosity. Outside, artless signage suggests a run-of-the-mill corner shop.
Inside, however, there's a surprising selection of wines, meats, vegetables and hot food scattered among the usual groceries and newspapers.
I order a small breakfast roll (€3.20 -- the large costs €4.20), stuffed to the hilt with pudding, mushrooms, sausages, bacon, eggs and beans from the hot counter.
"The beans give it great flavour," the lady chirps, squashing my Full Irish into a thick, freshly baked baguette.
Sitting into the car, I strip back the tin foil and tuck in. The bread is scrumptious and, damnit, the beans do add a certain je ne sais quoi.
How can something so wrong taste so right?
Details: O'Curry Street, Kilkee. Tel: 065 905 6028.
The secret maze
Kilrush is an estate town, developed in the 1800s by the Vandeleur family. And though the original estate house is gone (it burned down after a night-lamp tipped over in 1897), the walled garden (€10 for a family ticket) has, over the past decade, been restored to former glories.
Seen one walled garden, seen 'em all, you may think. But this is different. Stashed away in a subtropical pocket off the Killimer Road, its ornamental bedding displays, vintage ploughs, splashes of red paint and Victorian-style glasshouse are just some of the quality touches.
In the far right-hand quadrant, look out for the surprisingly tricky beech maze, set just below adult height. Outside the small café and museum too, you'll find a sandpit and super-sized games of hopscotch and Noughts and Crosses for kids. All in all, an hour well spent.
Details: Killimer Road, Kilrush. Tel: 065 905 1760; vandeleurwalledgarden.ie.
The overnight stay
Kilkee, whose Blue Flag beach swarms with holidaymakers in summer, is strangely desolate at this time of year. A midweek visit may mean you have the cliff walk all to yourself, but you'll also find many local businesses closed, so I'd advise sticking to weekends.
I stay at the three-star Stella Maris Hotel, with its pearly lights and potted plants casting a homely glow in the early evening darkness. Inside, it's a comfortable seaside hotel, though you may have to wander into the bar to get some service at reception, as was the case when I checked in.
Guests can eat in a covered veranda here overlooking the streets outside, and winter specials include a B&B rate of €45pps (€40pps if you stay three nights or more). On weekends, other food options include Murphy Black's across the road, or the homemade chips at Naughton's.
Details: O'Connell Street, Kilkee. Tel: 065 905 6455; stellamaris hotel.com.