La Dolce Vita in Limerick: 8 Italian eateries to try in the Treaty City
Food & Travel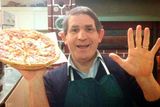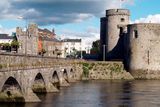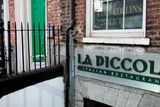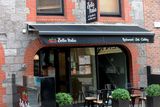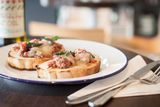 From fish n' chips to fine dining, Limerick has a surprisingly good selection of Italian eateries. Buon Appetito!
Ever since Daviso D'Arcot (AKA Davis Ducart) arrived from Piedmont in the 18th century, Limerick has enjoyed a uniquely Italian twist.
D'Arcot, an Italian architect, set the template for Limerick's city centre and drew on Italian influence for his Palladian Custom House (today's Hunt Museum). But the Treaty City's surprising links with Italy don't stop there.
When Daly's (now Ormston House) developed their food and drink business in Patrick Street in the 1870s, they deployed a Venetian design. The bells at Saint Mary's Cathedral are said to have been taken from a convent near Lake Como, and a wave of Italian families arrived during and after the Second World War, going on to open chip shops, cafés and ice-cream parlours in the city.
All have paved the way for the city's insatiable appetite for Italian eateries - a trend that continues today. Here are some of the very best!
La Cucina
La Cucina features in John & Sally McKenna's 2016 list of the top 100 places to eat in Ireland, and not by accident. This place offers the finest of artisan cooking without the wait in its modest premises near the University of Limerick. There are healthy options like lemon and thyme oven roasted salmon salad, or alternatively, a fat dollop of calzone. Bruno, son of the owners of La Piccolo, runs the kitchen, while partner Lorraine operates the business. Munster rugby players love it.
Details: University Court, Castletroy; 061 333980; realitalianfoodies.com.
Read more:
La Piccola Italia
Located in a basement and not readily visible to passing traffic, La Piccola is a bastion of Limerick's fine dining scene. Couple Anna and Alfredo moved from Italy to work in Limerick and, with tagliata on the menu - a dish of sliced beef peppered with Italian garnish - even the most ravenous carnivores leave satisfied.
There's a separate pasta menu with choices like penne arrabiata con salsiccia or, for a taste of veal, Milanese saltimbocca alla Romana. Right next door, Piccola has takeaway pizza for home birds. The premises is a stone's throw from the oval square on O'Connell Street, so D'Arcot would have been pleased!
Details: 55 O'Connell St; 061 315 844; lapiccolaitaliarestaurant.com
Papa Ginos
Papa Gino is a Limerick icon. The city may have undergone a massive overhaul over the last couple of decades, but this premises has remained a constant. Gino has served pizzas from a time when they were almost a local delicacy - the late-night soakage fries are good, but the pizzas are the best in Limerick... and arguably this side of Rome. His catchphrase - "Do you want pepper on it?" - is as renowned as his dishes. Try the Hawaiian... and watch out for the half-price promos on Facebook, too.
Details: 33 Denmark St, 086 260 2169; facebook.com/papaginoslimerick
Freddy's Bistro
Described by food critic Georgina Campbell as a restaurant with a menu that "has a bias towards Italian dishes," sisters Liz and Caroline have kept Limerick diners satisfied for decades. The menu sets the Italian tone with dishes like pappardelle pasta carbonara with pancetta and mushroom on offer, but there's also lamb and steak for traditionalists (Freddy's has a full coeliac menu, too).
Set in an historical building on a narrow lane near the city's post office; Freddy's fuses local produce like St Tola's cheese from Clare with Mediterranean flair. Last October, it was named one of TripAdvisor's Top 10 fine dining restaurants in Ireland.
Details: Lower Glentworth St; 061 418749; freddysbistro.com
Bella Italia
Brother and sister Hugh and Caroline Mahon have run this family-friendly restaurant for a quarter of a century. Caroline trained as a chef in Sardinia, while Hugh keeps the pundits happy front of house. There's a hefty choice of pastas, pizza and crowd-pleasers like lasagne, but there are also Steakstones, where guests can customise how well-done they want their own slabs of meat. A giant 'Mona Lisa' hangs on the wall to remind guests of their setting. The food is reliable and evenly priced.
Details: 43 Thomas Street; 061 418 872; bellaitalia.ie.
Olio e Farina
Olio & Farina isn't a uniquely Limerick Italian dining option, but its omission would be a shame. Its décor has a bohemian texture and the service is friendly and intimate. The food is rustic and authentic and the menu is priced fairly. They serve a humble sandwich, but don't expect sliced pan with fries on the side. Leaves of fresh herbs and market vegetables with slices of fresh salami are the staples.
Details: 2 Little Catherine St.; 061 319 133
Luigi's fish n' Chips
Trading for over 30 years, this is the first dining option visitors encounter after disembarking from the train at Colbert Station. And what an option it is... Local man and Hollywood legend Richard Harris was partial to Luigi's, and many decades later it remains busy and bustling with locals. Service is fast and friendly and the place has had an upgrade in recent years. It's jammers on National Fish & Chips Day!
Details: 44 Parnell St; 061 410 269.
Gusto D'Italia
A new addition to Limerick's Italian food scene, Gusto offers gelato, cakes and waffles in their contemporary premises at the top of William Street. It works well as a birthday treat destination with customised cakes, or to satisfy a spoonful of sweet cravings. The breakfast waffles are attracting a growing clientele, too...
Details: 30 William St.; 061 590642; gustoditalia.ie
For more on Limerick, see limerick.ie and ilovelimerick.ie.
Read more: