12 best beaches in Dublin - a place in the sun for everyone
Beaches are like pubs: everyone has their favourite. And there are a surprising amount of beaches in Dublin, as Rick Le Vert discovers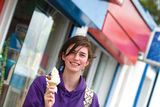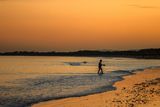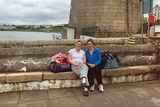 There's much more to beach life than sunblock and sunburn.
The Victorians turned Dublin's seaside into a network of public and private bathing places. Up to the 1970s, generations of Dubliners came in droves to their favourite strand, usually by bike, but today the city's beaches are relatively under used, except for the occasional scorcher.
Venture to one on a balmy summer's evening and you can even be blessed with your very own private seaside playground. There is a bounty of 24 beaches to choose from along our coast.
These are our favourite beaches in Dublin.
Best for Walks and Views: Tower Bay Beach, Portrane (main picture) & Balcarrick Beach, Donabate
On a clear day, the views from the bluff overlooking tiny Tower Bay sweep from Rockabill and its lighthouse in the north to Wicklow and its Sugarloaf in the south.
In between are countless features to catch the eye: seabirds winging over Lambay Island; sailboats near Ireland's Eye; and the candy-striped towers of the Pigeon House rising from Poolbeg.
A gentle cliff walk leads from Tower Bay to Balcarrick in nearby Donabate, following a coastline of shingle worn smooth by the surf. Where the walk spills out on to Balcarrick's 3.4km of sandy strand those rocks form tidal pools, perfect low-water territory for spotting stone crab, common starfish and mussels.
Parking is available at Tower Bay and the northern end of Balcarrick. More adventurous walkers can combine this walk with inland legs taking them to Newbridge Demesne. Avid birders and beach naturalists shouldn't miss Brook Beach, and the adjoining Rogerstown Estuary.
Best for Seafood: Claremont Beach, Howth
You could be forgiven for not knowing of Claremont, given that it lies on the wrong side of the DART tracks, in Howth. But make your way through the semi-industrial environs of the West Pier and you pop out onto a lovely sandy strand, the wall of the railway line at its back, Ireland's Eye a stone's throw to the front.
At low water Claremont joins up with Sutton's Burrow Beach, known to locals as the Hole-In- The-Wall beach.
Claremont's quiet existence next door to the West Pier puts it smack in the heartland of Irish seafood. From the chic surroundings of Ivan's to the more traditional feel of Nicky's Plaice, the West Pier is the destination for fresh sole, lobster, crab, oysters, red gurnard, mackerel, or Dublin Bay prawns. If you've done the catching, Nicky's will even smoke your salmon for you. Wright's, another West Pier institution, seems to have slipped slightly in quality in recent years.
For battered seafood, try the haddock at nearby Beshoff Brothers.
Parking is available in Howth, but both Claremont and Burrow are best reached by DART. Work up an appetite by taking the train to Sutton and walking the length of both beaches before sitting down to the wet bar at 'Beshoff 's the Market' for Dublin's best oysters.
Best for Kitesurfing: Dollymount Strand, North Bull Island
When there is a stiff onshore breeze, the sky above Dollymount Strand suddenly fills with dozens of multicoloured canopies, weaving back and forth, zigzagging this way and that. Tethered at the other end are kitesurfers, the most recent breed of seabird to make this 5km stretch of sand, and Dublin's only remaining blue flag beach, their home.
Itself a relative newcomer to Dublin Bay, North Bull Island has emerged out of two centuries of silt that has accumulated since the building of the North Bull Wall — that means the island is younger than Dublin City Hall.
But in its relatively short lifetime, it has evolved into a UNESCO biosphere, and the place where generations of North Dubliners first learned to drive as well as pursue a variety of other 'less wholesome' activities.
To try your hand at kitesurfing, visit PureMagic, the spiritual hub of Ireland's welcoming kitesurfing community, directly across from Dollymount, or log on to puremagic.ie. To access Dollymount's kitesurfing launch area, use the bridge entrance at the southern tip of the island.
Due to Dollymount's sensitive and protected natural habitats, dogs must be kept on the lead at all times.
Best for Fun and Games: Velvet Strand North and South, Portmarnock
Velvet Strand's vast expanses of smooth sand make it the perfect play surface, whatever your beach pastime of choice. When you're tired of the games, tuck into a picnic spot with superb views of Ireland's Eye and Lambay Island.
In 1930, the 'Southern Cross' took off from here on its way to completing the first successful East-West transatlantic crossing. Two years later, James Mollison repeated the feat solo.
Parking at Velvet Strand's more heavily visited North Beach can be difficult in summer. On peak days, try the South Beach carpark. From here, the beach is a five-minute walk on a designated pathway through the dunes. Or take the 32B or the 42 bus from Dublin City Centre to North Beach.
Best for Doing Nothing: Loughshinny
Not only is it a legitimate beach activity, but doing nothing may actually be one of the most pleasurable. And few places are better for doing it than the wonderfully sleepy fishing village of Loughshinny, with its sheltered bay and sandy half-moon beach.
Of course, when we're doing nothing we're often actually doing something. Like watching how the changing light illuminates the grassy-green fields atop the sea cliffs leading out to the Martello Tower opposite Loughshinny's beach. Or maybe admiring the picturesque balance of the bay and how it frames nearby Lambay Island. Or perhaps aimlessly poking about the bits and bobs thrown up by the tide on that little half-moon beach. Careful though, this borders on beachcombing, and, for some, sifting through flotsam and jetsam classifies as a fullfledged hobby.
For those who after a brief period of doing nothing really do find they have to do something, Loughshinny is the perfect bolthole for reading a book, skimming through the weekend papers, or even painting a seascape. Local history buffs can dive into stories of smugglers, murders, air crashes, and shipwrecks on the Loughshinny Millennium Walk. This pocket of beach solitude is between Rush and Skerries, just follow the Trá sign from the coast road.
Best for Swimming, Kids and Families: North and South Beach, Skerries
Skerries has swimming on the brain. Head to the Springboards bathing place any day of the year at 11am and you'll find a few 'Frosties', a loose-knit group of 40 to 50 locals, gathering for a swim. Some stay in for a few hundred metres; others last for several kilometres. But all of them are here for some fun and a bit of community spirit togged out in the guise of swimming. Skerries all-female pendent to the Frosties irreverently — but perhaps not inappropriately — call themselves the Blue Tits.
Few places along the North Dublin coast can match this cosy seaside town for pure swimming variety. Besides the 'Springers' it has a second deep-water bathing place, the Captains. For those who prefer to paddle out to their depth, it has South Beach. If an onshore breeze whips South Beach to a frenzy, the more sheltered North Beach proves tame enough in almost all wind conditions.
Amusements, rock pools, promenade walks, play areas, islands, sunsets over the harbour, and views out to the majestic black-and-white striped lighthouse on Rockabill – there is little of Irish beach life that Skerries doesn't have. Local lifeguards swear by 'Stoops' for North Dublin's best prawns and crab, and Joe Mays for a nice pint.
Best for Ice Cream: Sandycove
It's not about the ice cream per se; it's about the rich memories of family, childhood and summer that we attach to an ice cream at the seaside. Generations of Dubliners have collected their memories at Teddy's, the colourful little shop dispensing 99s at the opposite end of Scotsman's Bay to the horseshoe-shaped pocket beach at Sandycove.
Few bits of the Irish coastline resonate in our cultural conscience in quite the same way as Sandycove and its renowned neighbour, the Forty Foot Gentlemen's Bathing Place, where the bathers now are co-ed and fully togged, but the sea is still the same as it was during James Joyce's brief residence in the nearby Martello Tower. He memorably described it as the scrotum-tightening, snot-green waters of Dublin Bay.
Lifeguarded Sandycove is the perfect paddling place for small children. Snorkellers and divers find plenty of sealife around Sandycove's rocks. For something more substantial than one of Teddy's 99s, visit Cavistons in Glasthule for South Dublin's best seafood.
Summer parking in Sandycove is a nightmare. To avoid it, take the DART to Glasthule.
Best for Dublin Beach Culture: Seapoint
Arrive early enough at Seapoint and you may just spot a regular — still in dressing gown and slippers — shuffling down for a morning dip. Or you may witness the amusing but not uncommon scene of dainty ladies in togs and bathing caps chatting about the lovely temperatures while less hearty souls stroll by in wool caps and overcoats.
Ask these hardliners about their strange habit of jumping in the sea and they'll even describe it as an addiction, a fix they need to get them through the day. Odder yet, they prefer to do it in the colder weather, before the jellyfish arrive.
On sunnier days, the crowd around Seapoint's Martello Tower swells with other regulars — some remarkably tanned — reading papers, sharing sandwiches, flasks of tea and a bit of gossip. Find your place in the sun and join them.
For one of Dublin's best seaside walks, follow the DART line from Seapoint to the base of Dun Laoghaire's West Pier, and then out to the tip and back. After your taste of Dublin beach culture Seapoint style, try the Purty Kitchen in Monkstown for good food and a pint. Seapoint is best reached by DART, either to Seapoint or Monkstown. Limited parking is available at Monkstown station.
Best for Brunch: Sandymount
It is Dublin 4 after all, the natural habitat of Ireland's chattering classes. What better way to witness them in their element than to join them for a leisurely brunch followed by ritual de-stressing on their local strand. Head to Sandymount Green and you'll find them tucking into American waffles at Mulligan's, the crêpe-style pancakes at Browne's, or one of Dublin's best burgers at Bujo.
Like the natives, the urban gentility of Sandymount Strand, the air of Georgian and Victorian civility that hangs about the shore road, can deceive. Sandymount's massive intertidal zone is a haven for large roosts of waders and migratory seabirds, not to mention a host of hidden dangers. Follow the sand too far out to where the ships of Dublin Bay appear mired on the horizon and you may find the tide sneaking in behind to cut you off.
Parking is available near the Ringsend side of the beach and at Sandymount's Martello Tower. Sandymount's southern end, near the Booterstown Bird Sanctuary, is a sensitive habitat of embryonic sand dunes, where couch and lyme grass are slowly paving the way for clumps of marram grass to take hold.
Best for Body and Soul: White Rock, Killiney
Hidden from view at the bottom of Killiney's suburban slopes lies a wild little jewel called White Rock. At low water this sandy niche in the rocks at the northern end of Killiney Bay appears a mere appendage to the magnificent stony beach that curves its way around to Corbawn, Shankill several kilometres to the south.
At high water White Rock comes into its own; cut off from the rest of the beach, the rest of the world, it turns into a retreat for body and soul.
The sound of rushing water, of stones rattling in the waves like 'bones in a bag', blots out all but the passing of an occasional DART overhead.
Pad across the soft carpet of coarse-grained sand for a plunge in the foamy water and then find a place among the sheltered nooks and crannies to warm up while luxuriating in the seaweedy air. Considering its location near the homes of Ireland's Beautiful People, White Rock is also great for a bit of discreet stargazing. Limited parking is available along Vico Road.
Access the beach from either end of the parking zone by pathways and steps. Enjoy genteel views of Sorrento Terrace and Dalkey Island before descending the steep hillside through clusters of aromatic gorse and colourful wildflowers.
NB: This story has been updated since it was first published on 13/06/2009