10 Best Sandwiches in Dublin
Independent.ie #DublinsBest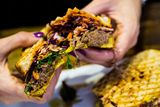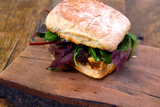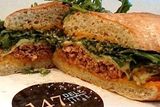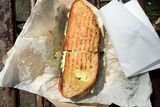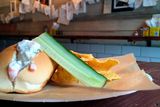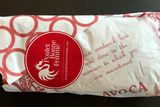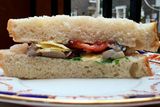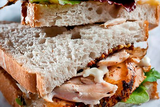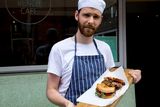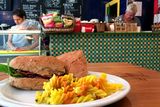 Hungry? We've stacked up the ultimate sandwich list for Dublin. Now go ahead and tuck in.
What makes a great city sambo?
We've munched our way across Dublin, scoffing baps and blaas, subs and rolls in a quest to answer one of the most pressing questions of our (lunch)times. It's been fun, it's been filling, and here's the best of the best, scored out of 10.
Bon appétit, baby!
Pear, Bacon & Cheddar: The PepperPot
This humdinger was one of the most recommended sandwiches of our campaign. And we're happy to pay the good karma forward. The ingredients are simple. A straight-up slice of bacon, mixed with tangy shards of Montgomery cheddar, mustardy mayo, a sprinkle of leaves and the clincher - several slices of roast pear.
Pear? We hear ya. It's not exactly ham. But it works wonderfully well - cold against the hot bacon, sweet against the savoury notes, juicy against two great doorsteps of crusty bread. You'll wonder how you spent so many lunchtimes without it... and the tearoom feel on a Powerscourt Centre terrace is a bonus.
Possibly the best sandwich in Dublin. Delumptious.
You say: "Bring a pal or two to taste more..." - Una Morrison (@surfguna)
Price: €6.50
Details: Powerscourt Centre; thepepperpot.ie
Sambo-meter: 9.5/10
Free-range Chicken: Green Bench Café
I queued for 23 minutes to get a takeaway sandwich at the Green Bench Café off Harcourt Street. Was it worth it? Hell, yes. Juicy chunks of free-range chicken came crammed between two slices of gently-toasted bread with layers of buttery avocado, springy leaves, a sweet celeriac slaw and just enough aioli to give a whack of garlicky goodness without riding on my breath for the afternoon. Handed over in a brown paper bag, it was hot, fresh, and cooked on the spot that morning. Worth the wait - at least as a once-off. Plus, they do sausage rolls on Fridays. Lordy!
You say: 'Best in Dublin without question' - Dan Ó Dufaigh, via Twitter
Price: €6.50
Details: 18 Montague Street, Dublin 8; greenbenchcafe.com
Sambo-meter: 9.5/10
More:
Pastrami Melt: The Pig & Heifer
If you're going to call yourself a New York deli, you'd better deliver.
Thankfully, The Pig and Heifer does, offering all kinds of slap-up breakfasts and comfort sambos in three locations across the city. Its Empire State Building is the Pastrami Melt, with shreds of corned beef crammed in alongside melted cheese, spinach, mustard and pickle on a whopping, Bretzel Bakery bap. This is an 'I guess it's salad for dinner' kind of sandwich, though the leaves do assuage the guilt. The pasta on the side is an unnecessary (and unasked-for) garnish in my book, but the sandwich itself hits the spot. No finickiness. No fuss. Just as NYC would want it.
Price: €6.50
Details: 21-23 City Quay; 6 Guild Court; 2 Charlotte Way; pigandheifer.ie
Sambo-meter: 8.5/10
Rotisserie Chicken: Poulet Bonne Femme
Sandwiches should be simple. Any yet so many are complicated, loaded down with braised this and pickled that, stacked into hipster high-rises you can barely get your jaw around, let alone keep off your clothes. Poulet Bonne Femme is different. It goes back to basics, starting with the bread (sourdough or granary), adding rotisserie chicken, pork, beef or lamb, and a simple list of extras – butter, mayo, mustard and leaves with the chicken; horseradish with the beef. My advice? Take them all (the extras, that is). The result is a gungy masterpiece that accentuates the melt-in-mouth majesty of the rotisserie-cooked meats without ending up all over your keyboard. It's the way sandwiches should be… a simple pleasure.
You say: 'So simple but so delicious!' - Barbara Feeney (@BarbaraLFeeney)
Price: €6.95 (chicken)
Details: 13 Suffolk Street; pouletbonnefemmedublin.com
Sambo-meter: 8.5/10
Spiced beef blaa: Hatch & Sons
Set beneath the Little Museum of Dublin, Hatch & Sons marries the atmosphere and basic goodness of an old Georgian kitchen with the know-how of 21st century artisans. Blaas are a USP, delivered fresh from Walsh's Bakehouse in Waterford - home of the soft, floury bap. Several variations are on offer, but my favourite combines Michael Bermingham's spiced beef with Coolea cheese, onion relish and rapeseed mayo. It's fab without being flashy - I can eat a hipster burger anywhere in the world, but I can only eat a blaa with fillings like this in Ireland. And eat it, I surely did.
You say: 'Partial to mine with a fab lemonade...' - Helen Carey (@oinkyboo)
Price: €6.60
Details: 15 St. Stephen's Green; hatchandsons.co
Sambo-meter: 8/10
More:
The Ruby: Oxmantown
Lunchtime can make for a tight squeeze in this northside gem, but it's all worthwhile when you get your teeth into one of the sandwiches. The usual culprits - pulled pork and ham hock - do make an appearance on the menu, but The Ruby makes the most powerful statement in Oxmantown. Rightly laid out on rye and loaded with thickly-sliced pastrami from McCarthy's Butchers in Kanturk, it finishes with sauerkraut, horseradish, Swiss cheese and, of course, pickles. The layers make for a wholly joyous office escape. Be warned, however - brownies on the counter are cleverly cut small enough to feel like a justifiable treat - Patricia Murphy
Price: €5.50
Details: 16 Mary's Abbey, City Markets, Dublin 7
Sambo-meter: 8/10
Lobster Roll: Klaw
First, the price. How can you possibly justify charging €16 for a small brioche roll? I put the question to the waiter at Klaw, a crabshack-style joint injecting some much-needed oomph into Temple Bar. It wasn't the first time he'd been asked.
Here's the deal. The lobster is good. Very good. Disappointingly, it doesn't come from Ireland (for that, you need to order even more expensive dishes), but it does come from Maine. And the filling is seriously delicious - a mix of mayo, chervil and Tabasco that hits the sweet spot in jig time. Your hard-earned cash goes into quality ingredients and seafood know-how, in other words. Plus, oysters can be had for €1.50 a pop at happy hour, the tunes are banging, and you can't get a Bloody Mary at O'Brien's.
"Nobody's going to have a lobster roll every day," the waiter says. And Klaw serves pretty much the only decent one in the city. Worth a splash?
Price: €16
Details: 5A Crown Alley; Temple Bar; klaw.ie
Sambo-meter: 8/10
More:
The Meatball Sub: 147 Deli
Photo: French Foodie in Dublin
Parnell Street is one of Dublin's most brilliantly scattergun strips, a mash-up of Asian supermarkets, Korean BBQs and dive bars that resists description. At the heart of it is 147 Deli, a buzzing, NYC-style café/deli cranking out the sambos like a DJ cranks out the tunes. Locals have their faves. The Reuben gets consistent shares, the pork comes lathered in slaw, the cheese steak is a heart attack waiting to happen. I've plugged for the Meatball Sub, for pure, sloppy, finger-lickin', plug-the-hole-in-your-belly glory. Served on a toasted sub, a scattering of meatballs (not overcooked, praise the Lord!), comes with a whack of rocket, two types of cheese (Provalone and Parmesan) and a lathering of pesto. It's filling, but would you want it any other way?
You say: 'Best has to be 147 deli, far and away...' - Sam McAllister, Facebook
Price: €7.50
Details: 147 Parnell Street, facebook.com/147deliparnell
Sambo-meter: 7.5/10
Serrano & Mozzarella: Mish Mash
There you are, walking down Capel Street, when a blue-and-white shopfront pops up like a flower in the randomness, with a little message hand-written on the window: 'Don't be afraid, walk in!' It really would be rude not to.
Mish Mash is a small and quirky space, with kooky cushions here, a hat stand and chipboard fittings there, and two sisters pouring their hearts into it behind the counter. It's got good teas, salads and soups, but we're here for sandwiches, and the one to go for is the Serrano ham with mozzarella and avocado.
Served on toasted sourdough, with a hidden sprinkle of seeds and a homemade herb dressing ('it's a secret recipe,' I was told gently), it's not the best sandwich in Dublin (I blame the iceberg lettuce) - but it is a perfect match of sandwich and café - and that's one of life's little pleasures.
Price: €7
Details: 66 Capel Street; facebook.com/mishmashdublin
Sambo-meter: 7.5/10
Watch:
Chargrilled Chicken: Juniors
City slickers will have to go one or two Dart stops to chow down on Dublin's chargrilled chicken original, but boy, is it worth it. Similar to Paulie's Pizza, Juniors' lunchtime smorgasbord is the stuff of legend at this stage - the sort of spread that hangovers crave and ex-pats pine about in Facebook feeds.
The chargrilled chicken special comes with lemon and basil mayo, roasted tomatoes and rocket on ciabatta, and you'll find piles of them stacked up, in true deli-style, from noon to 2.30pm (we'd definitely recommend getting in early). A hall-of-famer.
Price: €6.75
Details: 2 Bath Avenue, juniors.ie
Sambo-meter: 7.5/10
#DublinsBest
Our city campaign, #DublinsBest, aims to combine the best of our readers' tips with our own Independent.ie writers' opinion and good old-fashioned legwork. Did we get it right? Got any tips to share?
Email travel @ independent.ie, or post on Facebook here.
Read more: