Vive la Vendée, our unforgettable, utterly French escape
Cycling, the Puy du Fou theme park and the world's most expensive potato are just some of the highlights on a family camping trip to western France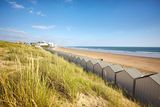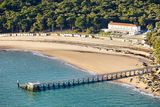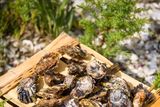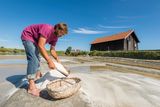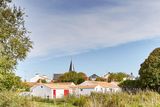 I was five when my parents packed all four of us into their campervan and drove to the ferry to France. I remember the thrill of those long, dark tunnels along mountain passes, singing songs the entire way (God bless their patience). I remember tyres melting from the incredible heat and the smell of cheese, even at 8am, when my father unwrapped it for breakfast to eat with a hunk of bread.
Forty years later, I decided to return to France with my own family, with a childish enthusiasm to recapture that experience — without the campervan, but with a renewed enthusiasm for French cheese.
We had a week and chose the sleepy Vendée, a region between Nantes and La Rochelle known for its golden sandy beaches, pretty fishing villages and often, we discovered, inclement weather. We arrived at Le Bois Dormant campsite to a fantastic electrical storm that lit up our mobile and sent the kids screaming into their bedrooms.
Guests of the campsite have access to sister site Le Bois Masson across the road, which has lively entertainment, a spa and several pools, and both are well located near Saint-Jean-de-Monts village, the beach and several large supermarkets. Our three-bed cabin was one of the roomier options, although moving around the 'cosy' bedrooms often required deft precision and a few bruises. It was well equipped with mod-cons and a good-size covered terrace, essential for heatwaves, or thundery showers.
The shady site is hugged by dappled woodland and has two big swimming pools with slides, a football pitch and a games room, which kept the kids busy while we decompressed. There was a distinct air of sleepiness about the place; a snack bar remained shut for the week and the usual nightly entertainment was reserved for weekends only — a hangover from Covid, it seems, as the region claws its way back to normality. It made for a laissez-faire holiday but, by midweek, we were ready for exploring.
The Vendée has the largest network of cycle tracks in France, making it a great family-holiday option. We rode through forests and across salt marshes, where salt is still harvested in little white mounds on the banks, and between shacks on oyster farms where we tried to convince the kids they tasted "like chicken". We felt quite French until they spat them out, with sound effects.
We moved on to the food market in the pretty town of Saint-Jean-de-Monts, where we loaded up on pastries and pastramis, apricots, cheese so smelly it made my eyes water, and mouth-watering rotisserie chicken from Volailles Pineau, which they serve with the region's best delicacy: potatoes with salted butter. The salty bonnotte, from nearby island Noirmoutier, is considered to be the world's most expensive potato and the island's claim to fame.
But it has other gems worth noting. Until the 1970s, the humble road linking to the mainland was the only access point, cursed by plenty who mistimed the tides and were left stranded. Nowadays, a rather swanky bridge offers a quick (though much less interesting) route across. We managed to just make it across the road as the tide was turning, eagerly watching as a couple hightailed it to their car on the nearby strand as the water licked its tyres.
Noirmoutier is the Hamptons to the mainland's New York City, albeit an understated version, home to wealthy Parisians, chic shops and restaurants. The main town, Noirmoutier-en-l'Île, is the buzzing hub, home to a castle and the remains of a monastery. Otherwise, life here is low-key, with more vélos than cars, and the rest of France feels far away (islanders even refer to the mainland as 'Le Continent'). The island is skirted by sandy beaches, so many you could visit a different one every day for weeks.
Plage des Dames was a favourite, fringed by a string of charming white huts, with a long pier and a forest thick with oak trees, mimosa and eucalyptus. It also has a glut of good food options: lunch was a delicious lobster roll from a small food truck, followed by sorbet and ice creams, crêpes and some crevettes at La Potinière restaurant. The long avenue to the beach is like a stroll through Millionaires' Row, without the bling: beautiful, shuttered mini châteaux leaving you wistful for a French holiday home.
Back on the mainland, we took in the arty village of Sallertaine, walking past artists painting in open windows, and I shopped for more smelly cheese at a local market. Further south are Saint-Gilles-Croix-de-Vie and Les Sables-d'Olonne, both port towns where you can watch boats sail in and out.
We also managed to squeeze in Puy du Fou, dubbed "the world's best theme park" but without a rollercoaster in sight.
Nothing prepared me for an experience that lies somewhere between a Renaissance fair and a Las Vegas spectacle, which takes visitors back in time through the history of the region told through a series of live 30-minute shows in various arenas. There were swashbuckling musketeers, a full-scale coliseum with gladiators and live animals, including 200 very well-behaved geese parading behind chariots.
When a full-sized longship emerged from a river with Vikings on board, there was a communal gasp. My daughter turned to me and whispered, 'Mum, how did they do that?' I, too, sat open-mouthed. The pièce de résistance, though, was the evening's Cinéscénie, the biggest night-time show in the world, performed by over 3,000 volunteers all set on a lake with villages and a château. The dramatic 1.5-hour show had horses and boats, fighting and flames, coming to a close with a remarkable fireworks display.
When the show was over, we meandered back to our hotel for a short sleep before our early flight home. At 6am, as I sat bleary-eyed at the breakfast table, I had my last taste of ripe cheese, with a hunk of bread, feeling just like my father — and just a little bit French.
Don't miss…
The Fiefs Vendéens wine-growing region is known for its lovely rosé and white wine, as well as some unusual single-grape-variety reds. The vineyards are grouped together around the southern Vendée, often in beautiful châteaux or rural barns.
Get there...
Ryanair flies to Nantes from Dublin year round; Aer Lingus flies in summer; ryanair.com, aerlingus.com
If driving, Irish Ferries has return sailings with a cabin for a family of four in October from €504; irishferries.com
Stay...
Orla was a guest of Siblu's Le Bois Dormant holiday village, where seven nights from September 17 costs from €308, with up to six sharing an Élégance holiday home with terrace; siblu.ie. See also vendee-tourisme.com