Springtime skiing in France: 'You get the chance to have the mountain to yourselves'
Shane Fitzsimons takes a spring ski trip to Les Arcs, and finds longer days, better prices and fewer people on the slopes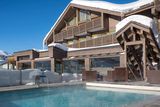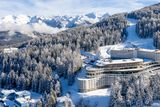 It's perhaps the best feeling in the world.
If you ski, you know that already. But if everyone was doing it, and the slopes were like Henry Street at Christmas, you maybe wouldn't feel the solitary joy of the mountains quite so keenly. So what's a body to do?
The best solution is to time when you go. And that's why springtime skiing is the fast-growing season for skiers in the know. Pick a resort with enough altitude (2,000m+) and a good snowmaking infrastructure on the lower slopes, and you're off. The days are longer, it's warmer, the prices are better than in high season, and you get the chance to have the mountain to yourselves.
Powder days are just as frequent, as we found when we stayed last April with the brand-new Club Med Panorama hotel in Les Arcs. And when you get the powder in spring, and the pistes aren't crowded… well, it is heaven.
Nestled in the pine forests above Bourg-Saint-Maurice, the new Club Med has the look of a Bond villain's lair. And as you luxuriate in the outdoor hot tub, gaze at the views across the valley at Mont Blanc and La Rosiere, or settle in with your crew for the greatest buffets since Warren, you may feel a touch of the 007s.
It's 'ski in and out' mais oui, the ski hire is excellent and the ESF guides are patient and encouraging.
As regards the skiing, the slopes of Les Arcs have more than enough to keep skiers of all levels and abilities happy. The Paradiski resort (the uninterrupted ski area between Les Arcs, Peisey-Vallandry and La Plagne) has 425km of runs, so you are not going to get bored. You will be very happy.
Speaking of happiness, I've got to bow my head in respect to the chefs at the Club Med kitchens. Variety, quality… and hey, you can go back for seconds. And I'm not being greedy saying this. It's a science thing. Skiing burns up milliards of calories. That's scientifically proven - so all-you-can-eat rules apply.
Anyway, Les Arcs is a five-smile resort. Bring your family, bring your friends. And do it in the springtime.
Further up the valley is the Three Valleys ski area - made of of three parallel valleys of Courchevel, Méribel and Belleville and the eight or so resorts there - but it was to Courchevel we sallied. Courchevel 1850, no less.
This is where Kate and Wills like to hang out with their pals. This is high-end skiing. Especially when you have your feet under the table at the Hotel Annapurna, the best spot in town. It's got the highest elevation of any hotel in the resort and its own dedicated ski shop for hire with access to the best guides from First Tracks.
In short, it's a temple of skiing, as befits a hotel owned by the family of Alexis Pinturault, France's most successful World Cup skier and Olympic medallist, whose medals and trophies dot the halls of the hotel. It's quite something to be up so close to such silverware.
The hotel doesn't stint on the creature comforts either, with one indoor pool and one heavenly outdoor one, two Turkish baths, a hammam, a spa and all the rest. It's got fantastic freshly baked bread and the funkiest carpets and decor. And in my room there's a Japanese toilet seat - heated, of course, and with one of those hidden squirty things that… OMiGod. Is OMiGod a word? OMiGod.
From the hotel you can see the small landing strip of the Altiport, where the insanely short (500m) runway has a gradient of about 20 degrees, which is why it has featured on the TV show Most Extreme Airports. And no, I neither knew those statistics, nor that such a TV show exists. But the Altiport is also where you can hire a sensible helicopter from Savoie Helicopteres to joyride around the mountains, which is a bit of a buzz. And you can ski up to the perimeter and watch those crazy flyboys do their thing.
The skiing in Courchevel is great. Not surprising then that Kate and Wills like these pistes. I may have skied past them: it's hard to tell when you're suited and booted for the slopes. On our foray, we set up a base camp at the restaurant Bel Air, at the top of Ariondaz gondola - well located and a great place to grab a lunchtime pizza.
The slopes are wide and the lifts are fast. We chaired up to the top side of the valley and had just enough time to ski down into Meribel before turning to go back up again. Eyes-right at the spot where Michael Schumacher fell. But these are impressive mountains. You've always got to respect them.
What's really nice about Courchevel 1850 is that it's not just a resort, it's a village, with all the stuff of village life. So once off the slopes we went exploring, and as our hunger grew, we found ourselves wandering into restaurant La Chapelle, a cosy spot with a roaring fire and a warmer welcome.
In this part of the world, where Italian and French influences meet the mountain's traditional approach to the best of locally sourced food, the question 'what will we eat today?' takes on the same significance that politics or sport does at home. Only more so.
Food is religion, and in the Tarentaise valley they're all believers.
You order a steak, and it could come smothered in ceps foraged from the lower slopes. Your cheeses - the reblochon and tomme, the vacherin and (the god of them all) the beaufort - are rated by which pastures the cows or sheep grazed and in what month.
You don't have to say 'al dente' when ordering pasta. And the wines? Like someone convinced a long hot lazy summer to slip inside a bottle, and then they swiftly put a cork in it.
Back in the village, athletic types and the younger contingent will both love the Aquamotion centre: two big heated pools, waterslides, jumping boards, relaxation pools, a dark room salt-water pool, climbing walls, and a surf simulator that's unlike any wave I've surfed (but insane fun nonetheless). The centre is just the thing for those days of poor visibility on the mountain.
Perhaps it's my memory, but I can't recall too many Irish competitors in ski jumping. So with half an eye towards being the first Eamon The Eagle, I took the 5km trip to Le Praz to check out the ski jumps there (it's where the French team trains, and they were used in the 1992 Olympics).
The moment I saw them my stomach did a 180-degree flip: my body simply rebelled against even considering it.
Let me tell you this, Ski Sunday doesn't convey the utter insanity of ski jumping. But at the same time, the local ski club starts six- and seven-year-olds training on these 25-metre jumps. Truly, the young have no fear.
Just past the jumps, you'll find La Taiga. A bar/restaurant where you can either find your Dutch courage… or decide to sit this one out and have some very pleasant roast duck instead. Quack.
Getting there
Courchevel contacts
Go on, splurge...
* Hotel Annapurna, Courchevel 1850
www.annapurna-courchevel.com
* Savoie Helicopteres
contact@savoie-helicopteres.com
www.savoie-helicopteres.com/
* Aquamotion, Courchevel village
www.aquamotion-courchevel.com
* La Chapelle restaurant,
Courchevel village
www.lachapelle1550.fr
* Bel Air restaurant (at the top of Ariondaz gondola, altitude 2,050m)
www.belair-courchevel.com
* First Tracks Ski Coaching
info@first-tracks.fr
https://first-tracks.fr/en/
* Taiga restaurant, Courchevel la Tania, www.easytaiga.com
Les Arcs contacts
* Club Med Les Arcs Panorama. Really, that's all you need to know.
www.clubmed.co.uk/les-arcs-panorama/