Sicily's best kept secret revealed - and it's not Taormina
Travel Insider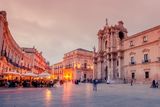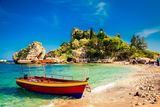 'I've found Sicily's best kept secret,' says Pól Ó Conghaile. And it's not Palermo or Taormina...
Sicily isn't easy to fall in love with.
Roads are frequently festooned with rubbish. People can seem distrustful, towns and villages crammed with derelict buildings that look ready to crumble in the heat.
Of course, the sea is stunningly clear — but it's that way around lots of other Mediterranean islands too. The hilltop resort of Taormina is breathtaking, but in truth, it's about as Sicilian as Sorrento.
Then there's Syracuse.
Back in the first century BC, Cicero said this was "the greatest Greek city and the most beautiful of them all". I stumbled across it almost by accident, and fell in love off the bat.
From the water, its old town, Ortygia, looks as dramatic as Dubrovnik. Ancient, gnarled Doric columns are lodged in the cathedral walls. At sunset, Baroque buildings light up in peaches and pinks. The Piazza del Duomo offers some of the best people-watching in Italy. Blossoms play off the faded grandeur of old palazzos.
But here's the thing. Syracuse is touristy, but it feels real. It blends Sicily's grit and glamour brilliantly. Old women peep from doorways amidst un-tatty souvenir shops. Prices are cheaper than Taormina. You'll score with street food (try the sticky arancini) as much as plaza restaurants, and there isn't a Daily Mail or inflatable dolphin in sight. It's 2,700 years old, and the waters are crystal-clear (boat cruises are available).
Chalk it down for a city break, significant birthday or romantic surprise. Like Sienna or Granada, it's an off-radar gem you'll talk about for years to come.
Food, Glorious Food
Sicilian food, like the island itself, is not an easy nut to crack.
It takes work finding the best pizzas and pasta, gelatos aren't often homemade, and resort restaurants can be variable, to say the least.
In Syracuse, however, the Mediterranean, Arabic and Italian influences shine through. Try Cannoli del Re (Piazza del Duomo 6) for crispy tubes of ricotta-filled loveliness near the cathedral, fresh seafood pretty much anywhere (check out the daily market), or stuffed antipasta plates at Mokrita (via Picherali 11, overlooking the Aretusa Fountain).
Get there
July and August are peak months in Sicily — both for tourist crowds and stinging heat. Prices and temperatures fall in September and October, and Aer Lingus (aerlingus.com) continues flying to Catania — a 45-minute drive from Syracuse — up to November 5.
The city can also be visited from resorts like Taormina and Giardini Naxos, which are offered as package holidays by Sunway (sunway.ie) and Topflight (topflight.ie). Going to press, seven nights in September started from around €575pp, including flights and two-star accommodation.
Read more: