Secret Balearic Islands - an insider's guide to lesser-known Menorca and Formentera
You may know Mallorca and Ibiza. Try our guide to the lesser-known Balearic Islands...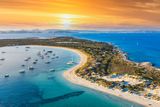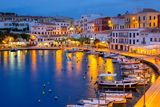 Isabella Noble
© Independent.co.uk
Spain's magical Balearic Islands rank among the Mediterranean's most popular destinations, pulling in 16.5 million visitors in 2022. While Mallorca and Ibiza are the busy headliners, look beyond for a duo of bewitching, smaller islands where life still moves to a mellower beat.
Menorca, the archipelago's easternmost island, was declared a Unesco Biosphere Reserve back in 1993. More than 100 beaches are sprinkled along its glittering 200km coastline, many only accessible on foot; wild, rust-red strands hug the northern shoreline, while the south has pine-fringed, white-sand coves. Inland, sun-bleached farmhouses, stone-built walls, and mysterious Talayotic monuments dot the rural landscapes.
Then there's salt-kissed, sand-dusted, barefoot-loving Formentera, one of Spain's loveliest corners, off southeastern Ibiza.
The only way to get here is by ferry from Ibiza (30 to 60 minutes) and, in a bid to protect natural spaces, there are restrictions on summer vehicle numbers (something Menorca is also considering). Formentera's heavenly beaches are feather-soft, salt-white sweeps washed by turquoise water that gets its translucent sparkle from the oxygen-producing Posidonia seagrass. Timber boat shelters, ancient windmills and glinting salt flats await along dusty paths.
Both islands have fabulous food-and-drink scenes, too, with Balearic staples such as bullit de peix (fish stew), seafood arrossos (rice dishes), caldereta de llagosta (Menorcan lobster stew) and Formentera's ensalada payesa (country-style salad with peix sec – dried fish).
Here's how to discover these under-the-radar isles for yourself.
Menorca
What to do and see
Mahon and Ciutadella
All Menorca adventures should start in the elegant capital Mahon, set on a 5km-long natural harbour. The pedestrianised old town retains a splash of British architectural flavour, left over from British rule in the 18th century.
Cutting-edge art gallery Hauser & Wirth landed on Mahon's Illa de Rei in 2021, while the history-focused Museu de Menorca occupies a centuries-old convent. Over on the west coast, Ciutadella (the former capital) has more of a classic Balearic feel, with its tangle of narrow streets and Catalan Gothic cathedral.
Wander the Cami de Cavalls
One of Menorca's greatest joys is hiking, horse-riding or mountain-biking along the restored Cami de Cavalls. Dating from the 14th century, this ancient path roams 185km around the island.
Explore Talayotic relics
A collection of mystery-wrapped megalithic monuments is the only remnant of Menorca's prehistoric Talayotic culture. Highlights include the Naveta des Tudons burial chamber and the Torre d'en Galmes, Son Catlar and Trepuco settlements.
Learn about local culinary traditions
Comete Menorca runs hands-on cooking classes from €45 and tours to wineries, cheesemakers, olive oil producers and more. cometemenorca.com 
Best beaches
Cala Macarella, Cala Mitjana and Cala en Turqueta are deservedly popular southern coves, with bottle-green pine forests trickling down to sandy white bays and aquamarine waves. Among the jewels of Menorca's secluded north coast are Cala Pregonda, Algaiarens and Platja de Cavalleria.
On the eastern side of the island, there's great lagoon kayaking and paddle-boarding within the protected Parc Natural de S'Albufera des Grau.
Where to eat and drink
Both Mahon and Ciutadella have wonderful fresh-produce markets, where lively tapas bars mingle with counters of Mahon cheese, just-caught fish and local vegetables.
Overlooking Mahon's port, El Rais specialises in lightly inventive seasonal menus, including signature rices such as arros del senyoret; it's led by the team behind creative Menorcan tavern Ses Forquilles.
Just south, the respected Binifadet winery (tours €12) has an elegant vine-shaded restaurant; pair a Menorcan mushroom rice or a jamon-filled ensaimada with the superb wines.
Ciutadella's Smoix is one of the island's top restaurants, loved for its seasonal, organic-rooted menus (lobster rice, crayfish ravioli). But the city's buzzy food world ranges from seafood haven Café Balear and popular tapas spot Pins46 to ambitiously reinvented Menorcan flavours at smart Mon. Opposite the market, Ulisses does craft cocktails, Balearic wines, and market-fired seafood plates.
Menorca's unmissable bar is Cova d'en Xoroi, built into cliff caves on the south coast – perfect for a sunset pomada (Menorcan gin with lemonade).
Where to stay
Cristine Bedfor
Vintage furniture, local crafts, boho-chic design and a romantic pool garden await in Mahon's historic centre, where a string of townhouses has been reimagined as a soothing boutique hideaway. cristinebedforhotel.com
Agroturisme Son Vives
Escape into the rugged heart of the island at this enchanting 12-room farmhouse-hotel, whose own organic vegetables and cheeses fuel some of Menorca's best breakfasts. Doubles from €138, B&B; sonvivesmenorca.com
Menorca Experimental
Arty styling, Mediterranean hues, creative cocktails and a cabana-lined pool meet a sensitively converted 19th-century farmhouse near Son Bou on Menorca's knockout-pretty south coast.
Formentera
What to do
Village life
Formentera's lively 'capital', Sant Francesc, has a pretty square with a fortified 18th-century church, as well as buzzing restaurants and boho-chic boutiques (Muy, Alma Gemela). Neighbouring Sant Ferran was once a hippie-trail hub and still has a low-key feel.
Hit the trails
A network of 30 Rutes Verdes (hiking, running and cycling routes) has been developed across Formentera, including the ancient Cami de Sa Pujada, a tough 4km climb up to La Mola plateau.
Lighthouses and markets
Drink in the Mediterranean's never-ending blues at La Mola lighthouse, built in 1861 at the distant eastern end of the island (and grab a drink at Codice Luna). Just west, peaceful El Pilar de la Mola bursts into life for its artisanal market on Wednesday and Sunday afternoons in season. Or walk out to the 1970s lighthouse on other-worldly Cap de Barbaria.
Savour Formentera wines
At the pioneering Terramoll winery, near El Pilar de la Mola, you can taste organic wines and learn all about autochthonous grapes such as malvasia (tours €22).
Best beaches
Top of the list is the Trucador peninsula, on Formentera's northernmost tip, whose two dreamy sugar-white beaches (Illetes and Llevant) are part of the protected Parc Natural de Ses Salines.
On the west coast, Cala Saona is a cream-sand beauty wedged between dusty-red cliffs. Platja de Migjorn, a series of seductive blonde coves and strands, stretches all along the southern coast. There's a wild feel to Ses Platgetes, the rocky coves around Es Calo de Sant Agusti, which have good snorkelling. Es Pujols, Formentera's main resort village, has a silky sweep of sand, too.
Where to eat and drink
By the beach
Platja Llevant's long-running Restaurante Tanga is known for its seafood-laced rices, fresh-fish platters and Formentera-style ensalada payesa. Over in Es Calo, Can Rafalet has been making exquisite rice dishes since the 1970s.
There are inventive seafood dishes and rices at Es Codol Foradat on Migjorn, led by Catalan chef Nandu Jubany (also behind La Savina's Can Carlitos).
Kiosko Bartolo, Blue Bar and Piratabus are all lively sundowner spots along Migjorn.
In town
Grab breakfast (perhaps a tomato-topped tostada) under the bougainvillea at Ca Na Pepa, overlooking the church in Sant Francesc. Nearby Ca Na Joana serves local-inspired menus in a romantically converted 17th-century house, and Can Carlos does Italian-Balearic cooking in a fairy-lit garden. Get a taste of Formentera's bohemian past at Sant Ferran's Fonda Pepe.
Where to stay
Gecko Hotel and Beach Club
This serene Migjorn escape evokes everything that is so irresistible about Formentera. Mornings start with alfresco yoga; laidback-luxe plunge-pool rooms channel a beachy Balearic vibe; and freshly simmered rices are served overlooking the water.
Es Mares
A family-owned, adults-only haven of understated Formentera-inspired design, in the heart of Sant Francesc, with 15 calming rooms, an intimate pool and a local-rooted restaurant.
Casbah Formentera
Laidback, finca-style Casbah has sandy-toned rooms among the pine groves just inland from Migjorn. Dine under the stars at Martina Cacheiro Alonso's creative-Mediterranean restaurant.