Pastéis de nata – are Portugal's treats the best pastries on the planet?
If there's a pairing to beat a pastel de nata and a pingado in Portugal, I've yet to find it...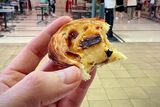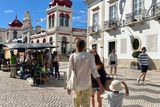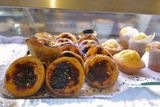 It's the perfect pastry. A tartlet glowing like sunshine on a paper napkin in your palm. A treat you can devour in two bites, or savour in several.
Its exterior looks chunky. But a nest of crisp, flaky, almost filo-like pastry layers crumbles in your teeth. You'll catch most in your mouth, but flakes inevitably flitter onto lips and fingers.
As your bite deepens, the custardy filling is broached. At once neatly set and a gooey pleasure, it's lightly singed on top, never too eggy, and packs surprisingly delicate pings of lemon and cinnamon.
It is the pastel de nata — a simple snack and Portugal on a plate. And one is never enough.
"I eat three a day, I know how it is," says Diana Nunes of Portugal 4U, which offers tailor-made experiences in the Algarve. Her tours regularly include stops for coffee and pastéis de nata, a treat she describes as "in our DNA".
"A good Portuguese should have at least five or six espressos a day. That's a shot of life. And along with a shot of life, we should have something to warm our soul. And that's the pastel de nata."
"It's like a love song between the two. It's something we've eaten since we were really, really small, and it gets into us. It's tradition."
Plenty of places have signature eats and drinks. Think of Guinness here, pizza in Napoli, or cheesesteak in Philadelphia. Many have gone global — pastéis are popping up on café counters all over Ireland. But nothing compares to the taste bomb, the squeak of pleasure and the pure... well, Portugal-ness of devouring a pastel in its native habitat.
Last week, I was reminded of that at the market in Loulé. The Arabic-inspired building is a popular daytrip in the Algarve, and tourists browsed local handicrafts and goodies like almonds, figs and honey while locals gravitated around the splat and thunk and funky smells of the fish section.
At the centre was a café, and there I bought a pastel de nata together with a pingado (an espresso 'stained' with a drop of steamed milk) for just €2.35.
I was already in Portugal. Now Portugal was in me.
The simple pleasure comes with a story, too. Pastéis are said to have originated in the 17th century, when egg whites were used to starch clothes and other uses were found for yolks. The first were invented at Jerónimos Monastery in Belém, now part of Lisbon. A businessman acquired the recipe in 1837, and the shop he opened, Pastéis de Belém, continues to churn them out (and keep the recipe secret) today.
Did pastéis de nata (nata means cream) come from a competing recipe, or various takes on the Belém versions?
"There are a few legends," as Nunes says. Which, of course, adds to the charm.
Today, you'll find pastéis de nata all over Portugal (not to mention the Azores, Madeira and even former colonies like Macau and Mozambique).
Whether you prefer them warm or cool, heavy or light on the cinnamon, burnt on top or just gently charred, one thing is certain — "The problem is that they eat the first, and then don't stop," Nunes says of her guests. "You get addicted."