Ooh la la! The hot sweet south of France... Antibes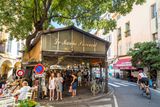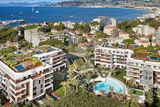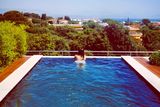 'Diffused magic of the hot sweet South… the soft-pawed night and the ghostly wash of the Mediterranean far below" is how American writer F Scott Fitzgerald describes the bustling coastline of the French Riviera in his novel Tender Is The Night.
Fitzgerald and his wife Zelda packed their bags and moved from New York to Antibes in 1925, returning to New York a couple of years later. He rented a seaside house called the Villa St Louis, which later became the five-star Hotel Belles Rives.
Along this sublime coastline sits the old town of Antibes, and its neighbouring little sister village, Juan-les-Pins. It was Fitzgerald's time spent in Antibes and Juan-les-Pins, where literature meets Champagne, that inspired him to write his famous novel The Great Gatsby.
Antibes has hosted the rich and famous, from the royals to Van Gogh, since the mid-19th Century and it has maintained that tradition, with A-list celebrities like George Clooney and Johnny Depp making it their summer home.
During the day, the sun beams from the cloudless sky on this idyllic place that boasts over 300 sunny days a year.
At night, light from the moon and anchored yachts reflects off the Mediterranean and in the distance, depending on which side of the Cap you stand, you can see the twinkling lights of either Nice or Cannes. There is a buzz about Juan-les-Pins, especially in the evening as guests of the Riviera get ready to dine out. The narrow streets are filled with couples, walking hand-in-hand, elegantly dressed in all-white ensembles, and families who look like they have just stepped out of a Dolce & Gabbana ad campaign.
We made an unforgettable visit to Hotel du Cap-Eden-Roc.
It's perched on top of the Cap that splits Juan-les-Pins from Antibes and is surrounded by century-old pine trees. The saltwater infinity pool juts out of the cliff edge, with exposed rugged rock resting above. A swing hangs over the cliff's edge, along with ladders and a diving board (Margot Robbie was pictured diving here before appearing at the Cannes Film Festival for her new movie Once Upon a Time in Hollywood).
We ate at Eden-Roc Grill, a restaurant that wraps around the cliff edge offering magnificent panoramic views at any time of the day.
Bono, Michael Douglas and model Emily Ratajkowski have eaten here. It is the perfect place for people-watching and celeb-spotting - oh, if only the walls could talk!
We were treated to picturesque views as the sun set behind the peaks of the Southern Alps. The menu included roasted sea bass steak, oven-grilled spiny lobster with Parmesan cheese and grilled French matured entrecote, while Whispering Angel, poured into pre-chilled wine glasses, was the chosen rose for the table.
We visited the old town of Antibes in the early morning, the prime time to do any outdoor excursions as the mercury hasn't reached its peak. On route to the Picasso Museum, with our guide Lucy Howard from the Antibes and Juan-les-Pins tourist office, we stumbled upon the Provencal market in the town centre. It offers a diversity of fresh regional produce, including cheese from the mountains; and bouquets of cut or dried flowers. The market possesses an energetic atmosphere, with locals filling their wicker baskets with fresh fruit and vegetables, before cycling away with a baguette tucked under their arms.
The Picasso museum, formerly known as the Chateau Grimaldi at Antibes, has more than 200 pieces of art by Pablo Picasso. He used the upper floors of the chateau as a studio in 1946 and donated some of his work to the town of Antibes. The museum affords marvellous views from its outside terrace where sculptures are exhibited.
We stayed in the brand new and unique resort Parc du Cap, built by luxury property developer Caudwell Collection.
It is private and secluded, surrounded by tall palm trees and perfectly manicured gardens. The indoor facilities are like the kind of stylish sanctuary you would expect at a five-star hotel and are available for all residents of Parc du Cap to use. It includes an indoor heated pool, spa pool, sauna, ice-room and private treatment rooms for when you need to unwind.
While I was testing out the indoor facilities in the early hours of the morning, the sun was rising and heating up the outdoor infinity pool and tennis courts.
Parc du Cap has 24-hour security and a concierge service which is always available to ensure that any needs and wants of the residents are met.
One of the key benefits of owning a Parc du Cap property is the lock-up-and-leave aspect. The contemporary-style apartments on offer include one, two and three bedroom apartments. Prices start at €590,000 and range to €4,500,000 for a four-bed penthouse.
We stayed in the penthouse, which has four spacious ensuite bedrooms, an open-plan modern and bright kitchen, living and dining area, complete with a sleek finish.
There is a rooftop deck and infinity pool with views of the sea and mountains.
The electric shutters open in the morning at the touch of a button, letting in the sun. The bathrooms, which are fitted with marble tiles, come with a state-of-the-art rain shower.
Parc du Cap is located only a 30 minute drive from Nice airport.
The Cote d'Azur remains one of the most luxurious and exciting stretches of coastline in the world, with luxury yachts bobbing in the water and five-star hotels lining the coast.
It's easy to see why this spot is a favourite among the rich and famous. Even after all these years, it has managed to hold on to its romance and charm.
Getting  there
For more information about Parc du Cap in Cap d'Antibes you can visit parcducap.com or else call 0044 203 504 4110.
*  Properties at Parc du Cap cost from €590,000 for a one-bed apartment, €850,000 for a two-bed to €4,500,000 for a four-bed penthouse.
* Ryanair (ryanair.com) and Aer Lingus (aerlingus.com) have daily flights from Dublin to Nice, which is a 30-minute drive from Antibes.
* Owners have a choice of 78 one- to two-bed apartments - all with beautiful terraces and some with private pools and gardens - and 10 four-bed penthouses, each with a private rooftop infinity pool and terrace with panoramic sea and mountain views.