Off-season Croatia: why you should head to the holiday hotspot before summer hits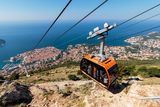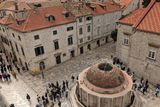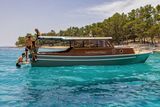 Lucy Thackray
UK Independent
As I round a western corner of the towering, sheer-drop walls, I'm met with a view so fascinating, I want to stop and paint it.
To my left, blue skies and sunshine light hulking, medieval city walls. To my right, a cartoonish thundercloud like a charcoal thumbprint looms over a spiralling headland and its flag-topped fort. It looks like a video game: east or west? Choose your own adventure.
Epic scenery comes as standard when you're exploring the Old City of Dubrovnik, Croatia, but this moment is enhanced by a bit of space and quiet. With no other tourists around me, I climb on to the high side of this vertiginous bit of wall to contemplate the view, photographing it from several angles.
Finding a vista this peaceful in frequently jampacked Dubrovnik is something of an art. In my case, I got up early and arrived at 8am to be in with a chance of a moment alone here, like a fangirl first in line for a gig. It's mid-April, in a country where peak season doesn't technically start until June, but by 10am this portion of the city will be thick with tourists, albeit a comfortable amount. For now.
Like Barcelona, Venice and Amsterdam, Dubrovnik suffers from the economy-boosting, locals-bothering phenomenon that is overtourism – a product of cheap flights from all over the world, small- and big-screen exposure, and hundreds of thousands of Instagram hashtags.
And when you see Dubrovnik's old city, you can understand the hype – it's fantasy-film perfect, a medieval fever-dream of turrets, domes, battlements, statues and arches, with real-life nuns and monks wandering about.
So I come in April, when the weather is often nice, but mostly up and down. Some days, grey skies and light drizzle prompt the hotel umbrellas to come out; others, 20C or 21C sunshine encourages visitors on to the city's shingly city beaches. I realise I need to be flexible with plans: two of the top sights on my hit list, the ferry to Lokrum Island and the cable car to Mount Srd, which remained closed for my first two days due to inclement weather.
Coming down from the high of the walls and their moody sky, I take a walk around the old city guided by historian Lidja. Before we set off, she pauses.
"How interested are you in…?" I think I see a wince.
"Game of Thrones?", I ask.
She nods.
"Not particularly – I saw a bit of season one but then abandoned it," I shrug.
Visibly relieved, Lidja sets about telling me about the unique, steadfast port once known as Ragusa, and its stubborn resilience through centuries of settlers and conflicts. She walks me along the Stradun, the main promenade with its chunky limestone paving buffed to a shine by millions of tourists' feet.
The next day, I get a refreshing look back on the walled city on a trip to Lokrum. Not everyone who visits the old city makes it here, even in summer, so it's excellent for a breather from the pack. Stepping off the pretty wooden boat that runs there, I set off on the oval trail around the island, which skirts up to a 19th-century French fort and around the pine-tree-curtained fringes.
Back near the tiny harbour, I follow a knowing-looking backpacker down to an emerald saltwater lagoon encircled by rock, somewhat bafflingly signed as the "Dead Sea". Here brave sorts plunge in for a dip (sea temperatures hover around 15C at this time of year) or drape themselves on the flat rocks. Nearby, tall boulders seem elongated by mirror-smooth rockpools. The views back on Dubrovnik's huddle of russet rooftops is stellar.
Back in the old city, I find that late evening brings a more relaxed pace, as daytrippers depart and overnighters stick around for dinner. I join them in the narrow, lantern-lit alleyway at Portun restaurant, where the waiter introduces me to Dingač, a punchy, full-bodied red wine made just kilometres away on the Pelješac Peninsula. It's heaven with the fresh tortellini you find all over town, in this case plumped up with locally caught prawns and drizzled with a creamy saffron sauce. This is the rule, I think: get there early or venture out late.
Still, by 25 April, the number of coaches purring up to Pile Gate, the entrance point to the town, is definitely increasing. I decide to jump ship – or on to one, at least, headed for Korčula Island (two hours away by catamaran). I'm told it has an elegant limestone old town thought of as a "mini Dubrovnik", plus an eco-farming and winemaking culture – but few tourists, until at least mid-May.
Korčula is ludicrously beautiful. Though a few dozen visitors are strolling its port, it still feels imbued with an off-season calm. I check into the port's most fabulous pad, Lešić Dimitri Palace, known for its serene waterfront location and Michelin-recognised restaurant. In the very top suite, I throw open my shutters to see honeyed Venetian architecture and pines on all sides: smatterings of russet tile here, silken bay there, and a clanging belltower just feet away.
This is the sort of petite Mediterranean island where you can simply wander. After peeking into St Mark's Cathedral and nursing a coffee in the square, I sling a towel into my backpack and set off following the coastline. Well-paved and signed for tourists, it's a joy to just follow your nose, whether on foot or by moped or e-bike. Tracing the coast west, I pass mini-harbours with fishing boats tied to scruffy piers and countless steps down to rocky swimming spots – aquamarine shallows on my right and a thick inland pine forest on my left. The first Greek settlers here named the island Kerkyra Melaina ("black Corfu") for the thick darkness of its interior, reminiscent of the Ionian favourite.
My first off-season hurdle hits on day two, as I realise the wineries and olive oil farms on Korčula don't open until May. Disappointed, I resolve to at least taste a few glasses in town. Perching on casual benches at Mariola Wine Bar, I chat to Hana, a local, and Lucie, a friend also visiting the island. Comparing the local Grk and Posip whites, we talk about how Hana's son is a competition-winning fisherman, and the in-laws that make enough of their own olive oil to supply the whole family through the year.
"If there's ever an apocalypse and food supplies are cut off, Korčula will be just fine," says Lucie. She recommends an olive oil and honey producer I might visit tomorrow, open year-round. It's all incredibly wholesome – and the wines are delicious, light, citrussy and zingy.
The next morning, I take the 40-minute stroll east to St Anton, a small residential village home to a wee 14th-century chapel of the same name. Nearby is the sustainable farming company OPG Komparak, where Mariela's enthusiasm for honey and beehives is infectious. She tells me how the Queen is selected, the fearsome organisation skills of the female workers, and the relative uselessness of the males (beyond breeding). We both take a moment and sigh while staring into the middle distance. Then she lets me try the gold: sage and heather-scented honey, pine-infused jars, some with a hint of mandarin.
"We started making olive oil," Mariela tells me, "but then we got some beehives and experimented with a small batch of honey. Now we oversee more than 300 hives, mostly by the sea in Lumbarda."
On one fallow year recently, when the frost affected honey production, her team of two diversified into gin, using their bees' wax to seal the bottles and botanicals from their gardens to add flavour. It's all small-scale, organic and sustainable. It's so enchanting that I want to move here and help out – and not just because there are soft-eared bunnies lolloping through the olive groves outside.
Once spring comes, moving around Croatia is a joy – sunny days, increasing ferry services and friendly locals with time to give tips all help shape your trip. My next stop might be Mljet, the neighbouring island that's a wild, unspoiled nature reserve, or the Pelješac Peninsula to try more of South Dalmatia's underrated wines.
But I'm nudging too close to summer to linger any longer now – when I return to Dubrovnik on April 30, the visitors will seemingly have doubled. I could come back in October, when the weather slips back to "unsettled", but the sea is warmer and the active pursuits even lovelier. Coming outside of peak months somehow brings out Croatia's true colours, away from the camera flashes: outdoorsy, farm-to-table minded, and with a beautiful cove around every corner.
Where to stay
In Dubrovnik, Adriatic Luxury Hotels has a selection of particularly gorgeous, cliff-hugging five-stars with reasonable entry level room rates. Hotel Excelsior is the grand dame where Queen Elizabeth II and Elizabeth Taylor have stayed in the past, complete with fine-dining restaurant, indoor pool and spa, and an impressive outdoor tidal pool with a view of the Old City.
Hotel Bellevue is a 15-minute walk out of the Old City, giving it a laid-back, holiday feel. It's high above a beautiful shingle beach sheltered by rocky cliffs (there's a lift down if you want a brisk off-season dip). Here you'll find another swanky restaurant, sea-view breakfast terrace and chic, white-and-grey rooms with a beach-house feel.
On Korcula
Set just behind the cathedral in a honeyed-stone alley, Lesic Dimitri Palace has just six fabulous mega-suites and a must-reserve restaurant. Each suite is themed for a region or country along the spice route: China, Arabia and so on. The team is incredibly knowledgeable about the island and can get you out on tours to meet winemakers, food producers or on boats out to even smaller islets.
See visitdubrovnik.hr and croatia.hr for more info.