'Luxury with a local twist' – inside the Algarve resort with the region's first swim-up rooms
Finding authenticity in the Algarve can be tricky for tourists, but one resort is making local experiences a selling point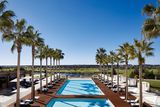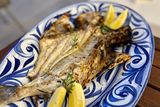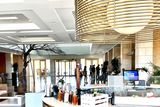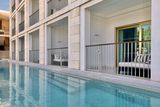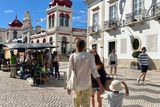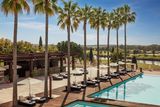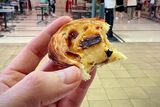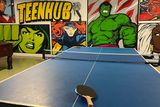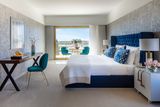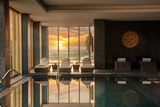 We're sitting by an outdoor pool lined with palm trees, anticipating a freshly grilled sea bream that will be deboned beside our table, when two women walk to the water's edge. Laying down their bags, they pose for photos in the warm evening air.
As dusk descends, the sky turns a raspberry pink and the palms lead our eyes over Victoria Golf Course toward Vilamoura and the Algarve's sugary sands. A stork flies by. The women laugh as they swap phones and poses.
"It's very Instagrammable," a waiter observes.
That's true. But Anantara Vilamoura wants to be more than just a pretty picture. Five-star competition is keen around these parts, from the Conrad Algarve at Quinta do Lago to Pine Cliffs or Epic Sana, and this resort is being revamped with new adult and family zones, suites with butler service and the Algarve's first swim-up rooms.
As a brand, Anantara also leans into cultural experiences ("Life is a journey" is the tagline on its keycards). So the pitch is a mix of luxury, locality and authenticity.
Are you raising a sceptical eyebrow at this point? Words like 'local' and 'authentic' have lost much of their meaning thanks to tourism marketing speak, and mega-resorts, global brands and posh golf courses (Pádraig Harrington and Shane Lowry are among the Portugal Masters winners here) don't exactly scream cultural connection.
But the effort feels genuine. Checking in, there's a subtle, citrusy scent and wicker and cane furniture among the marble interiors. There are snacks of almonds and figs, Portuguese art on the walls, and Ria, the restaurant where we watch those Instagrammers take their photos, serves local fish and wines.
In the lobby, a 'Journeys Expert' sits ready to organise everything from bike rides to cooking classes and Jeep safaris — which our family tries the next day.
"My father was a fisherman in Albufeira," says Mateus, the tour guide picking us up in an old Land Rover Defender with canvas rolled over the safety bars (stressaway.pt; €415 for up to six people). Driving away from Vilamoura, he tells us he grew up in an Algarve without tourism, when every family had a donkey. We're intrigued. What was it like?
"That's what we're going to find out."
The half-day tour takes us away from the crowds, past vineyards and orange groves, and into the hills. We even venture off-road, crossing dry riverbeds and stopping to examine the evergreen oak bark from which cork is made, squish and sniff the lemony local lavender, spot wildly colourful bee-eater birds and make pit stops for pastéis de nata.
In Loulé, we browse the market, tasting "natural energy bars" made from figs and almonds and spotting a knife-sharpener with his wheel near the fishmongers. At one of the stalls outside, I buy a white, hand-bound notebook with a blue screenprint of a fish on its cover.
"They're inspired by the fish my grandmother used to eat," says Sofia Correia of Oficina Poeta Azul (poetaazul.pt), a studio crafting bookmarks, art stamps and other items inspired by the life and heritage of the area.
The Algarve is similar in size to Co Kerry, stretching just 170km or so from Sagres to the Spanish border. It's also one of Europe's holiday hotspots — last year, more than 277,000 Irish made the trip (a 4.4pc rise on 2019), according to Visit Portugal.
And though many head for hubs like Praia da Rocha or Albufeira, where bars thump late into the night and signs advertise all-day English breakfasts, it's still possible to sniff out less-compromised nooks and crannies. Think of towns like Olhão and Tavira, east of Faro, or Ria Formosa natural park and the hills and villages inland.
Anantara, like any resort, clearly wants guests to spend time and money on campus. But gently encouraging us to dip in and out of the actual Algarve makes things feel more engaging and less generic. You can do cooking classes and tour Loulé's market with a chef (€225pp), for example, or book a surfing lesson (€50pp), as we do, tumbling into the waves as local kids splash about and a hoopoe flies over the sand.
The 260-room resort itself is about 30 minutes from Faro Airport and a 15-minute shuttle bus ride from the beach (where it has its own beach club, Purobeach Vilamoura).
Its adult zone, with exclusive lounge and private cabanas, is being rolled out around the palm-lined pool; the family area is in the opposite wing, where you'll also find the new swim-up rooms (guests in ground-floor rooms can access the slim, 30m pools via child-locked gates and slinky steps, though they don't connect directly to a bar).
The swanky layouts are the stuff of coffee table books, but it's also a place where you can pile plates with pastries at the breakfast buffet, or plonk yourself by the pool and have dapper attendants keep the drinks and snacks coming.
The opulence doesn't feel too stuffy, in other words. There's a spa with vitality pool, but we also play tennis with racquets borrowed from reception, shoot pool in a teen hub painted with superheroes, and birdwatch from balconies. Along with kids' clubs, family-friendly touches include mini robes and a 'Family Concierge' to hit up for everything from supervised meals — so parents can escape for adult time — to baby formula and booster seats.
As we visit, the revamp is a work in progress, and I note glitches like decking that needs refreshing and a pretty hapless experience at its new Italian, La Cucina. Here, wait times frustrate us, and a carbonara stirred up tableside in a Parmesan wheel adds theatre but leaves the dish lukewarm.
However, the seafood at Ria is delicious, and Asian fusion at Sensai is high-end, with some gorgeous omakase sushi and wine pairings, in particular. You'd hope the Italian will bed in, but there's enough variety and quality to eat on resort for a couple of nights.
We hear several Irish accents during our stay, service is lovely, and coeliac needs are nicely handled, from restaurant notes to gluten-free snacks in a picnic basket.
On our last night, we're taking photos by the pool too.
Do it
A summer special at Anantara Vilamoura Algarve (available to book until June 30) sees three nights' B&B from €900 for a double, or €1,800 for a family room including breakfast. Pól was a guest of the resort. anantara.com
Aer Lingus and Ryanair fly daily to Faro. aerlingus.com; ryanair.com.
For more to see and do throughout Portugal's Algarve, see visitalgarve.ptor read our Algarve bucket list here.
Did you know?
Anantara The Marker is the brand's first hotel in Ireland. The Dublin five-star has just re-launched with refurbed rooms, a new restaurant, and local experiences like wild swimming with its "wellness guru" and private sailing and cooking lessons with its chef.