Italian Insider: Six ways to do Venice like a Venetian
La Serenissima, like a local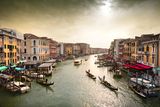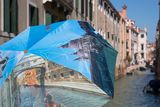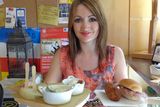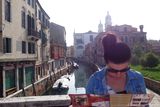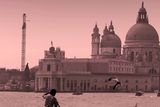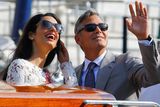 Wanna dodge the crowds and see Venice like a local? Rebecca Lee has six super tips for going beyond the tourist trail.
Venice is a stunner, no doubt about that.
It's hosted hordes of tourists. It's been home to countless artists, poets, opera singers and lovers. And all keep coming, in their droves.
But there's more to this magical city than meets the eye. Here are six ways to experience the 'City of Bridges' like a Venetian.
1. Stay overnight!
Why not stay over?
You'd be surprised how many people arrive and depart from Venice within a day (daylight sees narrow streets crammed with tourists and walking tours). But the best way to experience Venice is by staying overnight.
To give yourself a breather, it's worth splashing out on a hotel or B&B so you can explore the city at its calmest and coolest. For the real deal, rent an apartment or palazzo by The Grand Canal at a competitive price. The city is just as pretty and romantic by night and you're more likely to get chatting to locals who seem to pop out of the woodwork much later in the day.
I stayed in a beautifully renovated B&B called Ca' Cantorini (Corte de la Vida, 3025) in the Accademia area. Although basic, it proved excellent value for money as our room was more like an apartment and set - wahoo! - a mere 10 minutes' walk from Rialto Bridge and St Mark's Square.
Walk... everywhere
Gondolas... skip 'em!
Although Venice is mobbed by waterbuses, watertaxis and private boats, the city is easily accessible by foot. Make like a Venetian and walk to famous attractions such as Piazza San Marco or the 16th century stone Rialto Bridge which towers over the ginormous Grand Canal. While getting lost is unavoidable, it's actually rather enjoyable too. If you're in a rush to get somewhere, get your hands on a decent map... and don't forget to bring your comfiest flat shoes.
Visit a traditional Hostaria
Rebecca in Venice
If you're a fond foodie like myself and you want to eat like a local, then check out one of the many Hostarias dotted around this fabulous floating city.
Hostarias are small, casual Italian eateries that offer a wide range of delicious Venetian tapas dishes... otherwise known as 'Cicchetti'. Venetians live on these tiny, tasty meals which can be composed of everything and anything from Pan Seared Tilefish over Pancetta, to pumpkin and meat sausage or Gorgonzola on rustic Italian bread.
I sampled a range of dishes in the 'Hostaria Vecio Biavarol' (Fondamenta Dei Tolentini, 225; facebook.com) a family-run business not far from Piazzale Roma. Authentic and tasty, most Italian tapas dishes started at just €1.50, with house wine just 90 cent a glass and Venetian spritz at €2.75! Talk about a bargain.
Get off the beaten track
Maps... they still make 'em, you know
One of the most common complaints I hear about Venice is that it's pricey. The good news is it doesn't have to be, provided you do the research. Indeed, the further you venture from the heart of tourist havens such as San Marco Square, the cheaper and more authentic your Venetian experience will be.
Recommended to me by a group of locals, a trip to Campo Santa Margherita is a must if you're looking to drink and dine affordably among Italians. Situated in the student quarter of Venice, the piazza is simply buzzing in the evenings offering visitors the very best of Venetian nightlife (and spritz!)
Do the Rialto Market
Live like a local...
To shop like a local and get a taster of some tantalisingly fresh Mediterranean produce, pop a visit to the Rialto Market on your 'to do' list. The medieval market sees Venetians of all shapes and sizes pile in to buy meats, fruit and vegetables from stalls and boats. A tip: watch what elder Venetians purchase, as they're in the know when it comes to what's hot and what's not in seasonal produce. It may also help you bag a bargain.
Watch the sun go down by the Grand Canal
Sunset over the Grand Canal
By stationing yourself at a table in a bar or restaurant with a bottle of house wine alongside the Grand Canal in the evening, you are guaranteed some jaw-dropping photo opportunities. By visiting a lesser known bar on the outskirts of the city, you can watch billionaires bomb up and down the canal in their speedboats, talk to locals and gasp as the sun sinks behind the beautiful bridges and historical houses that line the winding city streets.
For a bellissimo sunset experience that won't break the bank, check out Bar al Parlamento (facebook.com/aParlamento) in the Cannaregio area. Bursting with locals, you can wash down a litre of local wine while nibbling on some artisan Italian breads for just €20. It also offers affordable pizzas and pastas. Yum.
Read more: