Courchevel: A royal pampering on the piste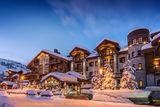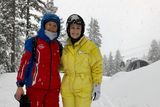 I recently heard the expression, 'I'd prefer to be crying on marble', meaning when life's vicissitudes arrive, wealth cushions the blows.
I wasn't crying, but rather smothering with a cold, and I can now vouch that sniffling in five-star opulence certainly takes the edge off. I was weekending in the ultra-luxurious L'Apogee Courchevel, perched high in the swanky ski resort of Courchevel 1850 - the number refers to the altitude - the most prestigious location in what is the world's biggest ski playground.
Courchevel, located at one end of the Trois Vallees in the French Alps, comprises six villages, of which 1850 is the ritziest. The skiing opportunities are superb: 600km of pistes, 166 lifts, 150km of runs, of which 23 are green, 35 blue, 32 red and 10 black. Affluence is the norm here; Putin once helicoptered in for an afternoon's skiing - the resort's altiport featured in the Bond film Tomorrow Never Dies - while the Beckhams and George Clooney have all been spotted on the slopes. Indeed, members of the royal family have holidayed at L'Apogee Courchevel, but the management is far too discreet to name names. L'Apogee is part of the Oetker Collection - the pizza Oetkers - which, incidentally, also includes Hotel du Cap-Eden-Roc, memorably immortalised in F Scott Fitzgerald's masterpiece, Tender is the Night; and Glen Affric estate in the Scottish Highlands, whose incumbent Laird, David Matthews, is father-in-law to Pippa Middleton.
I arrived at L'Apogee via Geneva, and a luxury transfer that whisked me and my companions the 95km to the alpine beauty of the Trois Vallees. Courchevel 1850 has long been a playground of the moneyed elite, and the Chanel and Chopard boutiques we pass en route are testament to the village's exclusivity. L'Apogee, which has 55 rooms (including a penthouse and two chalets), is built in traditional chalet style and its interiors, designed by Joseph Dirand and India Mahdavi, were inspired by Tyrolean craftsmanship and its spectacular location. The design duo wanted the hotel to "be like a family chateau with a palatial side", and adding to the 'home from home' vibe is the fact that, from the off, the gregarious staff call you by name. A sort of chateau Cheers, if you like. The hotel wows from the get-go: there's acres of marble, velvet and leather, with moody dark walls offset by burnished-gold light fittings and achingly cool art pieces dotted throughout; the overall effect is restrained bling, and cost a staggering €100m.
Lunch in the gorgeous Le Bar de L'Apogee was first on the agenda, and having wolfed a creamy risotto, I was ushered to my suite, a vast yet cosy arrangement of rooms with heather-blue walls, deep-pile monochrome plaid carpet, scarlet velvet curtains and two marble-clad bathrooms, both with decadent gold fittings, and Bamford toiletries (that would be the JCB Bamfords. Lady Bamford is a regular at Eden-Roc). I was feeling royally pampered - and that was before I spotted the welcome bottle of Veuve Cliquot and, beside it, a large box of chocolates.
I resisted popping the Widow, as I needed to get fitted for skis, so I nipped down to the Ski Room, which is on another level when it comes to hiring out equipment. There are pre-warmed, scented ski boots available and the smiling staff will, as a matter of routine, help you on with your boots before you head out on the piste. L'Apogee is ski-in, ski out, so the experience couldn't be more effortless. There's also a well-appointed ski shop.
Gear sorted, some serious spa indulgence was next on the luxe list. I was booked in for a La Prairie caviar body treatment, which was expertly administered by Iryna, who slathered me in upscale unguents. After a blissful post-massage doze, I completed a circuit of the steam room, sauna and salt sauna - just the ticket for my cold - and finished my posh pampering session with a swim in the huge mosaic pool, a lounge in the jacuzzi, followed by another snooze, wrapped in a sheet-sized fluffy towel, on one of the elegant day beds. The life, I tell you.
More decadent delights beckoned that evening, when Champagne and canapes in the bar were followed by a gourmet dinner in the understated glamour of the hotel's Le Comptoir de L'Apogee. Reached by descending a split staircase, which flanks the restaurant's massive circular chandeliers - specially made for the Barcelona Olympics, apt considering the hotel is located on a former Olympic ski jump - the tone is set for the space's art deco elegance. The food is incredible and inventive, with exquisite flourishes (think gold-leaf-topped raspberries) and gorgeous attention to detail that extends to butter pats embossed with the hotel's ubiquitous emblem, the snowflake. The restaurant has a ham aging cellar, and a fromagerie with no less than 45 varieties of cheese, including one made by Trappist monks.
It's not just the altitude that's high here; Courchevel 1850 is replete with Michelin-star restaurants, meaning overall, the foodie bar is set to lofty, but L'Apogee is more family friendly than most (the hotel boasts the largest kids' clubs in Courchevel) and I spot two impeccably behaved tots enjoying dinner en famille.
The next morning, having fortified myself with Bircher muesli, and a sublime sugary espresso, I was ready for a little ski action. Most of the area's ski runs are north-facing, and serviced daily by the 'piste bashers', making for excellent snow conditions throughout the season. Suited and booted, I set off with my instructor, Carole, formerly of the French ski team, to brush up on my parallel turns. Carole, whose competitive career ended when she broke her hips, proved to be exactly the type of instructor I need: patient, calm, encouraging, but willing to push me past my comfort zone. We spent a glorious morning zooming along the fresh snow, my confidence increasing to such an extent that I managed to descend a blue run without a wipeout: small potatoes for some, but the high point of my skiing career to date. Lunch was at Mille Sabords, a gourmet Italian restaurant on the slopes with a nautical theme - the name means 1,000 portholes and the wood-clad interior is bedecked with marine-related artefacts and curiosities, while the food is liberally garnished with truffle; indeed, their truffle pasta is legendary. However, should you fancy an alternative, the chef at L'Apogee will ski up the mountain with you, and prepare lunch!
I wasn't quite up to an afternoon's skiing, so decamped to the hotel - there's a conveyor belt to assist up the incline to the ski room - and my suite, where I finally got to enjoy a lengthy soak in the colossal tub, with bubbles a deux: the Bamford kind and the Veuve Cliquot kind. Heaven.
That evening, I rejoined my group to catch up, over cocktails, on the day's skiing escapades, before we repaired en masse to Koori, L'Apogee's Japanese restaurant to dine on an exquisite array of dishes, from lobster sushi to Wagyu beef with, you guessed it, truffle; each one a work of art in appearance and in taste. There's nightlife aplenty on offer in the area, much of it lower down the mountain in Courchevel 1650 - the Funky Fox, was lauded as a buzzy, affordable apres-ski venue - but none of us were biting. L'Apogee life was just too good to quit.
The next morning, having reluctantly prized myself from the 700-thread-count sheets, it was time to depart the prestigious playground, having been royally spoiled. My cold had eased, but as I packed the last of my toiletries, a single tear fell from my eye onto the floor of cream-veined green Fior Di Bosco marble.
I can categorically state it's the most elegant tear I have ever shed.
Getting there
* Rates at L'Apogee Courchevel start from €1,150 (currently approximately £1,014) per night based on two people sharing a deluxe room on a half-board basis (breakfast and lunch or dinner up to the value of €150 per person).
* Rates include service charge, WiFi, Courchevel Altiport pick-up and soft drinks from the minibar.
* See oetkercollection.com
NB: This story originally appeared in The Sunday Independent.