Cortina: It's all downhill in the Dolomites, says Alan Shortt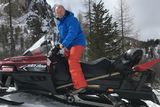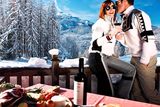 Pink mountains, pink Prosecco and a pink piste nose are waiting for you on the snow-covered slopes of the Cortina d'Ampezzo.
Our first stop was lunch on the terrace of Pezie de Paru (www.peziedeparu.it), a restaurant refuge surrounded by the jaw-droppingly dramatic Dolomite Mountains. Locally sourced food cooked to perfection, and each dish was served with a story.
It was my first introduction to homemade grappa. This is a uniquely Italian drink made from "pomace", which is the discarded seeds, stalks and stems that are a by-product of the winemaking process. But in Cortina d'Ampezzo each restaurant takes pride in creating their own style, and my baptism was a homemade milk ginger grappa - smooth with a warm kick at the back of the throat.
The half-finished bottle accompanied us on our 5km journey to our hotel in the centre of Cortina, Hotel Panda. Erika and Monika Pian were the perfect hosts for our stay. They had all the answers to all our questions about adventures, shopping, ski hire, restaurants and everything we needed to know for our stay in Cortina. My first ski holiday was 35 years ago when I was lucky enough to go on the first ski school tour from Castletownbere Community School. There was no travel blogging, heated ski socks or thermal base layers then. It was one tracksuit, a pair of Beara football socks, a pair of woolly gloves and a Polaroid camera. At the end of every day, we would pour out the melted snow from our ski boots and stand by the fire and watch the steam rise from our soaking tracksuits. Years later I joined the NCBI on the slopes in Austria, and guided a blind skier down the mountain. There was no fear, just freedom and crisp clean air on the face. I said; "Lean on your left knee, lean on your right knee, now straighten up and let your skis run!" and then the question, "Alan, what am I seeing now?" My reply: "A sunny blue sky, craggy alpine mountains, tall fir trees, all covered in blankets of fluffy white snow, and on your left a steep cliff, so BENZEE KNEES!"
Under the Faloria Cable Car station in the centre of the town you will meet Jgor in his ski hire store, Jgor Ski & More. "You look like a small James Bond so I will put you on a pair of Rossignol tourist racing skis." Unlike James Bond, I do all my own stunts, and after only 10 short minutes on the cable car, I am standing on the edge of my first black run of the day. Under a clear blue sky, I take a deep breath of clean alpine air and thank nature and the universe for the most incredible scenery I have ever seen in my skiing life. I secure my helmet, allow the tips of my skis to go over the edge, and I FLY!
Every time I move my body, my skis respond, gliding over snow ramps, lifting skis and body into the air. I use every inch of the piste because today, I am lucky to have to whole ski slope to myself.
Cortina is part of the Dolomiti super ski region with over 1,200km of piste to choose from. A six-day lift pass costs between €246 and €273 depending on the season. A free ski bus operates between all the ski areas of Cortina, and I would really recommend organising a local ski guide, who will help you get your ski legs back, and brush up your ski skills. A guide will also show you the best slopes in the region that suit your ski level. A ski guide for one day with Snowdreamers costs €200 for up to three people. (www.snowdreamers.com/it)
If you are feeling hungry on the slopes, the small cafes at the base of some of the chairlifts are very reasonably priced. A macchiato will cost you only €1.20, and a toasted ham and cheese sandwich just €5. But if you feel like something a little more substantial, you will find excellent food at Capanna Tondi (www.rifugiocapannatondi.it) To avoid disappointment, it's important that you book your restaurant in advance when you are on the mountain.
Cortina d'Ampezzo is an elegant town at 1,200m in the heart of the Dolomites. The main street is the cobbled Corsa Italia, which is traffic free, so window shopping along the 278 shops is the perfect way to spend an afternoon.
My top tip: don't wait until the airport to buy your presents, there's a much better choice in Cortina.
Or you could catch up on one of the numerous movies that used Cortina as a backdrop. They include The Pink Panther, James Bond's For Your Eyes Only and Cliffhanger, starring Sylvester Stallone.
There are so many experiences available for non skiers: hiking, World War 1 and World War 2 history tours, snowshoeing, snow-biking, sledding, ice-climbing, and my favourite, snowmobiling.
"It's like a powerful motorbike in the snow, please don't go fast!" must be the worst instruction you can give an Irishman as he mounts a massive machine, revs the extremely loud engine, engages the throttle and the tank metal track digs into the snow underneath us as we speed off in the direction of a giant fir tree! Like all machines with forward propulsion, you need to make your turning decisions well in advance, and downhill slopes can be an incredible adrenaline rush.
You may go for the snow but you will stay for the food! Gourmet pizza with cod caviar, gnocchi bread and butter dessert, and then there is gastronomy extravagance! Riccardo in Restaurant San-brite (www.sanbrite.it) brings the food from the land to the hand to the plate.
The secret to the recipes here is how the ingredients are created first: spaghetti pasta with mugo pine, handmade artisanal cheeses, and rustic cured meats produced by the family. Please ask to see their speck cellar where they cure the meat and age the cheese - the aromas are incredible. But you must try the tasting menu for the full experience, and if you are feeling romantic Riccardo can even organise a picnic under the stars.
If you would like to experience the timekeeping and efficiency of Austria, and the passion and food of Italy, all in one place, it's time to pack your bags and book your snow holiday to Cortina d'Ampezzo.
Getting there
Aer Lingus, Ireland's only four-star airline, currently operates a five times weekly service from Dublin to Venice; during the summer this increases to a daily flight. Fares start from €54.99 one-way, including taxes and charges. aerlingus.com. Private transfer costs from Venice airport to Cortina d'Ampezzo are around €250 each way with Talamini Alessio. I would recommend you share with 7/8 people. Public transfer bus also available.
Where to stay: Hotel Panda, an excellent three-star family run hotel in the centre of Cortina. Prices start from €120 per night for a double or twin room with breakfast. www.cortinahotelpanda.it
For info on skiing in Cortina d'Ampezzo, see www.dolomitisuperski.com/en