As tourists and investors take over Lisbon, chefs are fighting back
In the past year, Lisbon rents have jumped 36pc; some tabernas can't afford to stay in business and have been closing down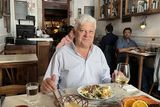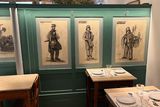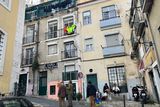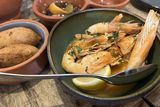 When chef André Magalhães opened Taberna da Rua das Flores in central Lisbon in 2012, he had to use a camping stove to grill liver and cook the other traditional Portuguese dishes he served.
Within weeks, lines extended down the block. The 24-seat restaurant quickly came to symbolise the movimento taberneiro - an effort by a wave of primarily young chefs who wanted to safeguard Portugal's classic tabernas against the cultural tsunami transforming the city into a playground for tourists and well-heeled investors.
At the time, Lisbon was at the beginning of a tourism boom that quickly pushed up prices in one of Europe's poorest countries. The issue was compounded by the government's Golden Visa program, which attracted almost €7 billion in investment from deep-pocketed foreigners who could obtain EU passports in return for shelling out as little as €350,000 for real estate. The flood of money contributed to a surge in property prices that forced out many locals and turned bustling neighbourhoods into characterless enclaves filled with holiday rentals.
In the past year, Lisbon rents have jumped 36pc. Home prices have more than doubled since 2015. The tabernas, typically family-run restaurants catering to local budgets, couldn't afford to stay in business and began closing down to be replaced by the ramen bars, vegan restaurants, luxury goods stores and boutique hotels that cater to more international tastes and bigger budgets. More than 7.7 million tourists visited the city last year, according to Turismo de Lisboa, more than 10 times the population of the city center.
The influx of tourists and foreign residents "obviously threatens your cultural identity when locals no longer live there," Magalhães says at a small table at the front of Taberna da Rua das Flores when I met him for lunch.
The new generation of tabernas, epitomised by Magalhães's narrow taberna, a former pharmacy, represents a Portuguese culinary front against international chains. They range from the stylish Taberna Moderna, which offers 80 types of gin to help wash down the food, to Faz Frio (above), which has housed a taberna for more than a century.
What they share in common are menus that update traditional dishes, such as octopus salad and rice with duck, via subtle, significant tweaks like substituting tuna for beef in some dishes, or adding Asian or African seasonings. So far, the culinary offensive is working: The places are packed and gaining attention from food media.
Magalhães began his professional career as a movie and TV producer and pivoted to hospitality when he took over the restaurant at the Lisbon Press Club. That work helped attract customers when he later opened Rua das Flores.
At Rua das Flores, the daily menu is written on a chalkboard, and the noon day service is heavy on petiscos, the small plates often likened to Spain's tapas.
I started with steamed mussels on a bed of garlic, followed by red wine-braised roast pork ribs with migas (a kind of scrapple) that featured mashed potatoes instead of the traditional breadcrumbs and was cooked in lard with bits of sausage. Magalhães had a small bowl of crispy, lightly fried pieces of moray eel with lime mayonnaise - a dish you wouldn't find on an old taberna menu. More conventional was the cold cod stew with chickpeas, onions and egg (meia desfeita de bacalhau), a staple he keeps on the menu in homage to traditional spots.
An accompanying seafood rice, presented with a large prawn head on a grilled piece of croaker, was surrounded by a shroud of bright green parsley with the unusual addition of seaweed rising out of the soupy rice.
The most expensive dish at Rua das Flores costs only €15, a bargain in cities like London and New York. Still, in a city where the minimum monthly wage is only €760, Magalhães acknowledges that prices at his taberna are out of reach for many locals and probably twice those of a conventional taberna.
"We are thriving and successful because of this growth in tourism," Magalhães says as we dine. "That's undeniable, but I think it's very important to keep things under control and to do damage control" to protect local traditions, he says.
The chef teaches Portuguese gastronomy at the local Universidade Nova de Lisboa, and his interest in the plight of the tabernas was fanned by field trips he took with students to document the changes to Lisbon's culinary landscape. Magalhães has used the success of Rua das Flores to help younger chefs open venues. The cooks have established an informal network that supports local, independent producers and often pools orders to make it worthwhile for a small farmer to deliver to Lisbon, he says.
One of the newer venues that saved an existing taberna is Faz Frio. The century-old venue, located near the city's Botanical Garden, was taken over by Jorge Marques in his mid 20s in 2018 and features much of the original decor, including images of traditional Portuguese laborers that adorn the semiprivate booths. Diners need to arrive early to secure a regular table or one of the curbside seats.
Starters at Faz Frio include pica pau (woodpecker), which refers to the toothpicks used to spear the little snacks. Traditionally, pica pau is made with small bits of beef in a light gravy garnished with pickled carrots. Marques's take at Faz Frio boasts lightly seared tuna in a ginger-sesame sauce with a tangy splash of vinegar. His duck rice is dotted with chunks of smoky chorizo and guanciale, with a bright sprinkling of orange zest. Camarão salteado (grilled shrimp) swimming in a buttery garlic sauce are among the more conventional dishes.
Sal Grosso is, like Rua das Flores, a narrow space with a few tables and a chalkboard menu. A popular restaurant that shut during the pandemic before being revived by a pair of 30-something chefs, Jorge Melgas and Luís Pimenta, the taberna is located just off the riverfront on the edge of Alfama, one of Lisbon's oldest neighbourhoods and traditionally one of its poorest.
With its maze of winding streets and alleyways, Alfama is now a tourist hotspot, one of the areas hit hardest by gentrification. Most of its traditional businesses have been wiped out and replaced by convenience stores and eateries that cater to visitors.
At Sal Grosso, the house specialties are modern takes on Portuguese go-to dishes as well as more original offerings such as grilled wild boar sliders, with buttery sweet caramelised onions, and pork cheek, braised on the jawbone to keep it moist and served with tomato migas. The place also serves vegetarian migas, bits of bread mixed with black-eyed peas and cabbage. For dessert, the pudim abade de priscos is a version of crème caramel created by the abbot of Priscos in the 19th century and thickened with ham and lard.
Curiously, one of the city's most modern-looking tabernas is the one that sticks closest to classic Portuguese recipes. Pica Pau was opened in October by Plateform, a group with almost 150 restaurants in Portugal, from the Zero Zero Pizza chain to Lisbon's Alma, which has two Michelin stars.
Unlike many classically designed tabernas, Pica Pau's interior is bright and modern, and the patio contains a wall of plants. Still, its website proclaims it's "no place for inventions, creations, or deconstructions."
The menu features some of Portugal's most classic dishes, such as cod cakes (pastéis de bacalhau), suckling pig in pastry (rissóis de leitao) and naturally, the fried beef dish pica pau. The morcela, a smoky blood sausage, has a crunchy skin and rich filling; it's notably good here, especially when washed down with fafide, a medium-bodied red from the Douro region.
Noting that several of Lisbon's new tabernas have tweaked traditional recipes to cater to foreign tastes, manager Gonçalo Aniceto says Pica Pau will never compromise.
"You go really far away from the original. In here, we don't do that," he says.