Andorra: Skiing in the pleasure principality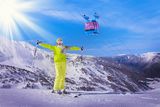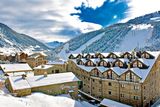 Pride comes, as the saying goes, before a fall. I'm feeling mighty pleased with myself that, after a decade-long absence from the slopes, a morning's skiing has got my snow legs working. I'm flying, high as a kite.
Until I take a button lift. Boldly confident, I grab the bar, try to straighten my skis and it all goes spectacularly pear-shaped. I tumble backwards, tangle up my poles and nearly decapitate the teenager who has the misfortune to be coming up behind me.
Even though I'm the eldest of the group, I've already been given the sobriquet 'Trouble' by Liam, our wonderful instructor (an NHS driver when he's not teaching rookies how to get down a mountain in one piece), who comes immediately to the rescue, saving me and my dignity. My profuse thanks are met with a modest, 'I had great fun coming to get you'. That's what all the boys say, I wearily reply.
It's mid-January and we're in Soldeu, a station in Grandvalira, the largest ski resort in the south of Europe. We'd flown in the previous day to Barcelona and taken a three-hour bus transfer to the petite, pretty principality of Andorra. Toulouse is another entry point for a state so small it doesn't have an airport.
Land-locked between Spain and France, deep in the heart of the majestic Pyrenees, Andorra was founded in 805 by Charlemagne to thank the people of this region for their help in vanquishing the Saracens.
These days it's a happy, laid-back place. During our short stay we meet lots of people who arrived a couple of decades ago and simply never left. One of them gestures to the snow-capped mountain - "my office," she smiles.
Andorra has a well-earned reputation for being a great place to learn to ski. And after three days of lessons I can see why. This is my fourth time skiing and the teachers are far and away the best I've encountered: patient, solicitous, encouraging and terrific at showing this clumsy citeog how to parallel-ski.
Here, they pride themselves on it. In one resort, Arinsal in the Vallnord area, Kayleigh, an Essex girl and former architect, explains how each teacher must have at least two disciplines. She has four: skiing and snowboarding, and adaptive in both. We see the latter in action as disabled young people shoot down the slopes on mono-skis, some on crutches with mini-skis attached.
In Pas de la Casa, a fun resort with great apres-ski ambience, we novices master a green and a blue slope (easy and less easy, for the uninitiated in ski parlance), and reward ourselves at the summit, wolfing down a lunch of Serrano ham and local cheese bocadillos and mugs of thick hot chocolate. The piste artists in the group scoot off down the vertical slopes with elan, but for the rest of the gang, it's the chairlift.
Which should be fine. Except it's not. We're a third of the way down and suddenly it stops. We're swinging off the side of a mountain, and my intense vertigo kicks in. Luckily we're in the company of yet another very experienced guide, who distracts us with non-stop chatter until the machinery starts again and I can breathe.
All this high-octane physical activity has many upsides, including the excuse for some serious pampering. Both our hotels, the homely, cosy Himalaia Soldeu and the glamorous Princesa Parc, have wellness centres, but if you're looking for the wow factor, book an afternoon at Caldea, the biggest thermal spa in Europe.
Designed by Jean Michel Ruols - known as the water architect - Caldea is an extraordinary edifice of soaring steel and glass shards, which combined with the area's natural thermal waters makes for a stunning spa, housing hammams and hot tubs, saunas and steam rooms, lazy rivers and lagoons. There is even a pool filled, bizarrely, with grapefruit: apparently it has marvellous properties for the skin.
This counts as one of 2019's more memorable moments: sitting outdoors in warm bubbling water, inhaling pine-scented air, watching the setting sun turn the surrounding powdered peaks shades of coral and peach.
A day's hiking through hollow lands and hilly lands in heavy ski-boots also ensures you feel no guilt about what you eat. Two feasts stand out. In Soldeu, at the cute bistro La Cort de Popaire, food is prepared in front of us over a stone grill and here, for the first and last time in my life, egged on by my young companions, I sink a Jagerbomb. Another evening a snowcat - also known as a piste bully - takes us high up to Llac de Pessons, a mountain chalet perched near a lake, where Champagne is served beside a log fire and we dine on entrecote which has been matured for 60 days. Stuffed deer heads and outdoor braziers enhance the romance of this gorgeous epicurean experience. You can also ski here during the day for lunch.
Andorra is also renowned, thanks to it duty-free status, as a shopping mecca. Post-Christmas, I'm all done with retail but my compadres get superb value in cosmetics, perfume, booze and cigarettes. The range and variety of emporia in the capital, Andorra la Vella, are impressive and it's easy to see why a short ski and shopping break is such an attractive option.
Given that I can be a big girl's blouse when it comes to acts of physical courage, plus I have a fear of heights and am prone to altitude sickness, it is a mystery to me that I love skiing so much. While doing it, I ask myself why I subject myself to it. Answer: it's the adrenaline junkie in me.
Two parts terror to two parts total exhilaration, a day out on the slopes is sensational fun and so good for mind, body and soul. On this trip, despite a few falls and a bruise or two, I've graduated from the nursery slopes to being able to go down a blue. I'm proud of myself.
As always, I return home after a few days of sloping off into the great white yonder, exhausted yet energised and ecstatic. Truly, there is no business like snow business.
Getting there
* Madeleine travelled to Andorra with directski.com - the Irish ski operator 'making ski holidays affordable for all'.
* Directski.com operate a ski programme to Andorra and feature the resorts of Soldeu, Pas de la Casa and Arinsal.
* Madeleine stayed at the four-star Hotel Himalaia Soldeu in Soldeu and the four-star Hotel Princesa Parc in Arinsal. For best prices see www.directski.com.
* Package holiday prices include return flights from Dublin with 20kg luggage allowance, return transfers, accommodation for seven nights on a half-board basis, taxes and rep services in resort.
* To book visit directski.com
* For ski pack information in Arinsal see: www.directski.com/ski/andorra/arinsal_and_pal#SkiPack
* For ski pack info in Soldeu see: www.directski.com/ski/andorra/soldeu_and_el_tarter#SkiPack
This feature originally appeared in The Sunday Independent.