Orient Express to launch world's largest sailing yacht – with swimming pools and speakeasy bar
The Orient Express Silenseas will offer 54 suites; reservations could begin as early as next year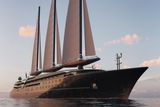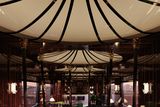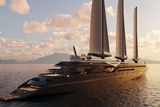 Lebawit Lily Girma
© Washington Post
If riding on the original, redesigned Orient Express train in 2025 and staying at an Orient Express hotel top your bucket list, make room for The Orient Express Silenseas.
The opulent 722-foot-long (220-meter) ship with three masts towering at over 300 feet high, is set to be the world's largest sailing yacht - and superyacht, period - and will ply Mediterranean and Caribbean routes starting in spring 2026.
It will offer 54 suites, accommodating 120 passengers, along with two swimming pools, including a lap pool, two restaurants, an oyster bar, a speakeasy bar, a spa, an amphitheater-cabaret and a private recording studio for people ready to get creative at sea.
Shore excursions will lean toward cultural and nature experiences. Reservations for sailings will begin as early as 2024.
The Orient Express Silenseas is global hospitality giant Accor's first entry into the cruise industry, in partnership with French shipbuilding company Chantiers de l'Atlantique.
Two yachts will be built, with the second delivery scheduled for the first quarter of 2027.
"We're trying to go back to the best ever years of ship makers between 1934 and 1938, extremely innovative at the time," says Sébastien Bazin, chief executive officer of AccorHotels.
Bazin recalls the scenes of the French Riviera, St. Tropez and Cannes - a time of music, philosophers and art, he says. It will mean "going back in history but with a modern design."
The project will be financed up to 70-80pc by commercial banks, with the remainder provided by a consortium of equity partners in which Accor will have a minority stake.
Accor declined sharing the cost involved to build this ship, but for reference, Jeff Bezos' almost half as large, 416-foot luxury sailing yacht, also with three masts, is estimated to cost more than $500 million (€462m); Russian billionaire Alisher Usmanov's impounded 512-foot superyacht was valued at $600 million (€555m) to $750 million (€693m).
Apart from its wholly made-in-France design and craftsmanship, Bazin says his goals for the Orient Express Silenseas are two-fold: offering the best in terms of luxury, experience and design, and being guided by sustainability and protecting the planet when you travel.
The cruise industry is the travel sector that's the least known for its ecological or climate sensitivity and lags severely in efforts to reduce carbon emissions.
The Orient Express Silenseas will run diesel-free and use a hybrid propulsion system with wind as its primary source of energy, weather permitting.
The ship's name hints at the fact that you'll be gliding silently across the seas thanks to three rigid sails, made of glass polyester panels, and a 16,145-square-foot unit wind propulsion system, all designed by Chantiers de l'Atlantique.
"We may not stop when we are meant to stop because the wind is too strong and that's the way I want it," says Bazin.
But since this is a cruise line with scheduled routes that Bazin says will likely kick off in the Mediterranean, the ship will also be fitted with an engine that runs on liquefied natural gas (LNG), which would reduce carbon dioxide emissions by 20pc compared to using diesel, the company shared. (Note that there is currently no such thing as an emissions-free ocean cruise and LNG is a type of fossil fuel, albeit less polluting).
The Orient Express Silenseas will also be built ready for green hydrogen use when legislation authorises it in the future, which Bazin says may happen by the time the ship launches.
Additional greening ambitions include the use of shore power, which allows the ship to plug into electricity once docked rather than running its engine, and a sonar system to detect sea mammals on its route to avoid collisions.
Taking the Orient Express to sea will undoubtedly mean offering the mystique and luxurious comforts that the brand is known for.
Renowned French architect Maxime d'Angeac, whose projects include the future Orient Express train (pictured above), the Guerlain store on the Champs-Elysées, and the Orient Express Hotel in Rome leads the interior design, which is meant to evoke the French Riviera.
"The experience on board is extremely similar to the experience we give at Raffles in Singapore within and outside the hotel," says Bazin. "Orient Express as a luxury brand is not a product, it's a feeling."
Expect it then, he says, to be much more luxurious than the Ritz-Carlton superyacht.
It will be twice as costly, too, Bazin continues, noting that the latter ship, although nearly as long, accommodates double the amount of passengers. Fares on the 623-foot Evrima, which can host nearly 300 people, range from around $7,000 (€6,473) to $25,000 (€23,116) per person for seven-night cruises.
Among the luxurious amenities that the post-pandemic ultra-rich are seeking is space, says Bazin. Hence suites that average a roomy 750 square feet, which is about the size of an average New York one-bedroom apartment. Six suites on the top deck can be combined into a 15,230-square-foot presidential suite with private 5,700-square-foot terrace.
Another distinguishing feature of the Orient Express Silenseas: It's designed to be chartered by private businesses and for events about a third of the time.
The boat might be used for the Festival de Cannes, for Paris fashion houses' shows on board, for the Grand Prix in places like Dubai or Monaco, or for private anniversary celebrations where you invite your 50 best couple friends.
When the first cruise launches, it will be a full circle moment for the Orient Express brand's original muse: the sea. Belgian civil engineer Georges Nagelmackers' transatlantic luxury ship voyage in 1867 from Europe to America is what inspired him to launch the world-famous train in 1883.
"The one thing we still don't know is if we should have black tie on board," Bazin says.