Disney in Dublin: Giant cruise ship makes maiden visit to capital
Cruise control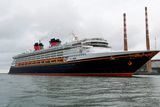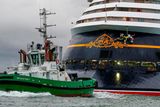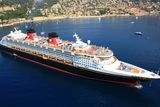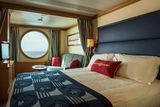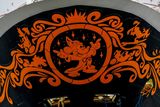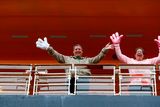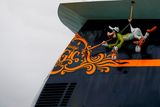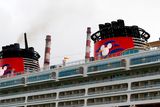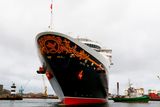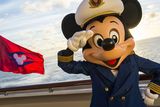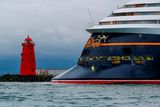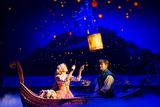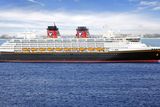 The mouse is in the house! Or at least, the mouse is in Dublin, in the shape of the Disney Magic cruise liner.
The 300m cruise ship arrived into Dublin Port around 6.30am today as part of a transatlantic voyage from Florida to Dover, England.
The 11-deck ship was scheduled to dock at Ocean Pier 33, and should be visible both on arrival (from 5.30am) and departure (c. 5.30pm) from the Great South Wall.
Passengers were greeted by a 'Game of Thrones' inspired spectacle on the quayside, featuring music, drummers, dancers and Irish hounds and handlers.
This is the first time the Disney cruise ship has called to Dublin, with the vessel scheduled to return on June 13 as part of a bumper season for the Port.
Some 113 cruise calls carrying over 180,000 visitors are scheduled for 2016.
Disney Magic carries around 3,650 passengers, crew and 'cast' on a ship offering Broadway-calibre shows, first-run movies and character experiences as well as multiple pools, restaurant and entertainment options.
AquaDunk (above), one of its standout features, is a three-story body slide that begins with a surprise launch when the floor opens like a trap door. The drop sends guests on a ride that extends 20 feet over the ship's side.
The ship was originally unveiled in 1998, but received a major refurb in 2013. It is one of four family-friendly vessels operated by Disney Cruise Line.
Going to press, an 11-night transatlantic cruise from Barcelona was available on the Disney cruises website from €968.40pp plus taxes and fees based on two sharing an inside stateroom. Prices include meals and entertainment.
By 2020, Dublin Port's €230 million Alexandra Basin Redevelopment Project will allow it host the world's largest cruise ships - including Harmony of the Seas, which launched this week. Currently, larger ships have to reverse in to dock.
A new marketing agency - 'Cruise Dublin' - has been established to promote the city as a destination and home port for cruise ships, and the capital is set to host this year's Cruise Europe Conference from May 31 to June 2 at the Gibson Hotel.
Disney passengers will received a Cruise Dublin Visitor Pass, a new visitor card providing special admission to a range of historic, cultural and sporting attractions in the city, as well as incentives to shop and eat out at participating retailers, bars and restaurants.
Read more: