'You could spend hours there and still not be done!' Ireland's best activity provider is a not-for-profit park
Reader Travel Awards: Castlecomer Discovery Park in Co Kilkenny is 'Ireland's Best Activity Provider' for 2022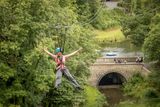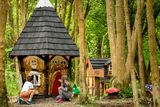 If you build it, they will come.
That could be the motto for Castlecomer's brilliant social community enterprise — where walks, playgrounds, crafts and more than a dozen activities combine for all ages.
"This location has undergone a transformation," you told us. "Not just a lovely place for a walk, it also provides tree climbing, zip-lining, museum tours, kayaking and much more. You could spend hours there and still not be done. Extremely affordable and very family friendly."
Read the full list of Reader Travel Awards winners here.
Run on a not-for-profit basis, Castlecomer Discovery Park is set over 80 acres on the former grounds of Co Kilkenny's Wandesforde Estate.
It's outdoors, full of community spirit, and is evolving organically into a must-visit attraction, our judges remarked, having blossomed since first opening as a public park in 2007.
"You could stay all day" and "something for everyone" were common refrains. Think fairy trails, axe-throwing, design studios, a coal-mining exhibition, boating, orienteering and Ireland's longest overwater zip line, for starters.
"It's action-packed but big enough that it soaks up the crowd and you don't feel rushed or harried," you said.
"Ample parking", "kind staff" and "fantastic amenities". "For a small town, it has it all!" discoverypark.ie
Top 10 activity providers
1. Castlecomer Discovery Park, Co Kilkenny 2. Dublin Bay Cruises, Co Dublin 3. Zipit, Co Dublin, Co Cork, Co Roscommon 4. Center Parcs, Co Longford 5. Ballyhass Adventures, Co Cork 6. Atlantic Sea Kayaking, Co Cork 7. Delphi Adventure Centre, Co Mayo 8. Lough Key Forest Park, Co Roscommon 9. Mid-Ireland Adventure & Slieve Bloom Mountain Bike Centre, Co Offaly 10. Carlingford Adventure Centre, Co Louth