10 travel hot spots to look forward to - from Ireland's newest five-star hotel to a 'Sky Lagoon' in Iceland
Holidays may be on pause, but from cross-country train trips to luxury African safaris, new openings and experiences are in the works around the globe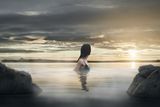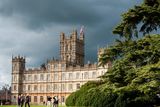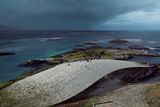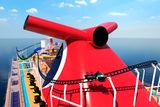 With travel on pause all over the planet, you might assume all the dreaming and development has stopped too.
But no. There's lots going on, albeit with the constant interruptions, delays and shifting deadlines we're all dealing with these days.
Researching this story put a smile on my face. Did you know Deirdre McGlone and Marc Gysling, previously of Harvey's Point in Co Donegal, will open a hotel in France next year? That the Algarve is getting its first W Hotel in 2021; or Nobu is coming to Marrakech?
Irish refurbs to look forward to range from the €7.4m upgrade at Co Wicklow's Tulfarris resort to the swanky new Padel Club at Adare Manor. 2021 marks the 50th anniversary of Walt Disney World in Florida too, and though celebrations are muted, new rides include Remy's Ratatouille Adventure and a Guardians of the Galaxy roller coaster at Epcot.
Carnival has even put a 'coaster atop of a cruise ship.
There's stuff to look forward to, in other words. The new openings and reboots provide some tantalising clues as to how travel might resume after Covid, too — from a craving for outdoor adventures to hints at longer hotel stays, remote working, travelling in bubbles and so on.
So yes, right now, with travel all but sealed off, I feel discouraged. But I don't plan to stay that way.
1. Sky Lagoon, Iceland
What: Post-pandemic pampering
Why: You've heard of the Blue Lagoon; now get ready for the Sky Lagoon, a geothermal experience with infinity edges overlooking the ocean, just minutes from downtown Reykjavík. Described as a "multi-sensory" experience, its rituals and scrubs could be the ideal catharsis after our coronavirus nightmare.
Iceland has been using its imagination when it comes to future tourism, too — extending its remote working visas to six months, and excepting vaccinated travellers from its tough quarantine rules.
A world without WOW air promises a pivot from the overtourism of old, and for those able to absorb the inevitable bill shock that awaits, its wild, uncrowded spaces already feel like a poster child for post-pandemic trips.
If you like this, try: The new Bubble Hotel has 18 dome-like structures set in secret locations around the island.
Info: skylagoon.com; buubble.com
2. Cashel Palace Hotel, Co Tipperary
What: Ireland's newest luxury hotel
Why: It's a long way to Tipperary... for those of us locked down outside the Premier County. Here's a tantalising reason to visit in future, however. Ireland's newest five-star hotel, a completely refurbished Cashel Palace, is aiming to open later in 2021.
Dating from the 1730s, the former archbishop's home was designed by Edward Lovett Pearce (the architect responsible for Parliament House on Dublin's College Green), and has been restored from the ground up with a new ballroom, bedrooms and "spa bathed in light". The 42-bed country house-style hotel is set among glorious gardens, plans both casual and high-end dining (at The Bishop's Buttery and Mikey Ryan's, respectively), and is helmed by GM Adriaan Bartels, formerly of the Cliff House in Ardmore, Co Waterford.
Already a Relais & Chateaux member, interior details range from the colonnaded hall to staircase handrails carved like candy canes, all in a plum location near the Rock of Cashel. The hotel hopes to "open up the heart of Ireland", Bartels told me this month. "We see ourselves at the crossroads of the country, and will hopefully join the illustrious ranks of Ireland's finest hotels."
If you like this, try: When it reopens this year, Co Kildare's Carton House will be Ireland's first Fairmont hotel.
Info: cashelpalacehotel.ie; cartonhouse.com
3. The Whale, Norway
What: If you build it, they will come...
Why: A museum shaped like a whale's tail fin? I'd love to have been at the local council meetings for this one. Andøya is an island inside Norway's Arctic Circle, considered one of the world's best places for whale watching. Here, the community of Andenes has been busy building a breathtaking museum designed by Danish firm, Dorte Mandrup.
Slated to open in 2023, visitors will be able to walk onto a curving roof to spot sperm, humpback, minke, pilot and killer whales at various times of year. Like Titanic Belfast, or Newfoundland's Fogo Island Inn, it's another great example of a bold idea that could bring whole new life to an area.
If you like this, try: 'Under' is another dramatically designed attraction in Lindesnes — a restaurant that appears to sink into the sea, with diners seated 5.5m below water.
Info: thewhale.no; under.no
4. Moskito Island, Caribbean
What: Barefoot luxury in the BVIs
Why: After the pandemic, we'll all be looking for remote villas and houses in which to reconnect with family and friends, far from the madding crowds. Private travel is likely to see a boom too, in our burgeoning age of the bubble — so why not combine both with a splurge in the Branson Estate on the British Virgin Islands?
Opening this year, the Virgin Limited Edition resort includes an 11-bed bolthole where a $25,000-a-night exclusive rental price tag will bag you transfers, private chefs, infinity pools, water sports and more.
If you like this, try: Waldorf Astoria has opened its new, private Ithaafushi island in the Maldives. From $80,000 a night, social distancing doesn't get more sumptuous.
Info: virginlimitededition.com; waldorfastoriamaldives.com
5. Carnival Mardi Gras
What: A cruise ship with a roller coaster!
Why: Yup, you read that right. Carnival's 'Mardi Gras' is the world's first cruise ship to be topped with a roller coaster, and though it has nowhere to sail right now, the line is banking that it will attract cruisers once it is safe to travel again (the 6,500-passenger ship plans to debut in April).
Cruise ships have a big climb ahead to reassure customers, but they have overcome many PR disasters and mishaps before, and cruisers are a hugely committed bunch. Two theatres, five water slides, a zip line and 1972 Fiat parked for Instagram purposes may help, of course...
If you like this, try: Uniworld promises "a new age of river cruising" with three new super ships this year. One, the SS Sphinx, will sail in Egypt with private tours of the Valley of the Kings with its own onboard Egyptologist.
Info: carnival.com; uniworld.com
6. The Great West Way, Britain
What: The world's first 'multi-modal' touring route
Why: The Great West Way is a 240km route created with the aid of the UK's Discover England Fund to showcase the gems between Bristol and London. From Hampton Court Palace to Bath's Royal Crescent, Stonehenge to the Cotswolds, Windsor to the North Wessex Downs, there's an astonishing variety of heritage and things to do — and loads of walking trails and outdoor adventures, too. Suggested itineraries range from driving to train travel, cycling, walking and even canal boating and camper-van touring, and future festivals and events promise to enliven it even further.
If you like this, try: New Zealand has a new 341km road trip linking Queenstown and Dunedin on the South Island — the Central Otago Touring Route.
Info: greatwestway.com; centralotagotouringroute.co.nz
7. The Lansdowne, Co Kerry
What: The future of Irish townhouse hotels?
Why: Crises can bring opportunities, too. It certainly has for John and Francis Brennan, who plan to relaunch Kenmare's Landsowne Arms as The Lansdowne, a "charming" townhouse hotel, this year. Dating from 1790, the 28-bed sits opposite sister property Park Hotel Kenmare, but rates will be roughly half of those charged by the five-star, and "stripped-back, very stylish rooms" will be complemented by casual bar food and a cafe serving 3fe Coffee. Oh, and the Park itself has had an "enormous" restoration too...
If you like this, try: Watch out for major new refurbs to the Station House in Co Meath and Lawlor's of Naas, just two hotels to get creative during Covid this year.
Info: lansdownearms.com; stationhouse.ie; lawlors.ie
8. XiGera Lodge, Botswana
What: Africa's most anticipated safari opening
Why: After a year exploring the expanse of your home, with wildlife limited to garden birds, the odd fox (and your children, of course), it's no stretch to see why a bucket-list safari may be worth saving for. While tourism's collapse has presented conservation threats, a return to travel could bring a boost for the archetypal outdoors adventure holiday.
Botswana's Xigera Safari Lodge (pronounced 'kee-jera') is one of Africa's most anticipated openings this year, with 12 lodges in the Okavango Delta's Moremi Reserve. Game drives are at guests' leisure, and the vibe is pure luxury, as you might expect from the Tollman family's Red Carnation Group — who also run Ashford Castle.
If you like this, try: Another African opening to look forward to is Habitas in Namibia. It's half an hour from Windhoek, yet set in a 35,000-acre private reserve.
Info: xigera.com; habitasnamibia.com
9. 'Lifestyle' Hotels, Everywhere
What: Bye bye 'boutique', hello 'lifestyle'
Why: Covid has also pressed the accelerator on the evolution of 'boutique' into 'lifestyle' hotels. Think independent vibes, local flavours in food and drink, intuitive tech, bold design, bars and restaurants open to all and lobby spaces built for work and play. This low tide of tourism has exposed a dependence on 'bednights' and overseas guests for some hotels, particularly in cities, and the 'lifestyle' idea leans more into local communities. Think of Press Up bringing its Dean brand to Cork and Galway, the new Hoxton opening in Rome this May, or Ace Hotel's arrival in Sydney.
We'll always need different hotels, from big resorts to mid-market chains, but this on-trend feel chimes with younger guests, urban streetscapes and our work-from-anywhere lives. Bigger brands like Hilton (with its Curio or Tempo hotels) and Marriott (behind Dublin's Moxy) have been nudging into the space for years. And the local love? Virgin Hotels, which opened in Nashville last summer and plans to expand in the US, offers Tennessee residents 35pc off.
If you like this, try: Going one step further, indie band The Libertines have opened the Albion Rooms in Margate. The riff includes seven rooms, two bars (serving Gunga Gin, natch), a restaurant and recording studio.
Info: pressup.ie; thealbionrooms.live
10. 36+3, Japan
What: Slow travel, by train
Why: Slow, sustainable travel is tipped to trend post-Covid, as travellers all over the world seek to continue their connection with nature, open spaces and support for local communities on their trips (plus, climate change hasn't gone away, you know). The 36+3 is a sister to the Seven Stars in Kyushu train, a luxury sightseeing experience launched last autumn, with shoji screen doors, private compartments and bar cars on board. From good, old-fashioned inter-railing to luxury trips with lines like Belmond and Golden Eagle, this is definitely a space to watch for in 2022 and beyond.
If you like this, try: Tour operator Ker & Downey has a new 'Rovos Rail and River Slow Travel Safari' over 12 days in South Africa, Zimbabwe and Botswana. Read our Japanese Bucket List, too.
Info: jrkyushu-36plus3.jp; ker-downeyafrica.com