10 top things to do in Cleveland – now a direct Aer Lingus flight from Dublin Airport
From the Rock & Roll Hall of Fame to lazing by Lake Erie, here's our travel guide to Cleveland, Ohio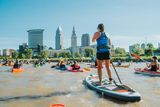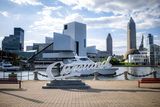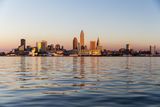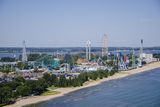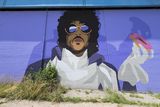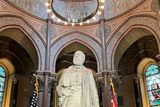 "I'd like to see us rebranded as the green belt," says Jeremy Umansky of Larder, a creative take on a traditional deli and bakery in Cleveland's Ohio City neighbourhood.
"A whole generation of us worked really hard to get away from Cleveland," he says, recalling the city's days of rust and recession. But they've since been moving back. "We joke about it; we call it the boomerang effect."
Today, visitors to this Ohio hub - now served by a direct Aer Lingus flight from Dublin Airport – will find a sizzling food scene, bike trails along a breezy lakeshore, die-hard sports fans (local hero LeBron James led the Cavaliers to an NBA title in 2016), a rebooted Downtown and surprising acres of green space.
'The Land' is also home to the Rock & Roll Hall of Fame, nifty neighbourhood-hopping and one of the best food markets I've been to in the US.
Freight trains continue to roll by and steel bridges to lift over the Cuyahoga River, but today you can watch them from bars in converted warehouses in the Flats. Clevelanders are proud of their city's comeback — here are 10 great things to do while you're here.
1. Wander the Westside Market
"It's called a bear claw," says the cop pointing to a giant apple fritter doughnut in my hand.
We're at the Westside Market, a brilliantly diverse and banter-filled civic space in Ohio City. Inside, stalls with names like Toney's Baloney, Katie's Fish and Wiencek's Poultry buzz beneath brick-vaulted ceilings, and there's not a table, overpriced taco or fancy wine bar in sight.
"The size of your gyro is based on the size of your attitude LOL", reads a sign at Steve's Gyros, while the folk at Reilly's tell me their most popular Irish goods are "probably the pasties".
The market is over a century old (ancient, by US standards) and its bustling, bunched-together stalls remind me of the cut-and-thrust of a European market, or Cork's English Market – albeit with more impressive ceilings.
Punters scoff treats on the hoof or — if there's space — on the narrow balcony upstairs. "It's the quintessential market experience" says Jessica Trivisonno, its Senior Strategist.
Try beef jerky from Czuchraj Meats, a bratwurst from Frank's (best with sauerkraut and mustard; $4), or that bear claw ($4).
"It's so big!" I blurt out as the owner bags one up for me at Bohar Bakery.
"Everything is big here," he laughs.
Details: Daily (except Tues, Thurs); westsidemarket.org
2. Downtown & shopping
Cleveland's industrial heyday brought immigrants from all over, fuelled the fortunes of barons like Standard Oil's John D Rockefeller, and left some of the most opulent buildings and cultural institutions of the Gilded Age.
By the 1980s, however, suburban flight, a tanking economy and environmental pollution had taken their toll. Similar to Detroit and Pittsburgh, Cleveland's Downtown hollowed out.
Today, Beaux-Arts buildings are being revitalised (Drury Plaza Hotel was the former Board of Education building; the Hyatt Regency is set in The Arcade, a beautiful 19th-century mall).
It's a good central base for a stay, with Playhouse Square the largest theatre district in the US after Broadway, and East 4th Street a nightlife hub.
Downtown can feel weirdly quiet at weekends, however, and lacks shopping – hit Crocker Park in Westlake, Pinecrest in Orange Village or Van Aken in Downtown Shaker Heights for that.
Details: discoverpinecrest.com; crockerpark.com; thevanakendistrict.com
3. Shred it at the Rock & Roll Hall of Fame
At once full-on, exit-through-the-gift-shop tourist trap and thrilling pop culture treasure chest, this glass pyramid is Cleveland's iconic attraction.
Johnny Cash's tour bus is parked outside ("my cocoon," he called it), and exhibits bop along from early Blues, Jazz and Gospel to the Class of 2023 (this year's inductees include Kate Bush and Rage Against the Machine).
The artefacts are eye-popping — think Jimi Hendrix's hand-written lyrics to Voodoo Chile, dresses worn by Stevie Nicks and Mama Cass, Kurt Cobain's smashed guitar, or a 1978 talent show trophy won in Limerick by some band called U2.
Displays take different approaches - some focusing on key city scenes, others on musical genres or artists (Elvis Presley's includes his bible and Harley Davidson). There's a 'Garage' floor too, where you can try drums, guitars and keyboards, or even jam with a house band - a respectable version of the Red Hot Chili Peppers' Dani California was being bashed out as I passed.
Criteria for inclusion? Simply that it's 25 years or more since the artist's first recording... part of the fun is debating who's been snubbed.
Details: $35/$25; rockhall.com
4. Laze by the lake
Its long Lake Erie shoreline makes Cleveland feel like a coastal city. Icy in winter, swarming with activity in summer, you'll find trails, beach cabanas, swimming and festivals at Edgewater Park — and an iconic selfie opportunity at the Cleveland script sign. Once known as 'the mistake by the lake', the city feels very different today.
5. Tuck into a tasty food scene
"It's really difficult to feel out of place in this city," says Nick Urig of Destination Cleveland. "You have to work hard to feel under or over-dressed."
Put that to the test exploring its tasty dining scene – polishing off a gourmet hot dog at Happy Dog (from $7.99) in Detroit Shoreway, sushi and steak at Jade (mains from $27) in the Flats, a rejuvenated industrial area by the lakefront, or a koji-cured pastrami reuben ($17) at Larder in Ohio City's Hingetown.
"We're hyper-local," says one of the chefs at the latter, discussing the foraging and fermentation that go into much of the food served in this reimagined former firehouse. "It's really important to us to be in touch with the seasons and the farms… to be connected with our food."
Details: larderdb.com; happydogcleveland.com; jadenewasiancle.com
6. A Little Italy layover
A souvenir-sized enclave compared to namesakes in New York or Chicago, Cleveland's Little Italy nevertheless oozes charm (as well as pizza, spumoni and gelati). A highlight is Guarino's, said to be the city's oldest restaurant. Think time-worn wallpapers, baby grand in the corner and beads hanging from the bar as they did during Prohibition, shielding punters supping liquor from coffee cups. If you're wearing white, add a napkin — dishes like spaghetti meatballs ($14) and eggplant parmigiana ($18) are doused in gallons of marinara sauce.
Detals: littleitalycle.com; guarinoscleveland.com
7. Culture in University Circle
With origins in Cleveland's Gilded Age, University Circle is home to the city orchestra at Severance Hall, lovely botanical gardens, an expanding Natural History Museum and the Cleveland Museum of Art, among other cultural stops.
At the latter, highlights of the striking, spacious buildings include a version of Rodin's 'The Thinker' with its legs left mangled after a 1970 bomb attack (above); Egyptmania, a deep dive into "fashion's conflicted obsession"; and 20th century artists like Picasso, Georgia O'Keefe and Jackson Pollock.
One fascinating room looks at American painting and design in the last decades of the 1800s, the Rust Belt's industrial heyday. While artists patronised by the mega-wealthy barons of the time "usually followed European models", a panel explains, a counterpoint developed in New York's "Ashcan school".
Its painters preferred "deliberately unglamorous images" inspired by tenement life.
Details: clevelandart.org
8. Brews and Beerheads
Another legacy of Cleveland's manufacturing grit and rich history of immigration is a cracking craft beer scene.
Dozens of breweries include the Great Lakes Brewing Co — draught picks at its brewpub in Ohio City include Dortmunder Gold and an Achill Island Dillisk Stout inspired by the owners' Irish heritage.
In the Flats, you'll find dive bars alongside more generic outlets and a buzzy nightlife scene divided into east and west by the Cuyahoga. It's an evocative combo of the city's past and present – with tugboats, freight trains and vertical lift bridges all working away as you socialise.
Before visiting, I tweeted for tips. One unexpected reply came from Geraldo Rivera, the journalist and former tabloid talk show host who lives in the city.
"Go to Harbor Inn in the Flats. Best oldest dive bar in the Midwest. Ask for Kenny."
Sadly, I didn't get to it. Reason to return, perhaps?
Details: greatlakesbrewing.com
​9. Plot a visit to Lake View Cemetery
Lake View Cemetery welcomes you "whether you plan to visit for the day, or stay for eternity", its website says. Try a daytrip for now.
Clevelanders reposing among its leafy 285 acres include Elliott Ness, the famous crimefighter who brought down Al Capone, and President James Garfield, who was assassinated in 1881. His massive memorial puts Daniel O'Connell's Glasnevin tower in the ha'penny place.
Other extravagant structures include the Wade Chapel, with a beautiful Tiffany window, and an obelisk marking Rockefeller's burial place - leave a coin, folklore has it, and you'll both echo his habit of giving dimes to children, and come by good fortune yourself.
Details: lakeviewcemetery.com
10. A Great Lakes gateway
Flying across the Atlantic for a Cleveland city break may sound like a stretch (Cleveland is significantly smaller than say, Boston). But it also makes a good staging point for a tour of the Great Lakes, is a few hours' drive from Detroit and Pittsburgh, and attractions nearby range from Cuyahoga National Park to Cedar Point — home to 18 roller coasters and a waterpark (from $49.99; cedarpoint.com).
This "green belt" is gathering pace.
How to get to Cleveland from Dublin Airport
Aer Lingus flies from Dublin to Cleveland four times a week. Flights take from six and a half hours to eight hours on its single-aisle A321 neo LR aircraft, costing from €199 each way in economy, and from €1,899 return in business class. aerlingus.com
Best time to visit Cleveland
"We do each season to the max," says Nick Urig. So expect hot summers from June to August, sweet shoulder seasons and biting cold winters - with snow and ice.
Summer or the shoulder seasons are the best time to visit, I reckon — softened by the Lake Erie breeze, summer temperatures can be much cooler than the south, for example, while autumn brings gorgeous foliage to the area.
For more to see and do, visit thisiscleveland.com
NB: Pól was a guest of Aer Lingus and Destination Cleveland.