Siobhan O'Connor: 'I'm a celeb on the dole - get me out of here'
When she lost her showbiz job, broadcaster Siobhan O'Connor found that being well known and unemployed presented some unique challenges, and also some learning opportunities. Photography by Kip Carroll. Styling by Nikki Cummins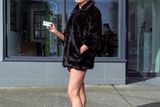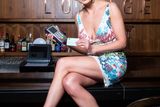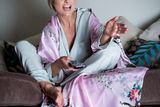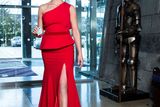 I went from the airwaves on 98FM to the dole queue in a flash. I was dispensable, replaceable and redundant at 35. It was a normal morning in 98FM, October 2013, when I got "the call" from the powers that be asking me to "pop down to the office for a quick chat". I was greeted by forlorn faces and a wad of neatly bound paperwork. Thoughts flash through your head - "Oooh, a raise". Nah, think again. "Siobhan, we've a bit of bad news," said sad-face number one. "Unfortunately we are making cuts; we have prepared your redundancy package," chimed sad-face two.
I forced my usual waterworks madness to keep schtum. "I will not let these grown men see my tears," said my internal voice. But my lips were quivering, and all I could say was: "I've given eight-and-a-half years to this place, helped get the 98FM Morning Crew to number one in the market, please tell me this is not due to performance."
Sad-face two was looking a bit morto, and I felt for the two men. It's not a nice job to tell a long-running member of staff that they are being kicked to the kerb. "No, it's nothing to do with your work. You have been an exemplary employee, but with the advent of Twitter, it's changed things, and the station is moving in a different direction."
During my final years at the station, the title 'Gossip Girl' was bestowed on me - well, the latest goss was that I was now defunct, no longer needed. My job was obsolete and I had been replaced by the social network. The internet had killed the radio star.
I did not want to turn into a bitter person, blaming the station that had shaped me over the years. On reflection though, I had become institutionalised; the station was my second home. It was more the feeling of not being wanted anymore that hurt the most, but you have to remind yourself that it's not personal. The issue for me was that it felt personal because, as an on-air presenter, you are judged on just that: your personality.
You never think it's going to happen to you, but getting the dole was to prove an emotional roller-coaster ride, a sobering and character-building experience.
I rocked up to the social welfare office on Parnell Street wearing my designer shades, with my wad of paperwork in hand, looking more like I was going to meet one of my friends for a latte off Grafton Street. I felt ill, but after all the tax I had paid over the years, I was damn well going to swallow my pride and sign on.
The first part of the process involves the dole pros checking out your P45 to see whether you qualify for the €188 a week. As I took ticket number 46, I tried to hold my head high as I sat amidst the other sad faces. Nobody was talking and everyone was looking down. The plastic seats said it all - "don't be getting too comfy"; the place is designed to make you want to make a fast getaway and back into the workforce quick smart.
Greeted by a bored-looking civil servant, I did my usual and overcompensated for her lack of banter by launching into a tirade of nervous over-chattiness. "I can't believe I have to do this, I've been working for years, I doubt I'll be on the dole for too long." My internal voice was roaring, "I'm a grafter, not a dole lifer; a goddamn hard worker, I shouldn't be here".
It was the civil servant two cubicles down bellowing cheer-up-Charlie words of wisdom that left me seriously red-faced. She recognised me and said: "Don't worry Siobhan, we've seen it all before. You're not the first celeb and won't be the last to come through these doors, you'll be back on the radio in no time."
Jesus Christ, I thought. OK, so I've hosted loads of high-profile gigs, I've been on telly, but is everybody a feckin' celebrity these days? It's nuts, 15 minutes of fame and now I'm considered a washed-up star who'll get back on the horse. I could feel my face burning, the shades concealed my tired, stressed-looking eyes, but the feeling of utter failure consumed me.
I spent about six months on the dole, and threw myself into 'dust yourself off' mode. Telling people was the hardest part, but I think the fact that the shit hit the fan in our country brought a new sense of realism to our psyche. Redundancy was the norm in the 'New Ireland' - the kind of country that rates Lidl's luxury range on par with gourmet delicatessens.
"Look at Vera Wang, she became an international designer at 40, one door closes; another window opens," declared a PR darling friend of mine. Others were cagier, with a few media-savvy colleagues advising me to pretend I was dead busy with meetings. Not my style to sugar-coat reality, thanks.
Not one to sit on my laurels, I convinced myself that I needed to carve out a new career. Auditioning for TV3's Xpose was one such move. I was the bookies' favourite and I thought, "yes, the stars are aligned, it's mine".
The day I found out from the series producer that the gig had gone to another presenter, I was on my way to pick up my dole. When I got to the top of the queue, I lost it. The friendly postmaster who usually greeted me with a look of hope didn't know what to do as I broke down in front of him, tears splashing down on to my €188. "Sorry," I bawled. "It's just I want to be working; this is just not me."
My mate, who works in film, was a rock of inspiration during my dark dole days, guiding me through, telling me that it had happened to her when movie work had dried up. She took up courses to beat the band, learnt to bake, and met her other laid-off film pals on a Wednesday for the M&S lunch deal, a treat after they collected their free money.
It was refreshing when Love/Hate star Susan Loughnane revealed she too had to claim the dole. As soon as filming ends on a series, this is the norm. The Malahide star, who played Debbie in the RTE hit show, said she was broke, revealing: "I was on the cover of a magazine, but I was on the dole - it was really tough." She added: "I didn't stay on the dole too long. I couldn't bear it. But that's the reality of the business."
When I was out of work, I bought every self-help book known to man and got stuck into Facebook COO Sheryl Sandberg's Lean In, inspiring me to toy with the idea of going it alone and setting up my own female-empowerment website - "I'll show those men, blah, blah".
When you're trying to figure it all out and get back on your feet, and your brain is so cluttered worrying about the future, it's hard to relax and trust that the universe will unveil the great master plan. My advice is: stay positive; things can only get better.
A few weeks after I signed on, an official-looking envelope arrived in the post. It was from the social welfare, telling me I now had a case officer. "Eureka," I thought. "I'll be helped by the Government to find my dream job again."
I was soon to find out that my case officer was, in actuality, appointed to keep an eye on me rather than sort out my life. Every six weeks I was to call into the gloomy welfare office to meet her as she signed piles of documents proving that I was actively looking for work.
I asked her if I could retrain, but it transpired that because I had a BSC degree, I was overqualified for many of the courses the Department were doling out. I enquired about a fitness course, but she advised me that this would not be suitable and would be full of 18-year-olds, "Would you not just go back into media?" she asked me.
During my search for the next great media gig, I was offered a spot on TV3's Ireland AM couch to talk about the Grammys. I was in shock when I got a call from my case officer on my personal mobile. Is it even normal for these people to stalk you? "I see you were on TV this morning. Great stuff. Will you be doing this regularly?" I attempted to explain to her how the media world works, that I only did one slot, that I was trying to get back in. I told her I needed to keep my profile up in order to get back in the game, to which she responded, "No problem, but we will have to deduct one day from your €188, because when you were on TV, you were not available to job-hunt". Jesus, the bureaucratic red tape. The mind boggles.
But in hindsight, I was one of the lucky ones - I had the luxury of a redundancy package which, in retrospect, was my saving grace, because with a mortgage to pay, electricity bills and the rest, you'd be hard put to survive on State benefits. A male salesman friend of mine was thrilled to be signing on, telling me that he bought a new car with his redundancy and kept his dole money for pints with the lads.
But he is in the minority. Another female friend earned €80,000 a year, before she was let go. She revealed: "When you find yourself in the utter shit, you have to try and make the most of it by taking the positives from it. Like most horrible things, unless you've lived it, it's easy enough to dismiss those who are in it - that is, until you realise how easily it can happen to anyone, at any time.
"I will put my hand up and admit that before I ended up in the situation, I was an arsehole, who painted everyone on the dole with the same brush. I ignorantly thought they were all spongers, living the high life off the likes of me, working my ass off and making massive tax payments. I imagined easy lives of guaranteed money with nothing to do for it; grants for everything, free houses to live in.
"Far from it. The dole is designed not to be lived on. It is next-to-impossible to actually survive on what you get. Every single week, dole day seems to be too far away - there is never enough to stretch to the seven days. And it is not being thrown around; every single cent is spent wisely.
"Those unlucky enough to need to be on rent supplement are really screwed. There is always this fear that some form won't be signed, or something will happen and you'll be told you're off it and you have to re-apply, and, in the meantime, the landlord is banging down your door, only looking for an excuse to raise the rent."
"But for a while - at least - the dole is there to get you through, barely. We are very fortunate that we have a country that actually provides this service, no matter how small it is."
That's how desperate I got, too: I've found myself being endlessly grateful for the dole's existence. When you know it is going to end, there is light at the end of the tunnel. I don't know how anyone could keep battling, scrimping and saving and counting every penny, finding everything out of reach, having to depend on family members to help you every so often. It is no life. Being on the dole makes you see that the saying about walking a mile in someone else's shoes is true.
The dole is not designed to encourage people to live on it long-term, but some people find themselves stuck. There are those who choose to remain on it, and TV shows such as Benefits Street almost glamorise this idea. But, for most, it is grim.
Above all, it was my fall from grace that I personally struggled with - I had lost my mojo. Having to queue up every six weeks, wait for your ticket number to be called out, to be greeted by a dole officer peering out of the brown hatch: it was soul destroying. You left your dignity at the door. It was demoralising. I'd been reduced to signing on, admitting I couldn't support myself. I have failed - signed, Me.
Now, however, with the benefit of hindsight, I can see that my days in dole hell gave me strength, a new appreciation for the important things in life. It forced me to stop, to take stock and spend some time figuring out what I really wanted to do with my life. I take little for granted anymore and strive to be the best I can be.
I did retrain - as a personal trainer with Keith Martin at Fitcert, the best personal-development achievement I've ever done. I'm back working in media now and the jobs are flying in. However, I'm more grateful than ever to be back on the horse.
Kierkegaard said: "Life can only be understood backwards, but it must be lived forwards." A huge positive was I got to hang out with my best mate, my nana Joan. When I wasn't job hunting, which became an obsession, I would go for a walk or lunch with my grandmother. I relished this precious time. An avid film enthusiast, she gave me the best bit of advice during my six-month mini-meltdown. "Don't be sad. As Scarlett O'Hara said, 'After all . . . tomorrow is another day'."