Ford reveals new electric Explorer crossover – with the promise of more EVs to quickly follow
New EV expected to arrive on the Irish market early in 2024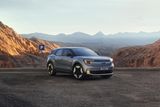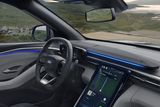 Ford has just revealed its new electric Explorer crossover. It is one of the most important vehicles from the company in a long time and marks the start of what it promises will be a wave of electric vehicles (EV) in the near future.
While it will go on sale later this year, it looks like Irish buyers won't be able to get into one until early next year.
Obviously, pricing will be crucial, as at 4,460mm in length it spans a wide range of competition – from the Jeep Avenger to the likes of the Hyundai Ioniq 5. There is no definitive price for it yet.
It is understood there will be two rear-driven options (168bhp and 282bhp) and an AWD version with a motor on each axle for a combined 335bhp output. They are also talking about a maximum range of around 495km.
Most of what the company has revealed so far relates to dynamic exterior looks and creature comforts in the cabin.
We are informed that SYNC Move will feature on board. According to those in the know, this will be: "A supersized movable touchscreen and fully connected infotainment system with audio tailored to the interior, wireless app integration and advanced driver assistance technology."
The movable screen stretches to 15 inches and can smoothly slide up and down.
Also in the cabin is a private locker for safe-keeping important items and a 17-litre central console that means you can easily stow away large items such as a laptop.
Overall, there is about 470 litres of storage in five-seat mode.
The new mid-size crossover is engineered in Germany and uses Volkswagen's MEB platform. There are sculpted sporty seats and a soundbar said to be more typical of concept cars than family vehicles.
Ford says the Explorer is a "trailblazer" for a new breed of EVs. It also claims the car is fully loaded with everything customers need. Ford has promised an all-electric portfolio of passenger vehicles by 2030.
The exterior is different, especially the front, as it has a strong-looking "shield" design instead of a grille.
They say it can charge from 10pc to 80pc in 25 minutes under ideal conditions. That is pretty standard for most battery EVs these days.
The new car is set up for charging to be quick and easy. As you would expect, charging at home can be scheduled to use cheaper electricity if it is available. Like many of its rivals, it can deliver a full battery and pre-warmed cabin for early starts. By next year it will have access to 500,000 charging points across Europe.
Standard specs include heated front seats and steering wheel, a massaging driver's seat and climate control that allows the driver and front passenger to choose their own temperature.
Advanced driver assistance systems include, for the first time on a Ford in Europe, "assisted lane change" and "clear exit assist". This provides a warning for passengers getting out if cyclists are approaching.
Meanwhile, Ford has teamed up with adventure influencer Lexie Alford – also known as Lexie Limitless – for a global expedition in the new Explorer. ​