Watt a revelation: New Renault Megane E-Tech charges ahead of rivals with top-secret ingredient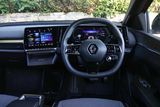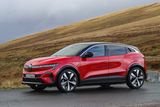 Philip Hedderman
undefined
Don't you just love when you get an unexpected boost. It could be something as simple as finding €2 on the pavement, sailing through an NCT or zipping through rush hour traffic on a Friday evening.
That massive hit of endorphins will take you through the weekend and rubs off on all those around you. My little pick-me-up came in the guise of the new Renault Megane E-Tech this week.
Surprisingly, the most impressive part wasn't the super sleek design of the all-electric family hatchback with new signature LED headlights with laser cut detailing that bleed into the front bumper and lower apron.
It wasn't even the flush door handles that pop out to greet you when you press unlock on the key card or the stonking 20-inch two-tone alloy wheels.
And don't get me started on the interior, with a minimalist and roomy cockpit dominated by two state-of-the-art digital displays. Both powered by the latest-generation Snapdragon processor, there's a 12.3-inch instrument cluster nestled behind the chunky sports steering wheel combined with the 9-inch infotainment display that's twinned with Google's Maps and Google Assistant for sat nav and voice control. Standard kit is generous too and includes; 18-inch rims, LEDs, ambient lighting, heated front seats, park assist and rear-view camera.
But it's the stuff you cannot see that impresses the most — namely the new light-weight battery sandwiched in between the floor.
Not only does it weigh 45kgs less than the outgoing unit used in the Zoe, it is also capable of taking a full 22kWh charge.
Basically what that means is the public ESB chargers will deliver the full 22Kwh per hour unlike the 11kWh restriction for most cars. That will cut your time at the plug in half.
For example, last Friday we plugged in with 19pc or 80kms of range left. After one hour and 38 minutes and a hefty lunch inside me, we returned to be greeted with 80pc battery or 279kms in the tank.
Just to make sure this wasn't a cruel mistake or a freak accident I repeated the charge on a different public unit and achieved exactly the same.​
Renault are offering two versions of the Megane E starting with the entry-level EV40 with a 40kWh battery, generating 130bhp and a claimed range of 300kms.
A bigger, more powerful EV60 has, as the badge suggests — a 60kWh unit, 220bhp and will cover 420kms on a single charge.
Like all EVs, we suggest you shave off 20pc of the range in the summer and 30pc in the winter, especially when you factor in motorway driving.
The best we could squeeze out of the larger unit was 320kms, but the vast majority of that covered long stretches on the M1 at night and in the rain.
The drive itself is comfortable and composed, with little intrusion from road noise. To get a more supple ride I'd stick with the standard 18-inch rims as the bigger wheels made the ride, especially around town, a little choppy.
Don't expect hot hatch-like handling, but to be fair, it was agile enough considering its 1.6 tonne bulk on twistier roads and had plenty of grip.
Steering was a little vague and jittery on uneven surfaces, but again, the gargantuan rims didn't help.
That said, the Megane is by far one of the best EVs I've tested this year and for the little gem of the faster charging capability, it's a serious contender for electric car of the year.
Prices for the Megane E-Tech start at €37,495 including €5,000 grant on purchases before June 30.
Wildtrak X and Tremor join Ford's 4x4 line up
Ford has added the Wildtrak X and Tremor to its best-selling pick-up range – making it the most comprehensive line-up in Europe.
Targeting customers who require hardcore off-road capability, both models feature a substantially reworked chassis with unique suspension upgrades including advanced Bilstein dampers fitted as standard.
Both flat beds offer the segment-first Flexible Rack System option to maximise load-carrying ability for longer items.
In the case of the swankier Wildtrak X (pictured below in yellow), it builds on the original Wildtrak model with ride height increased by 26 mm and 30 mm wider track.
New off-road technologies fitted as standard include Trail Turn Assist 3, which uses brake-based torque vectoring to reduce turning radius by up to 25pc.
Trail Control 3 operates in a similar way to cruise control: select a speed below 32kmh and the vehicle will automatically manage acceleration and braking through difficult terrain.
Both will be powered by Ford's tried and tested 2-litre EcoBlue bi-turbo diesel engine producing 205PS and a meaty 500 Nm of torque.
It will be paired with a 10-speed automatic transmission with a new full-time four-wheel drive system with set-and-forget mode as standard.
Order books for both models are open now, with first deliveries from August.
Ford Ranger prices start at €39,132, including VAT.
Skoda expand EV range with four new models
Skoda is accelerating its e-campaign and will grow its BEV (Battery Electric Vehicle) line-up to a total of six models by 2026.
In addition to the Enyaq and the Enyaq Coupé the VW-owned brand is planning to introduce four new models; Small, an entry-level electric SUV; Compact, which will officially be called Elroq; a Combi estate model and; Space, the production version of the Vision 7S concept.
First off the assembly line will be the Compact early next year.
Measuring around 4.50 metres in length and boasting a similar combination of compact dimensions it will be the all-electric successor to the Karoq.
The Combi, sitting at approximately 4.70 metres long, will be the brand's first all-electric estate car. While the Space will be a large seven-seat SUV.
The Small will be the entry-level EV model similar in size to the Scala and will be priced around €25,000.