Nissan tones down Juke looks but pumps up volume with room, spec and tech - but automatic is slow
First Irish drive: Nissan Juke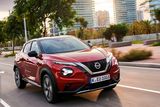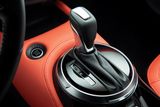 The new Nissan Juke is just the sort of car more people are busily buying. Call them small SUVs or compact crossovers, there are so many now they are likely to soon overtake small-family cars.
The Juke is largely responsible for the rise and rise in popularity. Despite its former polarising looks, it set the early pace; now there are more than 20 competitors for your money. I've just been driving the Juke here.
They have toned down those sharply-raked sloping looks but they have turned up the dimensions to real effect. The car is now 75mm longer (4,210mm), 30mm taller, and the wheelbase is stretched by 105mm to benefit interior space.
No doubt rear-seat occupants and boot capacity plainly benefit. The 5.8cms increase in rear knee room was most notable when I sat in the back. I had good enough room behind a front seat that I'd already set to accommodate me. They say it is as good as many small-family cars now.
Rear head room has doubled; it was certainly easier to get in and out. The sense of cramped cabin is gone.
There is also a notable (20pc) increase in boot room (at 422 litres a mere eight fewer than the larger Qashqai).
For now there is just the one engine: a lively 1-litre 3cyl petrol turbo (117PS) with either a 6spd manual or a 7spd DCT auto. Road tax ranges from €190-€200 depending on model. These engines can be thirsty if driven with moderate gusto but are decent in more sedate, urban conditions. Despite extolling the virtues of electric vehicles, they had no comment on future powertrains except to say there will be different varieties coming.
I was far from impressed with the automatic transmission. It was slow to react and juddery when starting off. Disappointing.
But I was delighted with the manual, which underlined the benefits of a car built on a new chassis. It was energetic, fun even, and a lot better to drive on the country roads on the Dublin/Kildare border. It's the car I'd go for if you are among the 2,500 or so they expect to buy.
The cabin is an area of major improvement, adorned as it is with decent materials serving as backdrops to a neatly designed interior.
A key attraction, of course, is the higher driving position which is helped by thinner pillars and lowered wing mirrors (- 1.5cm).
How luxurious you want your cabin to be depends on how much you wish to spend. They have a new grade lineup to broaden choice. It starts with entry level XE; SV and SV Premium are much better choices.
Top-of-the-range is shared between SVE and N-Design. The former packs in more techno-stuff, the latter is more focused on design as the name suggests.
They call it their most connected car to date with greater choice and app-ability (sorry for the pun). From SV grade, Android Auto and Apple CarPlay are standard.
An improved ProPilot system is on board; it semi-autonomously keeps the car in lane and maintains a safe distance from other vehicles.
Prices start at €21,995 for the XE, €23,650 for the SV. The SV Premium costs €24,650 while the SVE and N-DESIGN each costs €26,950. SV Premium is expected to attract most potential buyers (you get Eco, Sports, Normal driving modes and most of Nissan Connected services at that grade).
In the 10 years of its existence, 1.5m people worldwide have bought a Juke; nearly 10,000 in Ireland. Given the projections based on such cars growing more popular by the day those figures are likely to increase substantially. The Juke with its more conventional looks, better styling and greater space has upped the ante again.
Bits and Pieces:
19ins wheels fill the large wheel arches. There is an 8ins infotainment display for access to Nissan Connect Services. At N-Design level there are 20 combinations of personalisation.
Fuel economy: manual 6l/100km, DCT 6.1 l/100km.
Emissions from 135 g/km for manual; 138 g/km for DCT.
Safety elements include intelligent emergency braking with pedestrian and cyclist recognition, intelligent cruise control, traffic sign recognition, intelligent lane Intervention, rear cross traffic alert, and blind spot intervention.