Meet the people who've transformed Dublin's streets into a colourful city-wide gallery
Dublin Canvas has transformed unattractive street furniture into a colourful city-wide gallery with more than 200 installations. Our reporter meets the man behind the project and the artists, many amateur, who've made a piece of the capital their own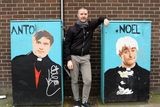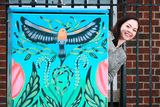 On Amiens Street, a group of passing tourists point and shriek excitedly, crossing the road to have their photo taken between two electricity boxes. Granted, it would make for a very peculiar holiday memento if not for the fact that both have been painted with the mugs of two enduring icons of Irish comedy. There they are, Ted and Dougal - looking as gormless and irritable on an ESB box in Dublin as they did on the Channel 4 sitcom.
Later, out for a walk by Clontarf seafront, an old man stops to admire a box adorned with a painting so beautiful that you'd proudly hang it on your living room wall. In Rathmines, a puzzled child points at a box that's painted to replicate an old-fashioned country telephone, while on the way to Thomas Street, two boxes featuring Ronnie Drew and Luke Kelly proudly straddle the gateway to the Liberties. Over the past five years, almost 200 of these boxes have sprung up around Dublin city centre and its environs thanks to the Dublin Canvas initiative, which transforms unappealing street furniture into a city-wide gallery.
Project coordinator David Murtagh first had the idea for Dublin Canvas back in 2006, after seeing a similar scheme called Artforce (later, Urban Smart Project) while backpacking in Australia. "I was working on building sites in Brisbane, and thought I'd like to bring it back to Dublin," he explains, adding that his initial proposal to Dublin City Council upon his return was rejected. However, the Council did allow him to develop a pilot project that involved covering boxes in vinyl wraps in Temple Bar, which served as the precursor for Dublin Canvas and ran from 2008 to 2011. "And then," he says, "the crash happened so there was no more money for anything like that."
The project, which is open for submission to everyone, gathered new momentum in 2015, when Murtagh was made redundant and threw himself into making Dublin Canvas a success the way he originally foresaw it. This time, the Council was on board. "I had been working for a large multinational but I have a background in media production, so I just wanted to do something in public art," he says. "I wanted to do it on a grander scale because I knew that people would love it. I just happened to be in the right place at the right time."
The reason that he has persevered with the project over the years, he says, is because he has never forgotten how it altered the cityscape of Brisbane all those years ago. "It was the public interaction," he nods. "Back then, Instagram wasn't around but you'd see people, especially tourists, stopping and engaging with the boxes and taking photos. Then I got talking to a few of the artists and I was surprised, because they were from all walks of life - from schoolchildren to elderly people.
"I thought it was a fantastic way to get the community involved in public art; just opening up these canvases and allowing anyone to do it."
As an outside observer, perhaps one of the best things about the project is the fact that people of all nationalities have made their mark - literally - on Dublin. Aside from the cultural icons that have appeared on Dublin Canvas boxes over the last few years, from Beckett to Phil Lynott, many designs bring an international flavour to the scheme. Murtagh confirms that approximately half of all artists are non-Irish nationals. "There are loads of Brazilians, loads of Mexicans, one or two Canadians and loads of Europeans, too," he reveals. "We haven't had any Australians, Americans or Africans yet; this year, we've put out the call in Polish, African and Asian communities to get even more nationalities on board."
One of those aforementioned Brazilians is Vinicius Bustamante, a graphic designer by trade who moved to Dublin from his native São Paulo in early 2016.
"I just love the idea of the project," he says, smiling. "It's helping to bring art to everyone, and improving the streets by using blank spaces that are often vandalised. It's also an opportunity for people to get to know artists that live in the city - I liked the fact that people stopped to talk to me every five minutes while I was painting the box. Everyone gave me nice feedback and said how much they love seeing the boxes around the city."
His artwork, located in Phibsboro and titled Happy? is a vivid slice of urban street art, but it also has a deeper meaning. "It's about this generation, which always tries to look happy in their social media lives - but are we always that happy? It's a colourful and happy-looking character, but with a hidden sad side. I have always loved to use bright colours - maybe my Brazilian influence - and I wanted to bring some warmth to a rainy, cold Irish street in Dublin."
Canadian artist Emily Kouri, from the small town of Peterborough, Ontario, had a similar desire to capture something that was not only eye-catching, but made people think. Her piece The Birds & The Bees is very appropriately located outside Holles Street maternity hospital. Although it helps if the artist's submission is themed to a location, it's not essential.
"It was inspired by Dublin's urban gardens, Merrion Square and St Stephen's Green; a space where nature and urban life intertwine in perfect harmony," she says. "The illustration highlights how these gardens bring colour to the city centre and provide a tranquil gathering place. Coincidentally, the electricity box is also beside the hospital where it can also relate to celebration of nature and life."
There have been similar schemes in various Canadian cities, Emily says, but after moving to Ireland last year - and spotting various boxes on her commute into the city from Greystones - she was inspired to submit her own design and become part of the emerging street art scene that she quickly "fell in love with."
Other artists are putting their stamp on the city in a less abstract manner. Software engineer John Braine was inspired to submit a design to Dublin Canvas after noticing a striking Dracula-themed box near his home in Clontarf. His work - the aforementioned Father Ted portraits on Amiens Street - have been shared extensively on social media since he painted them in 2016. "My first submission was actually a Batman and Robin piece, but I was hoping to use a very stylised design by a French design company and they refused permission unless they could paint it themselves," he explains. "When I designed the Dougal and Ted image, I asked Graham Linehan's permission [on Twitter] and he just said 'Of course! Lovely'." Braine has never been a professional artist, but has dabbled in art "on and off" over the years. "I have a go at oil painting every few years and last year I attended some life drawing sessions," he says. "I'd love to do more but it's hard to find the time. But I've always loved street art, from the old school hip-hop graffiti days right up to the more modern variations. It's something I've always wanted to have a go at and the Dublin Canvas project makes it easy."
The delighted reaction to Careful Now was unexpected, Braine says. "It was a crazy and wonderful weekend, such a buzz. In hindsight, these are two characters of comic Irish genius that are adored by the nation, yet there is no public memorial where people can show their love. I think I unwittingly tapped into an outlet where people could show their affection."
Affection is a theme that runs through Alison O'Grady's Dublin Canvas offering, too - specifically, affection for her hometown. The Balbriggan native, who works between Dublin and the Middle East, painted the vibrant "A Ghrá mo Chroí, Dublin City' on a box close to St Patrick's Cathedral in 2016.
The illustrator and art teacher came up with the sketch - her second to be commissioned - while living in Bahrain. "My sketchbooks feature quite a few drawings of Dublin and although I love my experience of life in the Middle East, I miss Dublin," she says. "'A Ghrá mo Chroí, Dublin City' is very special to me. When I fly home, I love to see the Poolbeg chimneys - it's my first feeling of being 'home'. And I really enjoy seeing photographs of the two boxes I painted for Dublin Canvas pop up on Instagram or Facebook every now and then. I love that a little piece of me is in Dublin while I'm abroad."
With similar projects taking place on a smaller scale in places like Cork - where Mad About Cork's initiative has seen electricity boxes painted with icons of the Rebel County, including Cillian Murphy and the soft drink Tanora - there is no reason why other cities and towns across the country can't be similarly illuminated by unique art pieces created by their own residents. For now, Dublin Canvas remains the biggest and most successful street art project in the country, with plans to expand into South County Dublin this year, at least 100 new commissions and a potential exhibition for Culture Night in the works. There are certain pointers, Murtagh says, for those considering a submission this year; don't leave large areas of space on your design, like open skies or clouds, as it can leave your work open to graffiti tags. On the other hand, don't make it so complex that it's too difficult to replicate.
Overall though, no matter what your age, nationality or profession, if you have a good design you're in with a chance.
"That's the main thing with Dublin Canvas: it's not some select Arts Council group or some exclusive application process," he says, nodding firmly. "We have bricklayers and barristers and accountants; we had a doctor last year. It's all walks of life and all age groups; that's what community art and public art is about - it's open to anyone. Well..." he catches himself, almost leaving out the most important part. "You do have to be able to paint, too!"
The deadline for Dublin Canvas submissions is April 16.
More information and all artwork from 2015-2017 can be found at dublincanvas.com