Meet the man recreating top Dublin pubs and landmarks in Lego
Building-block enthusiast Gianni Clifford's beautifully crafted micro versions of iconic Dublin pubs and landmarks are raising smiles all over the capital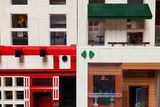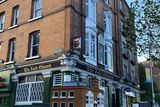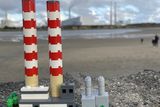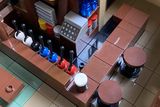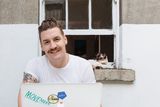 Joy has been in pretty short supply lately but one Instagram account building a steady fan base is @dublinbricks. We might not be able to raise a glass in our favourite city-centre pubs, but the page's creator has been managing to raise plenty of smiles with his lovingly crafted micro versions of much-missed bars around the city, all brilliantly recreated in Lego form.
The boozers built from bricks and filled with Lego customers quaffing tiny pints of Guinness have had Dubs in tears in the comments section of the @dublinbricks Instagram page, but a glance through the account's Lego creations reveals a rich tapestry of Dublin city life - from Brennan's Bread sangers to Tayto crisps and the Lady on the Rock - entirely rendered in tiny, multi-coloured bricks.
Thirty-five-year old Dubliner Gianni Clifford is the creative force behind DublinBricks. "It's my love letter to Dublin, written in Lego," he smiles. It all began a little over a year-and-a-half ago.
"The first Dublin pub I built was The Long Hall," reveals Gianni. "It's an iconic pub - as perfect for a pint of plain as it is for a Lego build - and as soon as I'd completed it, I thought, 'what will I build next?'
"My next thought was, 'obviously another Dublin pub!' I loved the ability to be able to combine two things I love in such a creative way - that was the beginning of DublinBricks."
The builds are charming and look deceptively simple, but the reality is often far more complex. "I strictly only use Lego pieces - no stickers, no custom pieces," explains Gianni. "I feel that makes the process a little trickier but definitely more rewarding."
He doesn't admit to any creations that have failed, only projects that are "taking longer than planned".
Fans of his work often contact him with ideas for future projects. "I get heaps of requests but I tend to just pick bars I love myself," says Gianni. "They're places I go, places I'm eager to get back to."
The builds might be small in scale but they're big on detail. The pub's legendary toasties make it to the tables of the tiny, shoe-box sized, version of Grogan's Castle Lounge. There's a mini 'Now Playing' screen by the bar and a heart in the window of The Big Romance on Parnell Street.
The latest addition, completed just before Christmas, was the Hacienda Bar on Arran Street, which even included a mini Lego version of the pub's much-loved owner, Shay.
"He loved it," laughs Gianni. "He's part of the furniture there so it wouldn't have been the Hacienda without him.
"Trickiest build? "Perhaps The Lord Edward, as the facade is so complex," he muses. "But it just makes the build all the more enjoyable. Figuring out how I can visually recreate the pub using only Lego bricks. It's like a three-dimensional jigsaw that you need to source the pieces for."
While the rest of us were baking banana bread and ordering off Asos through various lockdowns, Gianni was busy. "I'd say I've bought close to 250,000 pieces of Lego during lockdown," he admits. "My last order alone was over 25,000." He laughs: "My postman is a saint, you can hear him rattle through Harold's Cross every day."
That latest bulk order was for putting together the custom sets he sells online. Gianni's full-time job is as a creative director and product designer but the Lego sets and art prints he designs and sells on dublinbricks.com have been hugely popular.
"The latest set I released was a miniature version of Dublin's famous Poolbeg Chimneys and it sold out in one minute flat," he reveals. "I thought my site had gone down or there was some issue but there wasn't, they just went that fast. Things like that give me such a positive steer on what I'm doing. The sets I sell take a long time to design and even longer to source all the pieces, but seeing people share their builds and knowing people are building along with me makes it all worthwhile."
Although his passion for Lego started in childhood, it's definitely not something he reckons we should be packing away as adults - especially now.
"Lego transcends age barriers," he explains. "I have sets from when I was a kid and they still fit and work with the latest sets, it's a timeless system of play. My first set was Lego Forbidden Island - pirates! - and I think they're as cool today as I did then. But as I've got older, I appreciate Lego and the benefits of play with a different lens, not just for the joy it brings but also for the mental-health benefits."
He's passionate about the positives of play. "Right now we're in yet another lockdown, the weather is abysmal and people have so much to worry about: their job security, health of loved ones, mental health... Lego is perfect escapism. It can be done in the comfort of your own home. You're totally focused, being creative and using your brain, but removed from your nine-to-five worries.
"That's what I'm aiming to promote with DublinBricks. I love when people tell me they used to love Lego as a kid but hadn't touched it in years, then they bought one of my sets because they loved the pub or Dublin and it's been a gateway for them to get back into it, play more and buy other bigger Lego sets."
There are a few exciting projects in the pipeline that Gianni's remaining teasingly tight-lipped about - a couple of collaborations with some well-known Dublin artists and a curious-sounding interactive experience.
"It's a large project that I'm working on directly with Lego, which is a dream come true," says Gianni. "It's been delayed a few times now because of Covid-19, and I can't talk about it in too much detail, but it will happen sometime in 2021, it'll be experiential, in Dublin and people can attend. It's the dream project for me."
Sounds like something we'll all be building our hopes on seeing when lockdown lifts... after a trip to the pub, of course. l