Maura Derrane: Pills, Thrills And Bellyaches
For nearly two years, she and Daithi O Se have dominated our afternoons with their TV show, 'Today'. As her new baby totally dominates her life now, Maura Derrane tells Barry Egan about how she feared that she - or baby Cal - would die in childbirth, the two litres of blood she lost and how she spent two painful months in bed, with her Fine Gael TD husband John Deasy becoming the chief carer as a result. Photography by Lili Forberg. Styling by Nikki Cummins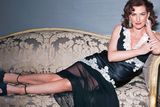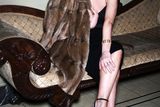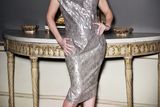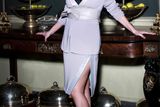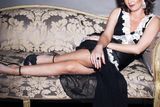 Alan Bennett tells an instructive story about his late friend, the TV star Russell Harty. "He switched on Dennis Potter's The Singing Detective at the point where the naked Michael Gambon is having his psoriasis anointed by a nurse. In order to stop himself getting excited," writes Bennett, "Gambon recites a list of the most boring television programmes he can think of. Russell waited with bated breath long enough to make sure he wasn't on the list, and then switched off."
Sitting in the Shelbourne Hotel in Dublin having lunch with yours truly, RTE star Maura Derrane is sufficiently devoid of self-interest not to care what the public thinks about her. But more probably, the ballsy brunette from the Aran Islands knows that she and her co-host on the Today show, Daithi O Se, are aware that they make hugely popular and, even strangely compelling, programmes for the national broadcaster.
Maura says that she has never been in a better place in life in all her 44 years. Normally, when a celebrity utters such a sentence in an interview, the immediate suspicion is that it is a banal PR sound bite supplied by their evil spin doctors to cod us. With Maura Derrane, however, you can't help but believe every syllable of the sentence. She is irresistibly, even implacably, loved-up this afternoon.
Indeed, did I not know her very well (she danced drunkenly in a somewhat crazed conga line around my house a few Christmases ago with Virginia Macari and Lisa Murphy, among many others), I would suspect Maura of being on industrial quantities of happy pills.
The RTE star isn't, I'd like to point out, off her head on Prozac. The RTE star is merely buzzing on new baby love, courtesy of little Cal who was born on May 12 this year at 9.45pm - Maura and her husband Fine Gael TD John Deasy's first child . . .
Does the post-pregnancy glow make you more sexually attractive to your husband?
"I don't know about the glow," she says. "Post-pregnancy exhaustion maybe. You do have less time for each other. The baby is number one now."
For those of a nervous disposition, avert your eyes now as Maura suddenly gets all gaga goo-goo talking about Cal "being a little snuggle-cuggle huggle-buggle wuggle! He is my little teddy."
And then, just as the eyes are starting to roll visibly in my head, Maura adds that she often wonders how something so small can need so many things. "Sterilisers! Bouncers! Cots! Toys! I pack one top for myself and 850 babygros going down the country to my mother," she says in her taupe jumpsuit today. "A child comes with so much gear. It is almost like I need a trailer at the back of my car just for his things."
"My life has totally changed overnight. I don't know what I was doing with all my time," she says about all the years prior to the arrival of Cal. "I had so much time."
She says it puts everything in perspective: "I think the older you are, the more of a shock to the system it is, because it is all-consuming. I mean - there is nothing else."
"You know, from the minute you get up in the morning until you go to bed at night, the baby is number one. It is unreal. You never get a break from it, especially when they are really, really small. It is kind of overwhelming in the beginning. And I was quite overwhelmed."
It sounds like a mixture of heaven and hell, I say.
"Yeah. Hell at night, heaven in the day. I love the days because I find it very easy. I think when you are in sole charge of taking care of a child and that's what, I suppose, I have been doing because I have been off work," she says of the Today show, which returns to our screens on September 22. "It is lovely because you can go out for a walk in the day. But at night! I find the night feeds hard."
Because of the ultimate torture of sustained sleep deprivation?
"That's what I mean. At night, you are so tired. You are like, 'I just fed you. How could it be three hours and you want to be fed again?' Like last night for example," she explains, "the night before was like the dream night. He slept for five straight hours, then I fed him and he went back to sleep again for another four hours."
John or the baby?
"Both," Maura laughs. "John's like, 'Here's a coffee, here's a bottle,'" she jokes. "Then, last night, Cal slept for about three hours, woke up for a feed - he only took half a feed - then went back to sleep, then woke up an hour later. So you can have a mixture of those kind of nights."
I ask her if she and John are being egalitarian in terms of the baby duties at home.
"Very much so," she says firmly. "I made sure it was going to be like that. But Cal is a real extension of John and me," she adds. "He has really enriched my life, and John's too."
"John is unbelievable," she beams.
The women of Ireland will love the FG TD now, I say, and she laughs. So, was it all a political stunt? I joke.
"'Let's have a child to be politically correct and elevate John to the status of nice person?'" Maura hoots. "I have to say, he is really good with him. I don't see why a man can't do exactly what a woman can do. There's no reason why a man can't take care of a child exactly like a woman can - and sometimes better, to be honest. You'll find that yourself one day," she says, frighteningly. "I'm serious."
I say that the thought of changing a nappy - complete with its whiffy, nose-holding contents - leaves me decidedly squeamish, if not absolutely and unequivocally horrified.
"I can tell you - and I will be totally straight," Maura reveals, "in the beginning, I nearly puked. I was, like, 'Oh my god! Yurrrrrrrgh!' But now, I don't even notice. I swear, I was dreading changing a nappy. My sisters were so funny. They were, like, 'You won't even notice'. I was, like, 'I'm going to get sick!' They were, like, 'You are such a wuss.'"
Maura adds that John "taught himself" to change nappies and then basically taught himself how to look after his baby son. "It is just amazing how this comes to you as a parent. It just happens," she says. "You learn. And you're not scared of them, because in the first week or two weeks they are like this tiny little thing, the size of the phone," she says holding up her phone. And Cal was a teeny little thing of six pounds. He was like a handbag accessory. You are kind of a little bit afraid and now you change his nappy quickly in the night and go back to bed."
Maura explains that uber-cutie Cal sleeps in the bedroom of their Sandymount home with Mammy and Daddy.
Maura and John also have a place in Dungarvan, County Waterford, where John has had his constituency office since 2002. It wasn't the plan originally to keep the baby in their bedroom.
"I thought I would be one of these tough mothers, because I am kind of a tough person by nature," Maura says. "Before he was born, I was like, 'I will have that baby out of the bedroom in a month!'"
"Hello!" she laughs. "I'm a wuss already," adding that her response to her inner tough mammy saying that the baby should go to his own room was: "No way! He is too young.
"I take him into the bed sometimes in the morning and snuggle him," she gushes.
OK, that's enough about John Deasy, I joke. What about the baby?
"Stop it!" she laughs. "I'm trying to be deep and meaningful."
Maura characterises her politician other half (whom she met in 2002 at a Fine Gael Christmas party at the Shelbourne Hotel and married in May, 2005, in Rome) as "very calm" as a father. "He takes everything in his stride. He is really able for him. He never panics. I would be more panicky than him. Like, if Cal is crying too long, I'm going, 'What's wrong with Cal?' I think the best thing that ever happened was that I was so sick in the beginning. It was worth it, because John had to do everything. Now he is a natural, and he might become a nanny when he retires as a TD," she laughs, but I doubt she is entirely joking.
All this light-hearted banter about new babies soon pales into genuine insignificance when Maura says she feared she was going to die in childbirth with Cal because of the high-risk condition, placenta previa, with which she was diagnosed during her pregnancy.
In hindsight, how terrified were you that the you or the baby might die? "I was very afraid," she says, not exaggerating.
"It all happened so fast," Maura says. "Cal was delivered within 15 minutes. My obstetrician Dr Cathy Allen and the staff at Holles Street were amazing. I will never forget how they put me at ease, even in the middle of complete panic."
"I was there, bleeding slowly, organs in the way, trying to get the baby out."
I feel faint at the description.
"I know, Barry. But this is the reality. This is what happened - disgusting and horrible and bloody and yucky. That's it. Can I take your pulse?" she teases.
Joking aside, this was no walk in the park for Maura. It was more like a walk through the valley of the shadow of death. "I was actually in the hospital for three weeks before the birth - I kept it very quiet; I didn't want anyone to know - because the medics knew that I had placenta previa," she explains.
Placenta previa occurs when the baby's placenta partially covers the opening in the mother's cervix. This can cause severe and dangerous bleeding before or during delivery. "It is touch and go," says Maura. "At any time you can have a bleed, have a haemorrhage, and that's what happened to me. The baby could die, absolutely, without a shadow of a doubt."
"The thing was, I never believed, because I felt so well, that it actually would happen and that things would go wrong. I am a real glass-half-full person by nature. I am not a worrier. And when this happened, I was so shocked because I didn't believe that I would have a bleed.
"I didn't believe that I would have an emergency section," Maura says. "They were planning to do a C-section anyway at 36 or 37 weeks, because of my condition. But at 34 weeks? Six weeks early, you know? And no doctor wants to take a baby out that early if they can avoid it. I was just sitting pretty, waiting, and this happened."
John was very worried about her, she says. The night that it happened Maura was in hospital and John was at home. "Then, literally, I was just standing in the corridor with no indication when I just suddenly got a massive bleed. I had no pain up to then. I had nothing. I felt perfectly well.
"I haven't spoken about this," she adds.
John was there within 10 minutes from Sandymount. By the time he arrived, his wife, festooned with tubes, was upstairs, and their baby was being delivered by an emergency C-section. "He was there when the baby was born," Maura says.
Her main impulse now is to thank god that she was in hospital when what she most feared actually happened. She considers herself blessed in that regard.
"People have lost babies. I consider myself extremely lucky that I was in the hospital," she says. "That saved my life and the baby's life, really. There are people that never even discover they have placenta previa and they have a bleed when they go into labour. That's when it is really difficult, because you are in labour and they can't stop the blood."
Maura lost two litres of blood in minutes. The word she uses to describe such a dramatic blood loss is, simply,"whoosh".
"It was so weird. I was standing there, and the next thing I felt this whoosh. It was so surreal, because I was being wheeled upstairs, and they were putting in the lines for the anaesthetist. I had to answer all these questions," she says, referring to enquires such as, "Do you have crowns on your teeth?"
"The nurses were saying 'Eyes to me. Eyes to me. Try and calm yourself down,'" she says, "because you have to be calm to let them put in all the needles. It was almost like I was looking down on myself. It was a very out-of-body experience. My whole body was shaking because I was in complete shock."
"In my mind," she continues, "I had calmed myself down, but my whole body was convulsing because I was so scared. I was speaking to the nurse like I was doing an interview on TV and answering all the questions like a robot. I was thinking in a weird way, 'How amazing would it be if I had a camera?' It was like an episode of ER. It would have been the best episode ever of ER if I had camera there. Imagine Daithi," she says, donning over-the-top stage-Kerryman brogue: 'Hello? Maura? Hello Maura? Hello?'
"But you know what?" Maura says as she finishes her lunch, "all's well that ends well."
In truth, it wasn't quite that simple. When Maura came out of hospital and home to Sandymount, she didn't look or feel like the beautiful, groomed and Zen-calm woman we see on the telly every afternoon. She was a wreck."I was totally knocked out for two months. Seriously. I did not speak to anyone. I literally couldn't walk up the stairs. I couldn't even lift myself out of bed on my own."
She didn't - or more accurately couldn't - leave Dublin for eight weeks. "I couldn't physically get in the car," she says. "I couldn't do anything. I didn't even go home to Dungarvan. I couldn't leave."
Instead, her mother and her three sisters came to her. (Her father died some years ago.) "Only for the help of my family, I wouldn't have been able to do anything," she says, before adding diplomatically, "but John then, as a result of what happened to me in the hospital, and the trauma of it, became chief carer for the first month."
Deasy - a Sunday Independent front page headline last year declared that Deasy gave Enda Kenny "a bit of a political wallop" - literally did every single night feed for week upon week.
"I wasn't breastfeeding," Maura explains of her 'new man' hubby. "I couldn't even attempt to do that. I thought I might try. I was very open-minded to thinking I would do it, but I just couldn't because I was so ill. I hadn't seen the baby for two days. I couldn't because I was so, so sick. "
"But as a result of that, John did all the night feeding and all that and I did the days. That's how we did it. I got up in the day and John did the nights. I was still in pain, in agony."
What was going through her mind throughout the two months in bed?
"What was going through my mind was: 'Will I ever get over this?'" Maura answers. "I wasn't in bed the whole time, I was just recovering, but I wasn't great."
Were you ever worried you'd get post-natal depression? I ask her.
"I wasn't thinking about that. I think I was too much in pain to even feel depressed," she laughs. "I was questioning myself because people talk about a C-section as the easy option, too posh to push, but I think it was like major surgery and I felt the brunt of that. I went to my doctor and she said to me: 'You know what? Everyone says recovery time for a C-section is six weeks and then you will be jumping around again and driving'."
But Maura didn't have a straightforward C-section.
"And at six weeks, I was thinking, 'I feel horrendous.' I was still on major painkillers. I thought, 'Why am I not getting better? Did I do something? Is there something wrong? Is there something that went wrong in the surgery?' You start questioning. My GP said, 'Why are you even thinking like this. You have just had major surgery. I guarantee it will be three months before you even turn a corner.'"
And once Maura was told that, she says, she felt, "maybe I am recovering slowly because of the way it happened and that it was very traumatic - as opposed to a planned C-section where you go in and they do it very slowly. They open you slowly."
Maura and her Today co-star Daithi, who has also had a baby this year, are back on air soon for the show, which is based in Cork. "So I'll be back to commuting from Dungarvan to Cork, an hour's drive, every day," Maura says, adding that she and John have just found someone really good to mind the baby.
"People say, 'Oh, it will be terrible; you are going back to work early.' But he will be what then? He will be four months old when I get back to work. It is not that young. Lots of people stay longer out. But I feel I ready to go back to work now."
How are you planning to get in shape for work? "Your body changes during pregnancy and it's important to give it time to get back to itself after birth," Maura replies. "I ate well during my pregnancy and followed a lot of recipes from The First 1,000 Days cook book.
"It's a great movement that encourages the importance of good nutrition for mums and babies in the first three years of a child's life. I think this helped me lose the baby weight in a few months but I still need to tone up. As I had a C-section, it's only now that I'm back cycling and walking at a quick pace. I am doing a bit of yoga as well."
Has your brain turned to ga-ga goo-goo mush since having the baby and will you have lost your critical edge for TV? I tease.
"I definitely have baby brain," she says. "I didn't believe it existed but it does. I have become a real airhead and can't remember anything. Hopefully my brain cells will be back in action before I am back on TV."
To test her, I ask Maura how she feels about the country's latest abortion controversy. "I am not surprised that this has happened," she replies. "The guidelines introduced are too vague. In my view, it will take a referendum to sort out the abortion issue, but to date no government has had the guts to go down this road again because it's so controversial.
"I don't believe that a woman who says she is suicidal should have to endure the further trauma of being assessed by a panel of experts and be forced to agree to deliver the child by C-section," she says, as we leave the Shelbourne and walk down to the Dail, where she has parked her car.
When she drives out in her black Toyota Prius - with various politicians coming and going - I ask her what is it like to have a future Taoiseach in the house at home.
"It could be Cal," she laughs, as she drops me to the Dart and goes home to her FG TD husband and her future Taoiseach son in Sandymount.
'Today' returns on 22 September on RTE One