'It's brought us so much joy – and the sexual connection is mind-blowing': How being in a throuple is revitalising our marriage
Long-term couple Dil Wickremasinghe and Anne Marie Toole fell in love recently – with another woman. Now they're enjoying a new life together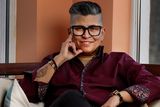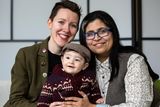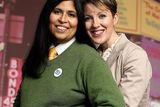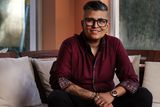 Dil Wickremasinghe and Anne Marie Toole are very much in love. They've been together for 13 years, married for eight, and have two gorgeous kids together, Phoenix (7) and Xavier (5).
But, like lots of other long-term couples, as time went by both began to feel there was something missing. After more than a decade of monogamy, and amid the hard slog of being the working parents of two small children, something of the frisson of their initial relationship had fallen away.
And then, four months ago, something remarkable happened.
"This incredible woman walked into our lives in December," says Dil. "And pretty much swept myself and Anne Marie off our feet."
Dil and Anne Marie and their new lover – let's call her 'C' – are now enjoying life as part of a 'throuple'. All three women are in love with one another and are in a sexual relationship together.
As relationship norms evolve, throuples – and other types of polygamous relationships – appear to be on the rise.
Earlier this year, the singer Una Healy made headlines when she was reported to be in a throuple with David Haye and Sian Osborne. Open relationships feature everywhere in popular culture, from the recent series of The White Lotus, to the plots of new novels by Naoise Dolan and Bryan Moriarty.
Dil and Anne Marie are especially well placed to have noticed this shifting of relationship patterns. They are both psychotherapists, with their own practice, Insight Matters, on Dublin's Capel Street.
Among their 600 clients are a significant number who are exploring polyamorous relationships but who, Dil says, feel unable to speak freely about them.
"I'm in a privileged situation of security where I can share this story, because I work for myself and have been able to pick the people who are in my life," she says. "I'm conscious that not everyone in the poly community is in a position to do that so I feel a certain duty to represent them and fly the flag as a way to try and move society along.
"There is a huge increase in polyamory here and we've seen that in our service. It's not just lesbians who are doing it, straight people are as well. It's across the board."
So how did it all begin for Dil, Anne Marie, and C? Last September, Anne Marie broached the subject of becoming polyamorous, which was a courageous thing to do. Even though as a couple they were familiar with the idea of ethical non-monogamy, opening up their relationship to a third person was still a huge step to take, admits Dil.
"It was incredibly scary," she says. "There's no way of saying that it wasn't, but I trust our love. When Anne Marie said it, it was a bit of a light-bulb moment to say, 'OK, this is scary, and maybe even terrifying, but let's talk about it more and see if it is something that could work for us.'"
"Anne Marie and I have been together for a long time and we're very happy together. We love each other and everything in our relationship works.
"I think most people reading this will agree that when you're with someone for 13 years and have children with them and work with them, you don't have the same energy and butterflies in your stomach that you had when you first met."
Dil and Anne Marie spent three months processing the idea of becoming polyamorous by engaging in both personal therapy and psychosexual therapy to help them navigate the way forward.
They joined polyamory support groups, read books and listened to podcasts on the subject. They wanted to be certain that adding someone else to their relationship would enhance what they already had.
"We wanted to really try and make it feel safe for both of us because we don't want to lose our connection to each other. The most important thing was that we needed to think of the kids, because the family unit of myself, Anne Marie and the children is what they've known since they were born," says Dil. "When we were thinking of changing the shape of our family, we wanted to be solid as a rock."
Dil and Anne Marie decided to try to find someone they felt an attraction to together and so they went on a dating app in December. They connected with M almost immediately. They also chatted to a couple of other people and did one video call, but only went on a date with C, with whom they had a lot in common.
"We work in similar areas and I kind of knew her through my work so there was an element of familiarity there, which made us all feel safe," says Dil.​
Dil and Anne Marie met C in a bar for a drink, and were very nervous in advance. They needn't have been.
"For me, something quite magical happened," Dil says, reflecting on that night they first met.
"Our girlfriend was in a same-sex marriage and is now divorced and she has two kids around the age of our children. There were so many synchronicities. We had a few dates together, just the three of us, and then, after a couple of months, we trusted each other enough to meet up with the kids. Her kids and ours get on like a house on fire, which is more magic."
Most people would be curious about how it all works when three people are falling in love with one another. Dil says it's similar to when you have more than one child. You have time together as a family, but you also have to care for each individual relationship.
On a practical level, their time together is a mixture of dates as a threesome and a twosome – the latter is mainly for practical reasons as they all have children. They also meet up with the kids, such as recently when they celebrated St Patrick's Day together.
"The feelings got very deep very quickly but we haven't lost our heads," says Dil. "We have very much kept our needs and our happiness and those of our children at the heart of what we're doing. I'm sure like every relationship we're going to have bumps in the road.
"There are three people involved so it would be ridiculous of me to say that everything will always be rosy. Looking at the big picture, I feel that it is only going to bring us more joy and happiness."
Part of that joy and happiness has been a revitalised sexual connection between the women. Sex with C, says Dil, has brought an exciting new energy to their lives.
"Because there was a deep, almost spiritual connection to our girlfriend, when the physical element came into it, it just felt very natural," says Dil. "The sexual connection blew our respective minds because it was amazing.
"It almost felt like: 'Why have we not been doing this before?'
"I suppose people immediately think about the sexual part of it, but we are sexual beings, aren't we?
"There's so much of society that makes us feel that we're not and shouldn't be talking about it and that's so unhealthy. Sex is as important as food, water, shelter, all of that, and when you're not having fulfilling sex, you feel frustrated."​
Does jealousy rear its head and what is it like seeing your long-term partner falling for someone else?
"I think jealousy comes up when you haven't expressed your needs, and the people around you haven't worked to respond to them," Dil explains. "The interesting thing is that I haven't felt jealous from the start and have only experienced so much joy. You can't get into this if you're not emotionally aware and connected to your needs or there'll be absolute devastation. When a feeling comes up, you need to express it as opposed to holding on to it."
Dil says she is experiencing compersion, a word used in the polyamory community to describe the happiness you feel for your partner when they fall in love with someone else.
"It brings me great joy to know that Anne Marie has found happiness with our girlfriend," she says.
"I know that the shape of our relationship has changed now that there's a third person, and I have no doubt that the shape will change again. In polyamory, you could have multiple partners and you could individually date as well, but all of that can only be done consensually.
"At the moment, we're in a throuple but the commitment is that whatever we do in the future is done in a gentle way and with everybody's feelings considered."
What happens, though, if someone comes in who decides they want one person all to themselves?
"For me, it is about adding and never about replacing, so that is made crystal clear from the start," she says. "So if there is a connection and we get on, that's brilliant, but there's no way I would even entertain the thought of replacing what I already have, because it's so precious to me.
"I know Anne Marie and I will be together for the rest of our lives because this is what I wish for, and anyone who comes into our life has to understand that. They can't ask for an existing relationship to come apart when we're so committed to each other.
"And obviously, whoever is going to come into our life won't just be anybody. Our family and our children's interests are very much at the centre of what we're doing, as is our own happiness and needs.
"If we're going to bring anyone into that space, they have to be honourable people who will also respect and want to protect the family we have."
Dil says C's arrival has reinvigorated her own connection to Anne Marie.
"It has brought a new energy. Our girlfriend is incredibly self-aware and so expressive, and we're learning so much from each other. I'm getting to see parts of Anne Marie that I've never seen because this person has brought out different things in her, as all relationships do.
"While I've always been in love with Anne Marie, I feel I'm falling in love with her even more deeply because I'm now getting to see her through fresh eyes.
It's all about inviting more love and more connection into our lives
"You learn about yourself in a relationship and you grow. I love what our girlfriend brings out in me because there's new parts of me that I'm discovering, parts I didn't even realise were there and parts I actually suppressed.
"People who know me may laugh at this as I've always seemed confident, but I'm really good at faking it and I'm actually much more insecure than I come across. I took a step back from the media world in the past five years, but since I met our girlfriend I feel way more myself and more confident. I feel a real sense of vitality."
While some might assume that polyamory would bring a whole other level of drama into your life, Dil believes that acting consensually makes a huge difference.
The three women are in their 40s – Dil turns 50 at the end of this year – so there is a maturity there and an intention that everything should run smoothly.
"The new relationship has strengthened and enriched our family. It's all about inviting more love and more connection into our lives."
Dil acknowledges some people might have concerns about what polyamory means for their children and the potential negative attention it might draw. She feels these concerns are coming from a place of fear.
"Even for us, some of the people around us have found this a little bit challenging, but I think ultimately they'll see how we have always acted with integrity," she says.
"With everything we've done, those we love have grown with us and while it hasn't been easy at times, that's OK. People have fears, but I'd love for people reading this to go: 'Are they consenting adults? Are they happy? So what then!'"​
When it came to telling the children about C, the three women waited until they knew they were in a serious relationship with strong feelings.
Phoenix and Xavier were curious initially, with Phoenix asking whether they were going to marry their girlfriend – they explained that this isn't allowed here – and Xavier wondering if they kissed her on the lips. Beyond that, says Dil, they weren't fazed.
When Dil revealed she and Anne Marie were polyamorous, a number of people got in touch with her to say, "good luck to you, but this is not for me".
"I was like, 'I didn't ask you, I'm not going around recruiting people,'" she laughs. "Yes, we've decided to be polyamorous but that doesn't mean I'm asking you to do it. It doesn't impact your relationship. I'd ask people to trust that those who decide to embrace being polyamorous are doing what is right for them.
"If you're being monogamous, I'm so happy for you, but please support people who decide to take another path. Life is short so can we all not try and be as happy as possible while we're here?"