Treasures... Strike gold at Capard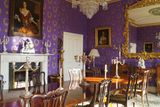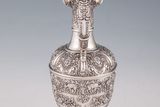 'There is always an element of voyeurism in the viewing of a country house contents auction," admits Philip Sheppard of Sheppard's, the auctioneers in charge of the forthcoming sale of the John Farrington Collection from Capard House, Rosenallis, Co Laois.
Farrington is one of the country's foremost jewellers and his collection of antiques is well known, but the house and grounds are of interest in their own right.
Like most large Irish houses, the building incorporates layers of history. Work on the current house was begun in 1798, on the site of a former castellated house, but the architect John Piggott himself abandoned the project "disgusted with the ingratitude and villainies of the neighbouring peasantry". By 1803, the house was described in the post-chaise companion (an early travel guide) as "one of the most extensive in the Kingdom… and one of the most beautiful".
It is set in a landscaped demesne and the slow progression up the long winding drive, past ornamental lakes and rills, and a folly in the shape of a temple, is not an experience that is normally available to the public, nor likely to be again.
There's also something special about seeing a collection of antiques set in the same house where it has long been part of daily life. On a practical level, if you are thinking of buying something, you will get a better idea of how something might look in your own house if you see it in context.
View a table or set of chairs in the dining room where they belong, and it will be easier to imagine them in another room. A pair of 19th century guilt bronze ewers might look lost at the back of an auction room but proudly seated on either side of a mantelpiece, with a carved marble fireplace below them and a gilded mantel clock between them, they look magnificent.
Smaller objects that might evoke a "what would I do with that?" reaction if you saw them in an antiques shop, are easier to appreciate as part of someone's personal display.
Unlike many large Irish country houses, Capard House is in very good nick, as is the decorative interior, which has been a work in progress since the 1970s. No expense has been spared on the painting and re-gilding of cornices, hand-printed wallpaper and opulent curtains hanging from 19th-century pelmets. Both curtains and pelmets are for sale.
In the dining room, a pair of 19th-century carved giltwood pelmets, each two metres wide, is estimated between €1,500 and €2,000. The heavy draped curtains that hang below them are estimated between €800 and €1,200. These, and the curtains in the drawing room, are by far the most expensive in the sale. Other pairs range between €100 and €500.
It is an area of the sale where someone might very well bring home a bargain length of fabric with a good story attached.
Many of the larger pieces of furniture are serious antiques, with corresponding price tags, and of a scale that would need a very large house. The mirrors are spectacular. In the library, a 19th-century giltwood and gesso console mirror - impossibly elaborate and 3.5 metres high - is the work of Charles Nosotti of London, a Milanese carver and gilder of great renown. It's estimated between €10,000 and €15,000.
A large carved giltwood heraldic eagle, suspended in the rear hallway from a very strong chain, is estimated between €300 and €500. It originated in Bantry House, Co Cork, and has lineage as well as presence. Because the house has been lived in, and the collection amassed over time, the ensemble is a smorgasbord of periods and types. The fine front rooms are certainly a conversation piece (could one really live with purple wallpaper embellished with golden wreathes?) but not everything in the house is expensive. There are curiosities: a 19th-century hunting horn in a leather case (€50 to €80) and a Hardy fishing reel (€30 to €50), and many prints estimated around the €100 mark.
And there are interesting pieces of furniture that are liable to sell for very much less than their modern equivalent.
An odd-but-cool Aesthetic Revival bed frame in the pink bedroom, for example, is estimated between €300 and €500. It has a matching washstand (€150 to €250) and dressing table (€150 to €250).
The striped room at the back of the house includes many pieces of china but the large antique pine estate table on which they are grouped, a sturdy piece of Irish country furniture and more than 3.5 metres long, is also for sale (€300 to €500).
The table and bench in the main kitchen are of similar scale and estimated between €800 and €1,200.
Viewing is from September 19-21, from 10am-5pm each day, and the auction takes place on September 22 and 23, beginning at 2pm sharp. The auction dates coincide with the National Ploughing Championships and the auctioneers advise that all motorway traffic take exit M7 J18. Full details on www.sheppards.ie.
In the salerooms
ADAM'S
The auction entitled Fine Period Interiors, which takes place at Adam's on September 20, promises to include much to suit the modest budget as well as a number of significant and expensive items. In the latter category, top lots include a couple of 18th-century portraits by Hugh Douglas Hamilton (1739-1803).
One is a pastel and crayon portrait of Mary Preston (nee Hamilton) of whose parents the 18th century writer Mrs Delaney said: "I never saw a couple better suited than Mr Hamilton and his wife, their house like themselves looks cheerful and neat... they have four children, whose behaviour shows the sense of their parents."
The portrait is estimated between €5,000 and €8,000. A second portrait of Viscountess Lifford is estimated between €4,000 and €6,000.
A strong furniture section ranges from an Irish breakfront mahogany bookcase (c.1920) in the manner of James Hicks, to an early 19th-century library armchair, upholstered in pink damask, with a brass-mounted mahogany bookstand built into the armrest (€500 to €800). The top lot in silver is a claret jug (€2,000 t0 €3,000) and oddments include a Letzlar brass and cast iron microscope (c.1894) guided €200 to €400. Full details are on www.adams.ie.
IPAV
Participating for the first time in Culture Night, the Institute of Professional Auctioneers & Valuers (IPAV) will open its doors from 5pm-9pm on September 18 to launch a new Diploma in Fine & Decorative Arts.
The new course, which runs over two days per week during the academic year, will include lectures on topics including the role of antiques in home decoration by Eoin Lyons of Lyons Kelly Architects and Designers; the history of the garden and practical advice by Helen Dillon, author and garden consultant; and a guide to buying at auction by Stuart Cole.
IPAV is also launching two additional new lecture series which will run over a period of 16 weeks: England - A New Perspective, and Irish Art From The Celtic Revival To
The 1970s. Full details are available from info@ipav.ie or 01 678 5685.
WELDON'S
Results from the auction at John Weldon Auctioneers on Tuesday, September 8 included the sale of a Waterford Crystal "Carina" chandelier for €700. Six gold sovereigns all sold for between €280 and €290 each and seven gold half sovereigns for between €130 and €135 each.
Among the interesting selection of international coins, a Hawaii King Kalakaua I 1883 one dollar sold for €190; a USA 1807 draped bust half dollar coin sold for €320; and a 1699 Austrian thaler in very good condition remained unsold but is currently under offer, as is an ancient Greek coin from Rhodes, guided between €1,000 and €2,000.