Thrown into the DIY deep end in cool Stoneybatter
When Covid-19 prevented tradesmen working on their project cottage, this couple had to do it all themselves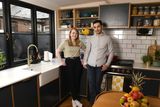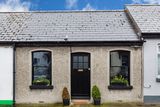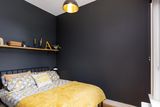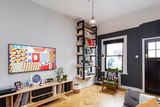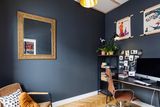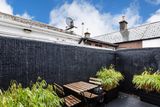 9 Norseman Place, Stoneybatter, Dublin 7 Asking price: €370,000 Agent: Sherry FitzGerald (01) 860 3956
Before 2019, Niamh Monahan had never given much thought to drill bits and sealing guns. But then No9 Norseman Place came into her life and opened up a whole new world of DIY.
Monahan and her partner Adam Abuzenen were house-hunting in Dublin 7 and No9 ticked all the boxes when they went to view it. They were happy to take on a house in need of renovation that was near the city and the pubs and restaurants of Stoneybatter. What they didn't know at the time was that a pandemic was about to strike and that all of the work would end up falling to them rather than the tradesmen they planned to hire.
"We came across this house and it was in some state. It needed a full gut job. We got the keys October 2019 and worked away on it on evenings and weekends," Monahan recalls. "Then lockdown hit in March and we had to stop because everywhere was closed."
Although they had always planned on getting their hands dirty to some degree when it came to the restoration of the cottage, Covid restrictions meant they now had to learn a whole new set of skills if they wanted to make progress.
"We got stuck in and did it all ourselves, bar the plastering," says Monahan. With little previous experience, they soon found themselves knocking down walls, ripping up floors, installing plasterboard and insulation and much more besides.
"We couldn't have tradesmen in but we were able to go down and tip away at it. I totally surprised myself by the end. At the start, Adam came in with all these tools and I had no idea what they were. Now I could tell you about all of them! It was hard work but it was enjoyable. We had friends and family members in to help, which was great."
The two-bed cottage has a floor area of 484sq ft, with two bedrooms, a bathroom, living room and kitchen. The couple didn't change the layout but upgraded and improved the rooms that were already there. The old walls were pulled down and new plasterboard put up. The floors were ripped out and insulated underneath and new floors were laid which, according to Monahan, was the toughest part of the project.
The disadvantage was that their lack of experience meant the big jobs took far longer than a seasoned craftsman.
"That floor was so difficult," says Monahan as she recalls the pain of laying the solid oak herringbone. "We thought it would take 10 days to two weeks, but we were nearly a month doing it. When one line goes off, it knocks out the rest of the planks, so it was tough."
The kitchen units were Abuzenen's baby. With all of the work they did to the house, it's the thing he's most proud of.
"Adam is a technician by trade and is quite handy so he made the kitchen himself," says Monahan. "He had always wanted to work with birch ply as a material so we went on Pinterest and came up with ideas. The doors are sprayed in anthracite grey, that we thought would match the Smeg cooker, and we were quite disappointed when it didn't, but now we think it actually looks better with the different shades, especially with the orange Smeg fridge."
The bathroom is beside the kitchen and is now a fully tiled wet room with a rainwater shower and skylight.
The main bedroom is on the other side of the kitchen, at the back of the house. This has built-in wardrobes and is painted in Lamp Black by the Little Greene Paint Company. The second bedroom is at the front of the house and is Monahan's office, but is big enough to fit in a single bed and desk, if needed. There is a Stira staircase in this room that gives access to the floored attic.
The units in the kitchen are lit up by the large south-west-facing window. This room opens out into a courtyard, which has been transformed by the pair. There were so many mosaic tiles in the yard when they moved in that Monahan jokes it could have been a swimming pool. They put down composite decking, painted the walls and added planters to create a functional outdoor space.
"We use the garden a lot because we get the sun for most of the day," says Monahan.
"It's lovely to keep the door open in the kitchen when we have people over to give extra space."
All of the windows and front door were also replaced with a nod to the road's history. "The windows are from Kells Windows in Co Meath and the guys there were fantastic," Monahan says. "They really listened to what we wanted. The house would have had sash windows originally so we wanted to get as close as possible to what would have been there."
Monahan and Abuzenen will miss the location of the house when they move.
It's parallel to Manor Street and its many restaurants and bars, but is quiet and safe with a strong sense of community.
The last house to go for sale on the road was in fact No9 back in 2019 when the couple bought it for €280,000.
And now three and a half years and a lot of work later, the couple has put it back on the market with a guide price of €370,000. The building bug has hit and they are ready to move on to their next project.
"We're not moving too far. Adam needs a garage for all of the tools he's accumulated over the project. It's another renovation job because Adam wouldn't have it any other way now. It's great we can take the experiences from this house with us. We might get a builder in for a few things this time," laughs Monahan.
Sherry FitzGerald seeks €370,000.