Take it away: The importance of portable furniture
Interiors: The best in design and decoration for your home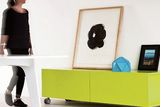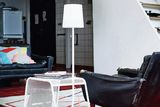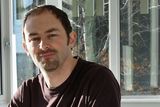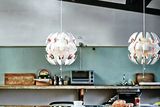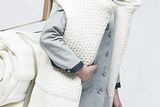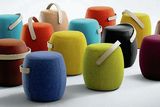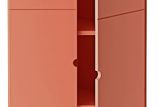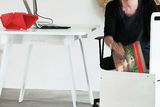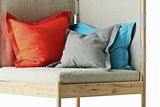 Having portable furniture when you move house will make the living space immediately feel like home.
HOME is a state of mind rather than a matter of ownership. You might be staying in a beautiful mansion, or a semi-detached in the suburbs, or renting a pokey apartment that you have to be out of by Friday. It's still your home.
So this one goes out to the people on the move this summer: students packing their bags for the summer, interns crossing the country from one flat to another, and young families in rental properties.
How do you make a temporary living space feel like home?
The trick is to have a few pieces of your furniture along to that give the place a bit of familiarity and character – and obviously pieces which are light enough to carry from one place to another.
It has to be flexible, look good wherever you put it, and the more functions it can perform the better.
The idea of portable, versatile furniture has been around for years. The 20th-century designer Eileen Gray famously hated possessions and designed furniture with many functions so that she could reduce the number of objects that she had.
In 1929, she designed the furniture for E-1027, her seaside villa at Roquebrune Cap Martin, in what she called "le style camping". That means simple, flexible, and easy to carry.
"Le style camping" may well be the way of the future too. In early 2014, the Dutch Textile Museum commissioned the design studio Makkink & Bey to envisage the future of interiors. The designers came up with a weird-but-wonderful furniture collection for a nomadic lifestyle – a sofa bed that becomes a backpack, a carrycot that turns into a table, and a walking stick that converts to an illuminated screen.
Ikea's new PS 2014 range is similarly geared at people who live in small spaces, don't have a lot of money, and move around a lot. Their highly-romanticised commercial On the Move shows young people, footloose and fancy free, moving their furniture around the cities of the world on buses, bikes and cycle-rickshaws.
Of course it doesn't show the more likely scenario of someone struggling to heave Billy-the-Bookshelf down the staircase of their repossessed apartment.
That said, the PS designs are a lot of fun. A stepped wall shelf (€50) in solid birch has a row of knobs at the top for hanging things on. A corner cabinet (€75) offers storage in tight corners. There's a lamp (€50) that you can sit on (it's LED so you won't get a hot bottom). A sci-fi inspired pendent lamp (€50) dims by folding manually when you pull the string.
And a metal mesh see-through wardrobe (€125) can be personalised by using a bag of 160 pieces of coloured plastic that slot between the wires. The polypropylene rug (€80) looks as though it could withstand many a student party.
But an entire room full of Ikea stuff can look as though you've ordered a flat-pack personality from a catalogue. One or two quality pieces, if you can afford them, will make a cut-price ensemble look a lot classier. The Hiberform range of furniture from Leo Scarff is both portable and stylish. Plus it's Irish-made. "I wanted to prove that you can produce contemporary furniture in Ireland," says Scarff (left) who is based in Manorhamilton, Co Leitrim. "Pretty much everything is made locally, apart from little details like the castors."
Hiberform is a high-tech product, involving computer navigated and laser cutting processes. This digital technology enables Scarff to design pieces that slot together so precisely that they don't need fittings.
"A lot of the pieces can be moved, disassembled, and put together again in a matter of minutes. We've designed the Jig dining table so that it fits together without any screws – you literally just slot the pieces into place," he says. "It's great for people who move a lot."
The range doesn't come in at student prices – the Jig dining table costs €485. It's more suited for people who want to invest in a decent bit of furniture that they can take with them when they move.
Like most portable furniture, Hiberform is designed so that people living in small spaces can get the most from their furniture.
The Homage (€195), a stool that is also a storage box has the option of becoming a drop-file cabinet for home offices. Raise the cover and the lid becomes a handle that you can use to wheel it along.
The much larger Crossline storage system (€490) also comes on wheels for extra mobility. "Most people use it as a TV console," says Scarff, who has designed the rear of the cabinet to accommodate the cables. The range is made of birch ply with a tough Formica finish that comes in pretty much any colour that you fancy.
The notion of portable furniture has made its way into high design, with the lovely but astronomically expensive Carry On (€735). It's a cute-looking stool, upholstered in fabric, with a wooden handle so that you can carry it around. The designer is Mattias Stenberg from Sweden. It is available from www.connox.com.
A really attractive little piece of furniture but, at that price, carry on dreaming!
http://hiberform.com
www.ikea.com