Some 'me time' for the kids – how teepees, pods and colourful bedroom spaces can give children the thrill of a home hideaway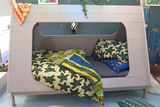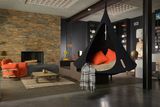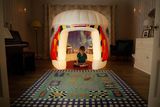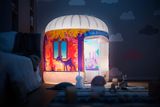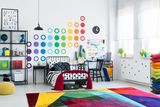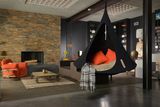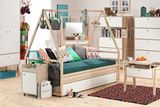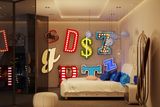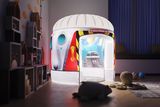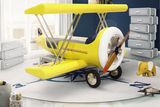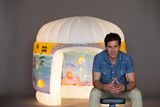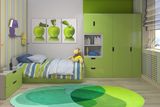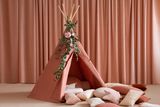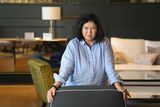 As I child, I often thought that life would be easier if you could close the door on it for a while. The wardrobe was my hiding place of choice. It had a child-sized compartment where nobody cared to look.
These days, nobody recommends that children shut themselves into cupboards but the desire for solitude remains, hence the popularity of child-sized teepees, a contemporary version of the dens that previous generations made with blankets and a table.
"I wish they'd make teepees in my size," says Mary Ryder, interior designer. "If people are annoying, you can just go in and be alone but they're also the perfect size for two children being naughty. If you go in there, nobody's going to come after you."
The teepees at Ryder's shop, Curated, range from €140 for the Arizona collection (158 cm high with patterned fabric) to €160 for the Nevada collection (152 cm high in plain fabric but decorated with wooden feathers on faux leather ribbons).
Optional extras include fitted floor mats (€40) and assorted cushions (from €17). The brand is Spanish and the colours have a muted Mediterranean aesthetic of mustardy gold, denim blue and sage green. "They're decoratively really cute. With that palette you can chuck all the colours in together. They work because they have the same colour saturation."
The aesthetic is a big selling point as the teepees fit nicely with grown-up notions of taste. "The mums buy them because they look great on Instagram," says Ryder, "but we've also sold a lot of teepees to young grandparents who buy them as gifts, thinking that they will give their grandchildren the childhood that they had. They have this lovely notion that the child will sit in there and read a book. The parents know well that the kids will bring their devices in there."
The primary colours once associated with design for children are very much less popular than they used to be. Even Argos, once the go-to place for garish play items, now stocks teepees in quiet colours.
The Argos Home Kids Play Teepee (€60) comes in neutral colours with Scandi or nature-inspired patterns but you can also buy a Peppa Pig teepee (€30) in brightly coloured PVC and polyester.
The hideaway theme can be expanded in several different directions. A child's whole bedroom can be a hideout and this sense of separateness is reinforced with a theme that sets it apart from the rest of the home. Where siblings share, it takes some clever décor to delineate individual spaces within the one room.
The Dutch brand Cacoon World has many variations of hanging teepee in both adult and child sizes (a single Cacoon costs €299). These are designed for both indoor and outdoor use and will require either installation or a tripod stand (€361.75).
It's a lovely idea but needs to be thought through, especially in terms of space. There are also many children's beds that incorporate, or can be converted to include, hiding space.
The Spot bed by Polish brand Vox comes with an A-Frame that sits over the bed, with an optional canvas cover. It's a versatile design that transfers well for teenage use. Alternatively, any bunk bed can be converted to a den with clever use of curtains.
If money is no object, the Circu Sky B Junior Plane Bed costs €21,947 from Cuckooland. It's a flyaway, rather than hideaway bed, but it does create a sense of remove from the real world. For that money you could also consider buying a real plane. For €500 extra you can currently buy a used 1973 Cessna 150 two-seater.
For Alex Ford, founder of Podsplay, the notion of designing play pods came from a childhood of building dens in the woods, making tents from sheets and washing lines, and building forts from cushions.
He also realised that, while everyone likes a hideaway, autistic children need them more than most. For children with sensory issues, the need to retreat to a place that calms or stimulates the senses can be urgent. "I used to work with an autistic child in my college days," he says.
"I noticed that he was always looking for a place that he could go." Sometimes the child would retreat under the table in search of his own space. Ford was working as a designer of chill-out spaces for corporate clients and realised that, while there were plenty of specialist sensory products available for children, none of them really captured the imagination.
His solution, launched in 2014, was an inflatable sensory tent known as a Pod (1.8 metres high and 1.8 metres in diameter). They are also portable and fold up into an 11 kg backpack.
Like a bouncy castle, they plug into a power source, inflate in 40 seconds, and require constant power. "The air circulates inside them. They're not stuffy inside." They are made of parachute material which is strong, lightweight, and leaks very little light. This is important, he explains, as some children with profound sensory needs go into the pod to sleep.
Each pod comes with a theme installed — options include dinosaurs, underwater, space and safari — but these themes are interchangeable and can be purchased separately.
"Teenagers who use them tend to remove the theme and use the plain white pod as a blank canvas," Ford says.
The pods come with a Bluetooth-enabled speaker, which can play the audiobook and sound effects that accompanies the pod, and with remote-control sensory lighting, adjustable in terms of colour and brightness. "The most soothing is when you have it fade from one colour to another," Ford says. "It makes the graphics look as though they're moving."
The pods are sold to schools, respite centres and charities, but also to individual homes. "Their manoeuvrability is one of the key things." Because the pods are easy to transport and quick to assemble, they can be brought on holiday or used when visiting a grandparent's house. Autistic children often find change challenging and the pod creates a familiar space in unfamiliar surroundings. It's like being in another world."
The catch (there had to be one) is the price. The pods cost €1,155 each. "For a sensory product it is very good value but as a play tent it's expensive," says Ford. "Most of our private customers are parents of special needs children and often one of them is a full-time carer. That means only one salary coming into the house. So we're trying to bring the price down." Ultimately, he'd like to see the pods as something that families could afford to have in their homes.
"A pod is one of those places where a child can dream of an otherworldly experience."
See curated.ie, podsplay.com, cacoonworld.com.