Let your personality loose by displaying kitchen finery on open shelves
Ditch wall cabinets to show off your pretty crockery against a backdrop of earthy and vibrant tones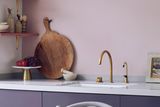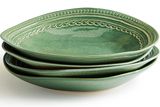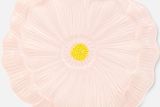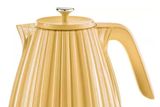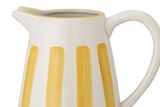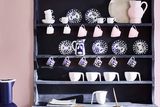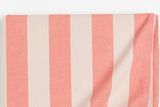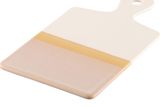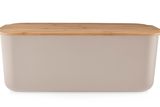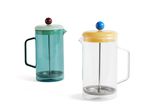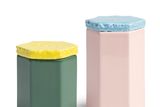 The kitchen has always been so much more than a utilitarian space in which to prepare food. Often dubbed the 'heart of the home', it is the space in which we congregate, share memories and food. Ever since the pandemic it has done double, if not triple, duty as an additional living space — office, gym, conference room, play area — making it one of the hardest working rooms in the home and the focus of many homeowners.
The all-white kitchen may never go out of style but there has been a lean towards pops of colour in tiles, cupboards and open shelving. The 'open' kitchen has been dominating Instagram in recent months, allowing people to display their prettier crockery, glassware and personal objects, giving clutter a new lease of life and showcasing some personality. It also goes hand-in-hand with the trend for statement feature walls merging function with decor.
"Open-plan kitchens are very much on trend and it is definitely what our customers are looking for," says Dave Fagan, brand manager at Kube Interiors. "Many of them are knocking a wall between dining and kitchen or extending to create a kitchen/dining/living space as it makes for much better communication between everyone living in the house and easier for everyone to spend time together in the one room."
TikTok might be a hub for viral dance crazes but it's also a valuable source for interior inspiration and throws up 31.4 million views for the floating shelves hashtag, suggesting a move away from wall cabinets and the idea of displaying the kitchen's essential items in a stylish way. But while open shelving might look good, it's not for everyone. Exposed dishes can often get greasy and dusty, which may up the cleaning quota. But then, think of those beautifully curated, Instagram-friendly kitchen shelves with all your stylish delph and accessories on show, no longer reserved for the back of a dark cupboard.
"We're seeing lots of new kitchens coming through with warmer and brighter colours as the spring approaches," says Helen Parker, creative director of deVOL Kitchens. "Soft mellow yellows, punchy and bright greens and soft delicate pinks, giving us a light and airy feeling, especially when the kitchens have lots of open shelves for displaying the things that brighten up our homes and give the suggestion of new beginnings."
If you still aren't convinced, there is always the compromise of a pantry unit, another hot kitchen trend on the heels of the floating shelf. With so much going on in kitchens, the risk of a visual overload is always high, hence the desire for a pantry with pocket doors for storage and a dedicated place for those items you don't want to display on your worktop.
Add to that the combination of earthy tones and spring colour palettes, which happen to be a top trend for the year, and the fact that kitchens are one of the few rooms in a home that can carry off more playful, punchier tones and plenty of combinations, and it's likely to remain the heart of the home.