In the salerooms: vintage road and street signs plus contemporary Irish art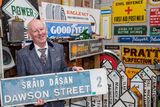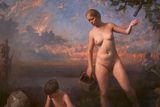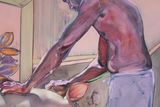 Motor enthusiast Hugh Nolan of McNean Antique and Salvage Shop in Blacklion, Co Cavan, is putting his collection up for auction. Amassed from car boot sales over the last three decades, the sale includes a collection of around 200 vintage road and street signs from across the country and a 3.5L 1970 Rover V8 (est. €15,000).
Viewing is in Blacklion from today (March 24) to Sunday (March 26) from 10am to 5pm. The sale is co-ordinated by Aidan Foley and Niall Mullen, and will be conducted live online on March 27 (Monday) and 28 (Tuesday).
See irishcountryhome.com
Herman's The name Dessel comes from the old Irish word for sunwise. It's also the latest exhibition and auction from Ross O'Suilleabhain of Herman's, on view in Dublin this weekend. Dessel shows the work of modern Irish artists — Louis le Brocquy, Colin Middleton, George Campbell, and Mary Swanzy — alongside work by contemporary artists working in Ireland.
Highlights include Conor Walton's Allegory of Wisdom, 2011 (Lot 100: est. €10,000 to €15,000); Butcher by Shane Berkery, 2016 (Lot 92: est. €4,000 to €6,000); The exhibition will be on display at 10 Wicklow Street, from today (March 24) to March 27 (Monday), when the timed online sale closes from 7pm. See herman.ie
Weldon's A sale of rare Irish silver will take place at John Weldon Auctioneers of Cows Lane, Temple Bar, Dublin on Tuesday (March 28) at 2pm.
The collection includes 17th, 18th and 19th-century pieces of Irish silver — flatware, tea sets, and other decorative objects — made in Cork, Dublin and Limerick with 176 lots originating from one collection. Highlights include a William III Irish silver sugar caster (est. €6,000 to €9,000) made in Dublin by Alexander Sinclair in 1699. See jwa.ie