Boost your mood with bright colours
From bold furniture to zingy accessories, colourful interiors can add a splash of sunshine to your home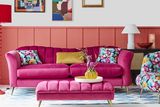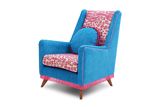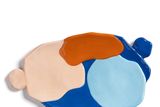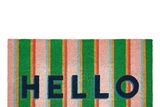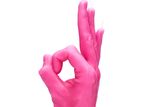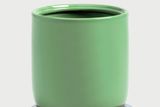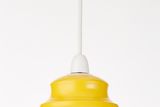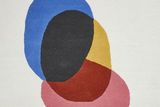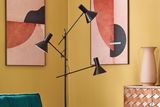 Since the pandemic, the fashion catwalks have been a Skittles packet riot of colour. In a bid to lift our moods after some challenging times, we're leaning toward bright colour and all its mood-boosting features. Even if you consider yourself a staunch minimalist, it's hard to ignore the dopamine trend that seems to have filtered from the catwalk to our homes, from acid-green mini dresses to cushions, lemon blazers to bedsheets, and tangerine bags to vases; there's rainbow creations just about everywhere you look.
High-street brands have reported coloured homewares flying off the shelves because pigment answers a fundamental psychological need — to be happy. And, let's face it, we're yearning for sunnier times given the last few years.
Because colour affects our hormones, it is capable of having a direct impact on our metabolism and behaviour. Studies on colours' effects have proven how wearing red increased sporting prowess at the Olympics and how yellow glasses help people with seasonal affective disorder.
Modern colour theorist and author of Hello Rainbow: Finding Happiness in Colour Momtaz Begum-Hossain explains, "There is more to colour than being an aesthetic. It's a powerful energy source that can impact our feelings, mood and emotions. We often talk about 'adding colour' when we feel that something is missing, and colour provides the antidote. It can transform how we feel in an instant." My permanently 'happy' friend lives in a home saturated with La La Land yellow, which often makes me wonder is it the interior equivalent of Prozac.
Personally, I prefer a more muted interior, but I am partial to some pops of sunshine here and there, taking my cues from Parisian queen of colour India Mahdavi, whose fingerprints are all over some of the most stylish and colourful establishments around the world. "I like to mix and let them insult each other, have an argument," she has said of colours.
If you're not ready for an 'argument', you can tweak your space with a gentle nudge of colour — some bright, patterned cushions or a rug; they needn't match, but you can connect them through particular hues or patterns, such as Inaluxe Transmission's overlapping coloured circles rug available from pieces.ie that mirrors the overlapping bright shapes of a TK Maxx cushion.
You don't have to wait until you get inside the door, either — try popping a zingy welcome mat on your doorstep; Oliver Bonas has plenty with colourful motifs and patterns that will instantly bring a smile.
Inside, try starting with one solid piece in a room, such as a sofa or armchair. It can help anchor the space so you can work other accessories and furniture around it. For a statement piece, consider a multicoloured armchair from DFS alongside a bright side table (Sklum, Roche Bobois, Finnish Design Shop), colourful lampshades from Pooky or a bold hanging pendant by Very or Nordic Elements.
Despite the often-understated style of the Scandinavians, there are some brands which are proving that bit braver with plenty of play on colour, such as Hay and Klevering, both known for their pretty pastels and fearless bicolour products.
When it comes to setting the table, there's nothing like a good splash, whether that's The Designed Table's colourful collection of linens or Klevering's multi-coloured plates and Hay's bright glassware — guaranteed to bring a shot of dopamine happiness.