Inside the 15th-century Boleyn castle in Offaly, carefully restored by a ballerina
When a woman's home is her castle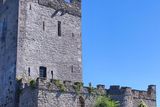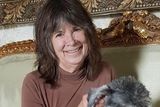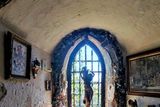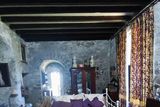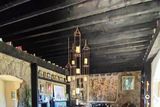 Clonony Castle, Clonony, Shannon Harbour, Co Offaly
Asking price: €695,000 Agent: Premier Properties (087) 246 3748 
When Thomas Boleyn was gifted the newly captured Clonony Castle in Co Offaly by Henry VIII, he must have thought his family's fortunes were on the up.
For the hyper-ambitious first Earl of Ormond, the windfall and title underlined the favour of the king and foresaw an upward trajectory at court.
Little did Boleyn know that his new relationship with the king would utterly destroy his family, causing two of his three adult children to be beheaded and himself disgraced and stripped of his title. The 15th-century castle in Ireland's sleepy backwaters would ultimately become a place of hiding and refuge for the remnants of a shattered and terrified Boleyn clan.
But when he took its keys Thomas was cocksure. The schemer had no reservations about using his children Mary, Anne and George (and indeed his wife Elizabeth Howard, it seems) to facilitate his aristocratic ascension.
When Thomas became ambassador to France, both Anne and older sister Mary would be sent to court where King Francis quickly took 16-year-old Mary as his mistress. Contacts made in France served to ingratiate Thomas further with Henry.
The Boleyns returned to England and rumours suggested that Thomas had induced his own wife Elizabeth to have an affair with Henry. Later his older daughter Mary began her well-documented relationship with the king and she is said to have borne him two illegitimate sons.
While Mary was pregnant with the second, Thomas saw Henry's eye drifting and summoned Anne back from France with a mission to seduce the monarch herself.
The wilier and more vivacious Boleyn sister succeeded in fixating Henry, but would not give herself up unless Henry married her. Famously, Henry would break England from the Catholic Church as a means to annul his marriage to the queen, Catherine of Aragon, so he could wed the young Anne Boleyn.
But within just three years Henry was infatuated with Jane Seymour. A plot was hatched by Henry's schemer-in-chief Thomas Cromwell to frame Anne with allegations of illicit affairs, including accusations of incest with her own brother George.
Both Boleyn siblings were summarily tried, found guilty and beheaded. Henry would later marry and then also behead their teenage cousin Catherine Howard and she was executed alongside her lady-in-waiting, Jane Boleyn, George's widow and Anne's sister-in-law.
Thomas was stripped of the Ormond title and he and his wife Elizabeth both died broken within three years. When Aragon's vengeful daughter Mary (nicknamed Bloody Mary) came to the throne after Henry's sickly son Edward died young, the remaining Boleyns fled to Ireland to hide and live out their years at Clonony Castle. Clonony was constructed by the MacCoughans in the 1490s and taken from them in the 1520s.
Five hundred years later it is home to the American former ballerina Rebecca Armstrong Black who bought it in 2002. The widow of the Scottish novelist Campbell Armstrong says "it was love at first sight" when she set eyes on the then ruined 15th-century castle outside Clonmacnoise.
With an Irish mother and Scottish father, Rebecca was raised in the US but felt drawn to Ireland. A ballerina from age five she danced for five years with the famed Chicago-based Joffrey Ballet company. Later, she and Campbell wrote the novel for Raiders of the Lost Ark, although the couple had to sue George Lucas to get paid for it.
By accident she became involved in a series of old buildings around the world, one after another, including a 17th-century Spanish hacienda. With that project she learned from her cabinet makers and was also trained by a stone mason. She has also worked on dragster engines.
"My father was a Nasa engineer and he thought me that once you understand the laws of physics, you can do anything." There was a decade of wrangling to sort the planning. "Without Amanda Pedlow, of Offaly County Council it would never have happened. She was my champion."
The diminutive former ballerina did the physical restoration work herself including a summer spent, Michaelangelo-style, lying on her back atop high scaffolding, replastering and reconstituting its vaulted ceilings with lime putty and rubble pieces. "Inspectors said it was about ready to fall down. I did all the stonework, the joinery, everything.
"It was definitely worth it. People say, how did you do it? I say, 'ballet'. Years of dancing eight hours a day teaches tenacity and the value of hard work for the beauty of art. And there hasn't been a single day when I haven't arrived home and gone: [sings here] I live in a castle! I live in a castle!"
Clonony has an original bawn wall and the ruins of a church. Three storeys high with three bedrooms, it comes with a murder hole, mural passages, a spiral staircase and three acres of land. Inside it has a hall, kitchen, dining room, living room with two alcoves off (one a bedroom, one a study) a master bedroom, bathroom, shower, main study and a 'ladies chamber'.
"Today I can get up the 50 steps to the bedroom OK but my dog Oscar is now struggling. So I'm selling and looking for a dog house that I can live in too."
Helen Cassidy (087) 246 3748 of Premier Properties, Ireland's seeks €695,000.