'Once we knew we could access good broadband, that's all that mattered' – the young family who swapped Dublin 7 for a house on five acres in Mayo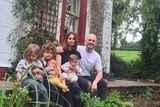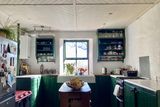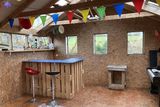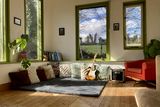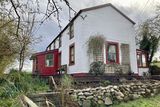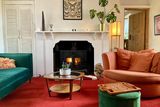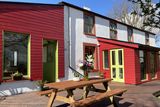 Shanclough, Currabaggan, Knockmore, Ballina,Co Mayo Asking price: €230,000 Agent: DNG Michael Boland (096) 76557
Fast increasing city house prices have at least one silver lining: they have enabled early buyers to kick start a new life in the countryside where prices haven't risen as much.
For example, Dublin estate agents selling houses in the ever trendy suburb of Stoneybatter report that in the last year most of them were sold by people moving out of Dublin altogether.
The typical two-up, two-down residences are making just shy of €400,000 and being used as a springboard for people looking to buy more substantial homes 'out the country.'
Hitherto city slickers, Faelan Herriot and his wife Julia made their move from Stoneybatter in 2019 crossing the country to settle near Ballina in Co Mayo.
There they found a quirky house on more than 4ac ideal for living the good life while enabling them to continue working remotely in software development and online retail respectively.
With Faelan hailing from Dublin and Julia from Berlin, neither one had a rural background, so it was all new as they headed west with their two small children.
Their home at Shanaclough, Curraghbaggan, Knockmore is 6.5km from Ballina and a far cry from Temple Bar or the Kurfürstendamm. The family has since grown to six with the addition of twins in the last five months.
"When we saw the place, we couldn't believe it. We loved it from the minute we laid eyes on it. Even though it was in pre-pandemic days, we were working from home anyway. Once we established we could access good broadband, that's all that mattered," says Faelan.
The old farmhouse had been transformed by the previous owners who added two conservatories and a space now used as an office. The extensions are all in wood with wooden floors in many of the rooms. One of the outhouses has been converted to a recreation room complete with a bar.
"We had very little structural work to do, aside from the conversion of the barn to the bar. The previous owners were DIY people and did most of it. We installed gas-fired central heating and added a dishwasher to the kitchen appliances," he says.
They also added 0.85ac to the site when they bought an adjoining piece of land giving them a total of 5 acres.
They couple also took to painting their new home choosing a stand-out colour scheme that enhances all the quirky elements of the house
"It was a great move, the west is all about the outdoors, the beaches, everything, all of that is fantastic. Moving to the country with kids is, honestly, a no-brainer," Faelan says.
They both took up surfing with Julia excelling and now they are regulars on the waves off many of the local beaches including Enniscrone in nearby Sligo, 20 minutes away.
"Julia, like a lot of Berliners, is into gardening," Faelan explains, "the place was pretty much overgrown when we came, we tamed it somewhat and added a polytunnel.
"We grow our own vegetables and harvest the apples from the orchard that was here before we came."
They also invested in a brood of chickens and a pair of New Zealand pigs of the 'Kunekune' breed. The name comes from the Maori and means 'fat and round', they make ideal pets and don't take any feeding once they have grass.
"The biggest difficulty is to keep them from wandering," Faelan explains.
The previous owners had planted 100 trees on the land and Faelan describes it as very much like a nature reserve, alive with birds and wildlife of all kinds.
He points to two real benefits of moving away from the city. "You make new friends in the local community, especially through the children.
"The school at Curraghbaggan is walking distance and this place, Knockmore is home to one of the biggest GAA clubs in Mayo."
Ironically, the move has also brought Faelan and Julia closer to their old friends in Dublin and to family, "they come to visit for a weekend and stay over and it's great to have the space to be able to that," he says.
The Herriots are staying in the country but moving to west Cork to be nearer family who are making a similar move.
The house at Shanaclough is a traditional two storey farmhouse with a range of innovative additions. Set on 5ac the property includes a large garden area with fruit trees, lawned areas and play areas.
A conservatory with a tiled floor leads to the hallway. The sitting room is off the hallway and is a comfortable, carpeted rooms with a stove fireplace. Doorways from the sitting room lead to a bedroom and to an extension used as an office.
The kitchen is fitted with floor-fixed units, a free-standing wooden island and an American-style fridge. The space also contains the dining table and bench seating in a corner unit that can also be used for dining.
A conservatory resembling a large porch is located to the rear of the house. Fitted with tall windows it has timber floors, a vaulted ceiling and leads onto the raised decking area. The ground floor also includes a shower room with WC.
There are three bedrooms and a large bathroom in the upstairs section with a bath, WC, sink and a bidet.
A range of outhouses on the site includes a workshop and a tool shed and the converted bar/recreation room.
The house on 5ac at Shanclough, Currabaggan, Knockmore, Ballina, Co Mayo is for sale by private treaty with a guide price of €230,000. The sale is handled by Ballina agent DNG Michael Boland.