Once home to Ireland's oldest man Paddy Gleeson, this magical Clare cottage is a time capsule
Paddy Gleeson's Cottage Kealderra, Bodyke, Co ClareAsking price: €40,000Agent: Green Valley Properties (061) 921498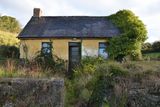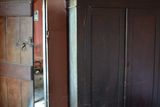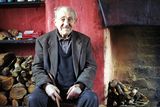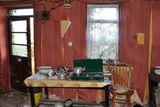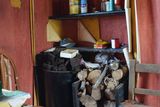 A tiny rural cottage placed for sale at Kealderra in East Clare, that was once home to Ireland's oldest man, has been opened up for the first time in 12 years. With all its furniture and life accoutrements still intact, Paddy Gleeson's cottage near Bodyke forms a remarkable time capsule snapshot of traditional Irish rural domestic life of yesteryear.
Although a thick growth of ivy had to be cut away from the front door before it could be entered for the first time since 2006, the cottage is still furnished inside with all the trappings of a traditional Irish household from times past. While the wallpaper is peeling and spiders have made themselves at home, almost everything, from an old calendar on the wall, to a portrait of Pope Pius, to the dining condiments, are all still more or less as they were left when Paddy Gleeson moved out and into care 12 years ago, at the age of 103.
The contents are scrambled about a little but the table still has his post and his turf and logs are still neatly stacked in the corner. His good hat is on the floor in the kitchen /livingroom and his cardigan still draped on the back of a fireside chair.
Paddy's life story is both modest and remarkable and reflective of hard working bachelor men of his generation who had simple tastes in life. Some of his tale was preserved for posterity thanks to the team of author Turtle Bunbury and photographer James Fennell who visited, interviewed and photographed Paddy at his fireside soon before he departed his beloved cottage.
The interview and photo featured in their hugely popular Vanishing Ireland series of books which featured older Irish people talking about the lives they had spent. The photo of Paddy reproduced here is that taken by James Fennell at the time, capturing his personality and showing the cottage kept neat as a pin.
Bunbury writes: "Paddy Gleeson is one of those remarkable characters who makes the rigid timelines of the past just fall away." The publican's son (he was teetotal despite being born in a pub) and farm labourer from O'Callaghanmills was born in 1904.
His mother died tragically in 1911. When he turned 14, his father Bartholomew decided to move the family to the United States. However, it was decreed that Paddy would stay behind in O'Callaghansmills to look after an elderly aunt. "She said you should always try and come out the same door you went in. She had no one to care for her so I stopped here," he told Bunbury. "Otherwise I would have gone out to the brothers. The pub was sold and Bartholomew moved with his two younger sons and his daughter, to New York. "I never saw him again after that," said Paddy.
After his aunt passed on he lived alone in his cottage, changing little in it and living like his predecessors; his only concession to modernity appeared to be a connection to electricity. In the evenings he sat on a hard chair by the traditional big open hearth, a large black kettle kept permanently on the block in the fire and a traditional cottage kitchen dresser to hold crockery. By all accounts, including his own, Paddy lived a rich if modest life and was a chatty and sociable man. Interviewed by many papers after he hit 100, he didn't know the secret to his longevity but speculated that "hard work" might have had something to do with it.
Recalling reprisals he says: "Once, I was coming to school and I met two fellows leading a three-year-old bullock with horns. On his horns was a placard - 'The Land for the People and the Road for the Bullock'. And beneath the bull, they were dragging a man who was after evicting a poor widow woman from her home." The widow's home had been knocked but "the local people seen how fast it takes to build a house but they did it faster. She was evicted at 10 in the morning and she was inside a house that night they built for her in the day! Timber and galvanised!'
He related his memories of de Valera addressing a crowd in the by-election that first elected him in more fraught and difficult times.
He also related how he had once hid in a tree watching the Black and Tans trash and burn a neighbour's house and afterwards helping them salvage what they could from the wreckage. "All around East Clare they were every day out searching for people and burning houses. 'They were an awful shower. A lot of them were jailbirds. They were sent over here to do the damage." In the 1960s, Paddy flew to America for a reunion with 'the brothers'. They showed him Wall Street, the United Nations and the Westpoint Academy. At the latter, he came upon a monument to all the Irish who died in the American Civil War.
"I got the surprise of my life to see all these local names I was used to seeing here at home." President McAleese sent him his Centenarian's Medal in May 2004. He passed on in 2010 aged 106 and at that time Ireland's oldest man.
Now Gleeson's Cottage has been placed for sale by local estate agent Steve Symes of Green Valley Properties who lists it as a: "Basic three-room, stone-built cottage on circa 1.16 acres. The dwelling has been left empty for over a decade, and is in need of refurbishment, modernisation, and probably extension. At present there is no water supply, no bathroom, no modern kitchen, no septic tank and no central heating. Located on quiet country road."
Gleeson's Cottage is equidistant between Bodyke (just over two miles away) and O'Callaghansmills where Paddy was born.
Symes recalls meeting the centenarian: "I was talking to him over the fence when I was selling a neighbouring property. He was a sharp as a tack, full of humour and had a twinkle in his eye," says Symes who wonders aloud whether Paddy's might be one of the famous Land League Cottages built during the land war to rehouse those evicted and their cottages tumbled.
"If you look at it carefully you'll see it has a distinctive red brick chimney stack and at the gable end what appears to be cut stone, not usual for a typical cottage." Its construction does closely resemble others confirmed as being built by the mass movement from the 1880s."
Paddy Gleeson's Vanishing Ireland interview concluded thus: "So here I am," Gleeson says matter of factly. Who knows the secret of his longevity? It's hardly the cigarettes he puffs, although he doesn't really drink. He never married either." "Although maybe I'll meet someone my age soon," he is quoted as saying. By then he had three more years left in him.
Meantime, Paddy Gleeson's time capsule cottage is on offer for €40,000 through Green Valley Properties.