Long-time home of the De Courcy Wheelers to go under the hammer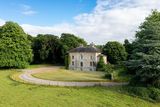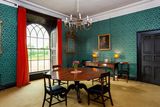 Drummin House, Carbury, Co Kildare
Asking price: From €795,000 Agent: Sherry FitzGerald (01) 639 9300
One of the iconic images from the Easter Rising is the famous photograph of rebel leader Padraig Pearse surrendering to Brigadier-General William Lowe on Saturday, April 29, 1916 after six days of fierce fighting.
Accompanying Lowe was his aide-de-camp, Captain Henry (Harry) de Courcy-Wheeler. Harry was one of six brothers, one of whom, Robert, a medical doctor, had inherited Drummin House in Co Kildare year before the Rising.
The estate near Carbury, 30 miles west of Dublin, was passed on to his grandson, Grattan de Courcy-Wheeler, who lived there until his death in 2020.
Dating back to c. 1750, Drummin House is set on 345 acres of land. This Georgian mansion needs restoration, but in return it offers 6,896 sq ft of living space with historic character and original features in every room.
Accommodation includes a drawing room, dining room, kitchen and study on the ground floor. Above that are four bedrooms and two bathrooms. At basement level there's the original kitchen, a boiler room, office, workshop and WC.
Drummin House is for sale with Sherry FitzGerald Country Homes and will go under the hammer with Jordan Auctioneers on Thursday, June 29 at 3pm.
There are options to buy the house and 50 acres of surrounding land for €795,000, with two other plots of land available separately (€520,000 for 45.5 acres and €1,725,000 for 250 acres), or you can snap up the entire lot — residence and all 345 acres for AMV €3.040m.