Johnstown Castle opens to the public for the first time next month - here's a sneak preview
Historic Johnstown Castle opens to the public for the first time in June. Fran Power meets historian Peter Pearson, the man tasked with fitting it out, and a team of hard-working volunteers, for a preview. Portrait photo by Frank McGrath Interior photos by Patrick Browne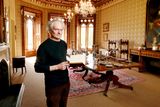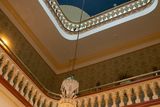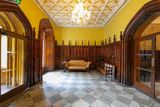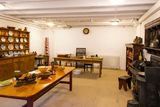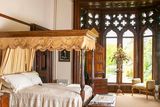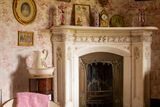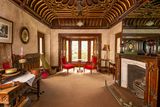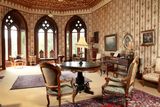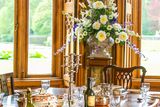 How do you furnish a 19th Century Gothic Revival castle with multiple rooms, turrets and towers? You can't just pick up gilt-edged Victorian chairs in Ikea, and Woodie's doesn't have a 'castles' section.
But that was the task given by the Irish Heritage Trust to Peter Pearson, the Irish architectural historian, conservationist and artist, who has made it his life's work to save Ireland's crumbling historic houses. The building in question is Johnstown Castle in Co Wexford, a slice of Irish social and cultural history that sits on 100-plus acres of parkland, lakes, walks and gardens.
There are few people better qualified for the job than Pearson, who has been involved in restoration and conservation projects at Drimnagh Castle in Dublin, at Castletown House in Kildare and Bewley's on Grafton Street, among others.
The castle as you see it today was largely rebuilt from the 1830s to the 1850s on the bones of a Norman tower house. It was home to two of Wexford's wealthiest families: the Esmondes and, from the late 17th century, the Grogans, who married into the Earls of Kildare. It was gifted to the Irish State in 1945 by Maurice Lakin some years after his grandmother - and the castle's last resident - Lady Maurice FitzGerald, died.
It is now home to Teagasc and the Irish Agricultural Museum, and its ornamental gardens, lakes and walks are a joy to stroll around. In 2015, the Irish Heritage Trust took over the management of the estate and, with a fund of €7.5m from Failte Ireland and the Department of Agriculture, has carried out the first phase of conservation works that will bring the historic building and grounds back to life.
So far, the trust has restored eight of the rooms, carried out essential repairs including to the roof and electrics, and built a new visitor centre with a cafe and shop in the castle courtyard.
Now from June 1, the public will be able to get a glimpse of life both upstairs and downstairs at the castle. The 86-metre long servants' tunnel that runs underground from the meat house to the kitchens - and spooked many a young kitchen maid - is once again open, as are the kitchens, wine cellar and stores. The impressive Apostles Hall, library and dining room with their 3D carved ceilings and the grand drawing room and bedroom on the first floor are also part of the new tour.
And to get it 'dressed' Pearson has spent the past year hunting down treasures all across the country. "We had the auction catalogue from the sale of the castle's contents in the 1940s as a guide to what it looked like," he says. The catalogue lists over a thousand lots, including 120 oil paintings. "And no doubt the family kept back more."
The auction ran for five days, with a representative from Great Southern Railways on hand to organise the transport of goods for buyers.
The Office of Public Works (OPW) was quite far-sighted at the time, says Pearson. "They went to the auction and bought stuff. Johnstown was going to be a horticultural college and they picked up stuff that they thought would be serviceable and also fit in."
In total they bought over 100 pieces including two carved oak hall benches which are now back in the Apostles Hall, mahogany billiard tables, dressing tables and upholstered sofas as well as fire grates and brass fenders. "But they didn't buy pretty stuff like clocks and paintings.
"The pieces they bought stayed there. They provided a core [to the collection] - they were made in that Tudor/Gothic style to match the woodwork in the castle. We got five of the best sofas re-covered in nice fabric and they are back in the castle, and other bits and pieces were put back."
He sourced many other pieces at the auction rooms of Herman & Wilkinson, Adams, Fonsie Mealys and Mullen's Laurel Park. He has now clocked up a castle's worth of French furniture, gilt framed paintings and prints, silver plate cutlery, china and marble topped tables. In total, he reckons the cost to be roughly €40,000, not including upholstery and transport costs.
"It wasn't cheap, but it wasn't that expensive." None of the Victorian or Gothic Revival stuff is fashionable at the moment, he says, so you can buy a lot at auction for a little.
Pearson also worked from photographs that showed what the décor was like. "Johnstown Castle would have been considered a bit bling at the time," he says. "I'm sure when the castle was built, the more old-fashioned neighbours thought it was completely over the top, maybe even a bit vulgar. All those neo-Gothic houses - there is a family of them, Adare Manor, Ashford and Dromoland Castles and Johnstown - they are all full of turrets and towers and Gothic and Tudor."
Members of the public also came forward with items. A cast-iron umbrella stand, a pair of oil lamps and a pretty needlework table, for example, came from an undertaker in Wexford whose father had bought them at the original auction.
Other pieces have been donated by generous curators of Ireland's heritage. The Friends of the National Collections of Ireland, a charity established by artist Sarah Purser in 1924, gave €10,000 to help buy the portrait of the Earl of Aldborough which will hang in the dining room. A private donor added another €10,000.
*******
When myself and the photographer visit the castle, Peter is in the dining room unpacking boxes of silver plate and glassware to dress the elegant mahogany dining table. Dusting, carrying, setting up - it's a grown-up version of playing house.
Helping him are volunteers from the Trust, led by marketing manager Jo Tynan, who explains that as an independent charity, they are reliant on volunteers for much of their work. Already they have 50 volunteers lined up to help out at the castle. (The Trust also owns Fota House and runs Strokestown Park and the National Famine Museum. It depends on private donations and support from the Department of Culture, Heritage and the Gaeltacht.)
The Trust is practised at returning landmark buildings to life despite the challenges involved. For example, Johnstown was repurposed as an agricultural college and offices for the Department of Agriculture. "A lot of it wasn't used at all for a long time," says Pearson. "Though it was always kept heated. It was never completely neglected, but like any big place, it needed a lot of maintenance and work."
Sadly, the magnificent carved staircase that was a feature of the hallway was removed in the 1940s. "They wanted to put a library in the space apparently," says Pearson. "They said that there was rot in it. Maybe there was, but if it was there today, there is no way you'd remove it, even if it had a bit of rot in it. It was all carved in oak. Some people say it was burnt in the gardens - whether it is true or not, I don't know."
He recalls replacing carved balconies during the restoration project at Drimnagh Castle. "It can be done. There is no great mystery about it. You can do it and it doesn't cost millions."
He is keen that the staircase should be replaced. "It should be done because it's an essential thing of the building that is missing. It would be stunning if it was put back." Even if, he says, it was replaced in a simpler form for the time being.
That may happen in the future. "The staircase is a dream and passion," Jo Tynan agrees, "and without dreams and passions these things don't happen. But the first port of call is getting the fundamentals straight. The roof is on, that's a start."
The next priority has to be restoring the windows. Funding is also in place to start work on restoring the walled garden and hot houses which have fallen into disrepair.
"This is the beginning of the next chapter at Johnstown Castle," says Tynan. "Now it is safe, it has revenue coming in, it will keep going indefinitely. But it's a lifetime battle."
Tours of the castle begin from June 1; johnstowncastle.ie; irishheritagetrust.ie