Four on the market: in Howth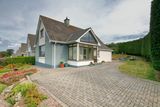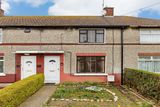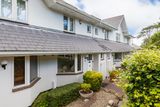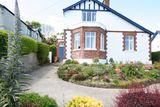 These four properties come with a number of attractive features in addition to their location in a popular seaside area.
8 Woodside, Balkill Road
€485k Gallagher Quigley, (01) 818 3000
Woodside is a small development of townhouses and apartments set in the grounds of the 19th-century house by that name at Balkill Road. They share the use of four acres of communal woods and gardens, and there's a €1,500 annual charge. Number 8 is a mid-terrace house that offers views of the woods and gardens - and of course the sea - from a second-floor balcony, off an attic room that's used as a study. Below that on the first floor are two bedrooms, the main one en suite, and a bathroom. The ground floor has a front kitchen and rear living room with patio doors, in an overall floor area of 1,138 sq ft.
Edarbank, Balkill Road
€1.15m JB Kelly, (01) 839 3402
Like its neighbours, Edarbank is perched quite high above the road, and as it's quite high up Howth Head, it has long-range views of the sea and of Ireland's Eye to the north. It's also favoured with a south-west facing rear garden, with a long lawn, old stone walls and mature trees. Inside, it's been extended to 2,174 sq ft but needs a little modernising still. The ground floor has a drawing room, dining room, study and living room, all with fireplaces, and a kitchen with an oil-fired Aga. There are two bedrooms on this floor and another three upstairs, one with an en suite toilet. There's a garage out the front, at street level.
7 Thormanby Lodge
€1.15m JB Kelly, (01) 839 3402
There are great sea views from Thormanby Lodge, which opens from Thormanby Road about a kilometre downhill from Howth Summit. No7 is just at the entrance to the estate and has a 0.2-acre site well screened from the road by hedging. Inside, it's 1,475 sq ft with three bedrooms - two upstairs at dormer level and the third downstairs, with patio doors. The ground floor also has a living room and dining room communicating through folding doors and a cream fitted kitchen with a skylight and sliding doors to the garden. The front porch faces south and is big enough to sit in.
32 Grace O'Malley Road
€360k  Sherry FitzGerald Sutton, (01) 839 4022
Many of the houses along Grace O'Malley Road are blessed with amazingly long back gardens, and Number 32 is no exception. It measures some 126 ft and shows you views of Howth Harbour. The garden may allow space to extend the house, as it needs some modernising anyway. At present it's 721 sq ft with three bedrooms upstairs (one a single). Downstairs there's a front living room with a fireplace and a smallish (11ft by 8ft) rear kitchen. It's about half a kilometre from here down to Howth village.