Fix it up: A former bishop's house in Monaghan in need of divine intervention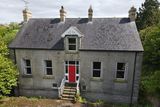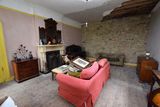 Despite its rather meek name, Cormeen Cottageis a former bishop's residence on the Cavan-Monaghan border that dates back to 1820.
​Tell me more about the place...
Cormeen Cottage is a detached five-bay single-storey over-basement property with a half-dormer attic that has a floor area of 2,300sq ft. It's on a 1.6-acre elevated site that feels very private thanks to the mature trees on the land. On the ground floor are two reception rooms and a makeshift kitchen. Below this is the basement which would have been home to the original kitchen and servants' quarters. At dormer level are two large bedrooms on either side of the stairs.
​The bad news?
This kind of property won't appeal to the faint-hearted. It is definitely in need of a firm hand. The basement hasn't been used in many years and is more or less a series of bare brick wall rooms, although the flagstone floors might be of interest to new owners. There is no kitchen to speak of and the reception rooms aren't exactly ready to receive guests in their current state.
​The good news?
Although the current owner bought the house in 2005, he has never lived in it, meaning it could qualify for the Vacant Property Refurbishment grant. The roof was done about 25 years ago so should be good for a few more decades. The vendor has been chipping away at the house and has done a lot of the dirty work involved in a renovation. Some walls have been stripped back and the basement rooms have been cleared out so it's now easier to see what you're dealing with.
​How much to buy it?
Cormeen Cottage is on the market with a guide price of €299,500.
​And to fix it up?
Between €150,000 to €170,000 should be enough to cover the renovation of the house. If money is tight, the restoration of original features like the staircase, window shutters and Georgian doors could be a pet project for new owners who like the idea of getting involved in the job.
​What will I end up with?
It's not often a property of such historic value comes on the market in this part of Ulster. Houses around here tend to follow the same mock Georgian design style so this is an opportunity to stand out from the crowd with an authentic period pad. The house is 10 minutes from Cootehill and 20 minutes from Castleblayney, so would make a great family home for anyone looking for trade up in the area.
​Who do I talk to?
Estate agent Fintan Cahill (049) 854 9900 is happy to give prospective buyers the full tour of Cormeen Cottage, where it's recommended you start in the basement so that the only way is up — both literally and figuratively.