Rooms of requirement - everything you need to know about a garden room
Forget costly extensions, a stand-alone garden room makes for a perfect office, teenage den, or simply a space to escape to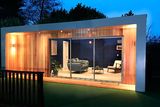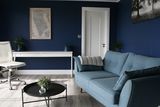 When it comes to Irish homes - particularly those in densely populated urban areas - space has become the ultimate luxury. If we're not converting the attic, or adding a Dermot Bannon-inspired extension, we're 'digging down', carving out nooks below ground to add to our square footage. With house prices soaring towards boom-time levels, for many, moving is simply not an option - so, we're making the most of what we've got. But sometimes, whether it's for logistic or financial reasons, these traditional add-ons are not feasible.
Thankfully, there is another option, and it's one that's garnering more and more interest for all of the right reasons: the Garden Room. This is not just a different interpretation of a conservatory, rather, garden rooms are stand-alone structures that add a new area to your living space for use as anything from an office or a teenagers' den to an at-home bar. With floor-to-ceiling windows and sleek finishes, rest assured that a garden room is far more than just a glorified shed.
Toying with the idea of adding an escape at the far end of my own garden (though in a three-bed city centre terrace, the word 'far' is a stretch), I caught up with John Sherry, the owner of Garden Rooms (gardenrooms.ie), a Dublin-based company that has built some 950 such rooms across the country. If you're considering creating an outdoor room, here's what you need to know.
You don't Have to move house
If you're happy in your neighbourhood - maybe it's convenient for schools and public transport and getting to and from work - but you need to upgrade and create more living space, this is an option that you might not have considered. "Trading up from a three-bedroom to a four-bedroom house can cost between €80,000 to €120,000 and that's just to get another room," says John Sherry. "A lot of our customers are happy in their neighbourhood with local schools etc, but they just need extra space in their current home. That could be a space to work, a space to study or a space to relax." And the fact that it's a separate space entirely is what piques my own interest. For now, I'd use a garden room as an office space. As a freelancer working from home it can be hard to switch off between work life and home life, but having a designated space with its own door would give me the separation I need. But further down the line it could be used for something else, depending on my needs.
They're cheaper than an extension
In fact, they're almost half the price. "Our turn-key builds average out at around €1,200 per square metre, whereas a standard house extension could cost you anything between €2,000 and €2,400 per square metre," says John Sherry. As the saying goes, 'You pay for what you get', but John boasts the fact that their garden rooms are just as warm and cosy as any other room in your house, sometimes even more so. "With the quality of highly graded cedar we choose for cladding, along with the high-end aluminium window, doors and roofing system that go into every garden room we construct, there is no reason why our garden room won't last two-to-three generations; a place where family memories are made. One of our clients uses hers as an office during the week, a study for children doing exams at night, and runs movie nights on Saturdays for the local teenagers! There have been bookclubs, 18th birthday parties, numerous Six Nations parties, and all kinds of other events hosted in her garden room."
They're not as extravagant as you think
When we think of creating more space in the average Irish house, we're used to extending what we already have. Building a structure that's entirely independent of our existing four walls seems like a bigger deal and a more elaborate project; in reality, it's not. It's an awful lot less disruptive to your home - and your lifestyle - while it's in the works. If you have a side entrance, you'll have no dust accumulating in your house, the builders' tea is at your discretion. What's more, there's no planning permission required below 25sq m, which cuts out additional costs and hassle.
YOu don't need a huge garden
These structures come in a variety of sizes, the smallest standard structure is 3.6 x 4 meters from €20,400. Interestingly, John says: "I actually think that the smaller the garden the better the garden rooms looks in it. It has taken me a few years to realise this, but it almost creates a courtyard. It is such a beautiful feature in the garden with its clean lines and contemporary shape that looks really inviting from the main house. Our ultimate aim is that, when finished, the garden room looks like it has always been there. This is always our goal even from our very first consultation with the client." But note, in terms of planning, you also need to have 25 square metres of space left in your garden.
They're gorgeous!
Practicality and price aside, the garden room is aesthetically on point, with a simple Scandinavian style. John's company uses Canadian red wood cedar that's not only durable but beautiful. Your garden room can be made sound-proof as a music room for the budding guitarist or used as a gym or separate living room or home office. Most of John's clients have a multi-purpose garden room, especially if there are teenagers in the family. You can add on en-suites and other extras that make it work for you; each garden room is made bespoke to the client's needs.
So how long does it take to create one? "We meet with you, discuss your needs around how you plan to use the garden room, work out where it will best fit in your garden, what the best orientation will be, what size will work best for you and what internal fit-out you need," John says. "Everything will be costed before the job starts. Work on the garden room generally takes two weeks, with approximately a six-week lead-in time once it is ordered."