Fix it up: A three-storey red-brick in Drumcondra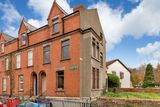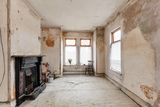 What is it? A tri floor, four-bed Edwardian at 1 Wellpark Avenue in Drumcondra, D9. Little is known of its pedigree but the free style of the granite window caps hint it's likely the work of either Stringer or Strain, the two top drawer Quaker firms that dominated the premium end during Dublin's golden age of red-brick house building.
Tell me more about the place...
Empty for almost 20 years, but despite this it seems in relatively good structural condition - helped by a roof and window replacement just before vacation.
The good news?
No outward signs of damp or structural bother. Recently stripped of carpets, furnishings and wallpaper so it's got little to hide. It does exhibit a classy bone structure with most period features (stained glass/chimney pieces) delightfully intact. In top condition it would be exactly what city centric families kill for here.
And the bad news?
Rewiring, replumbing, replastering, a heating system, a kitchen. The garden wall needs trellis fits to stop passers-by from making your acquaintance whilst sunbathing. It will require a survey. A big job for proper builders or those with same in tow. This down-at-heel but still classy dame is definitely not a date for first timers whose budgets she'd have for breakfast.
How much to buy it?
The asking price is €545,000.
And to fix it up?
Somewhere between €150k and €250k.
What will I end up with?
A pedigree red-brick Edwardian from the age of prized craft set within walking distance of the city centre, the Phoenix Park and DIT.
Who do I talk to?
Open view tomorrow for suitors 10.45-11.15am. Sandra D'Arcy of Sherry FitzGerald (01) 8373737 will get you two acquainted.